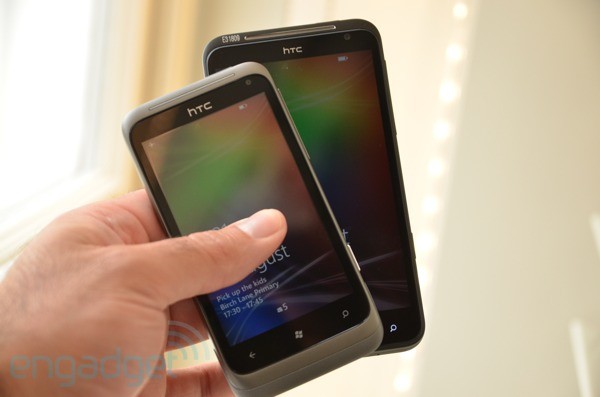 IFA event is currently going on in Berlin and a lot of big technology brands introduced new stuff. Samsung announced several stuff and Toshiba introduced a new tablet whereas Sony Ericsson showed us the updated version of Xperia Arc, that's the story of Germany. On the other side, HTC which is one of the leading smartphone manufacturers in the world unveiled two new devices in London. If you are an Android fanboy then you don't need to go all happy because these are WP7 phones, actually first ever WP7.1 a.k.a Mango devices. Remember the leaked HTC Omega and HTC Eternity? And we told you a week ago that HTC will be launching them on September 1st, so the rumor was true.
HTC Eternity, now known as HTC Titan is a huge device. One can consider it as a successor to HTC HD7 because Titan comes with a huge 4.7 inch SLCD touchscreen display. It comes with a 1.5 GHz single core Qualcomm processor, 512MB of RAM and up to 16GB storage, 8 MP camera with dual LED flash, 1.3 MP front-facing camera for video chatting, and some other good features. Titan looks like a one powerful device and I am sure it will be good for both HTC and Microsoft as it will be one of the first WP7 Mango devices. About the price, Titan will go for 599 euros and it will hit the market on October 1st.
HTC Radar (previously known as Omega) is for people who are looking for a device with normal size, not with a huge display like Titan. Radar features a 3.8 Inch display which means the size of the device is around the Nexus One. Also a 1 GHz processor, 512 MB RAM, and a 5 megapixel camera and a front facing camera for video chat. Radar is actually for people who are looking for a mid-range budget WP7 device  and it really looks good. The design is quite beautiful and as it's HTC, I am personally a big fan of their devices built quality. HTC will also launch it on October 1 and it will go for 399 euros.
Well folks, some nice WP7 devices from HTC, right? So who's planning to get some new Mangoes from HTC earlier next month? Check out the videos after the break and share your thoughts with us in the comment box below:
httpv://www.youtube.com/watch?v=cofBZ8eQYis
httpv://www.youtube.com/watch?v=orSjIIyr4KI
httpv://www.youtube.com/watch?v=t32kRNhn23k
httpv://www.youtube.com/watch?v=gTSEZ3mFiPQ
httpv://www.youtube.com/watch?v=5sKxBfsOvSU
httpv://www.youtube.com/watch?v=kJ9JOC3LuIA
httpv://www.youtube.com/watch?v=VSIfT37pWMU
httpv://www.youtube.com/watch?v=UnO1le_Glec
httpv://www.youtube.com/watch?v=IXqeXe55vX4
httpv://www.youtube.com/watch?v=RMN9HV8Y0cE
Source: Engadget