Nothing has unveiled "Nothing Chats," a new messaging app developed in collaboration with Sunbird, a leading US technology company specializing in Android and web messaging. The app allows users of the Nothing Phone to exchange messages with other iMessage users.
Nothing Chats currently features single messaging, group chats, live typing indicators, full-resolution media sharing, and voice notes. The app is currently in the beta phase and promises enhancements and additional features like read receipts, message reactions, and replies in the future.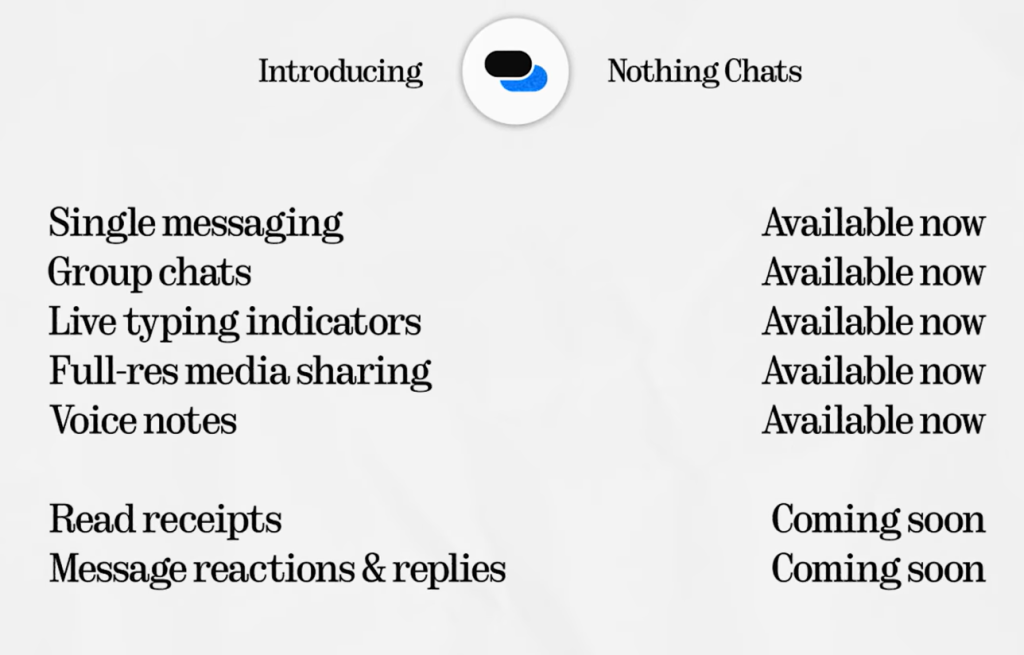 To use it, simply log in using your Apple ID username or create a new account to start enjoying the seamless experience of sending and receiving messages through blue bubbles.
Built on Sunbird's platform, Nothing Chats ensures end-to-end encryption for all messages, guaranteeing the utmost privacy. Sunbird's architecture facilitates secure message delivery without storing any data at any point in the transmission.
Availability
The Nothing Chats application will be available in the US, Canada, UK, and EU for users with a Phone (2). You can download the Nothing Chats app on the Play Store starting Friday.
For users eagerly anticipating Nothing Chats in more locations, the company said that it is actively working on expanding its availability.