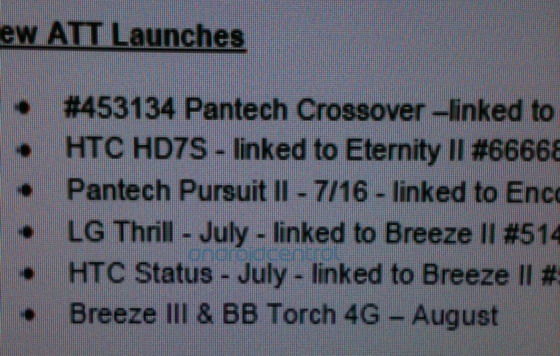 AT&T is one of the largest US carriers and they are offering number of Android devices. Recently, they announced two new Android devices known as HTC Status and LG Thrill 4G. HTC Status is AT&T version of HTC ChaCha which is a small device that comes with a dedicated Facebook button. On the other side, Thrill 4G is AT&T version of LG Optimus 3D which is LG's first ever device with 3D technology. AT&T didn't tell us when they are planning to launch both of them officially but it looks like it's around the corner as Android-Central got their hands on a leaked shot which is informing us about these two devices as well as some other phones too. If the image above is to be believed, AT&T will be launching both devices in July, probably later this month. No words on the prices but you can expected Thrill 4G for around $200 on contract and HTC Status for $100 on contract, anyway AT&T will clear the air sooner or later.
As you can see in the image above, another unknown device is leaked named BlackBerry Torch 4G. As far as I know, I never heard of any Torch 4G, so what is it? It looks like it's AT&T version of the upcoming BlackBerry Torch 2 which is leaked several times now and I believe that RIM will be launching it soon as AT&T is planning to launch it in August, so hopefully we will see it anytime now. AT&T is also gearing up to launch Pantech Pursuit II and Pantech Breeze III, and both devices are coming soon.
So AT&T users, are you looking forward to any of the following devices?