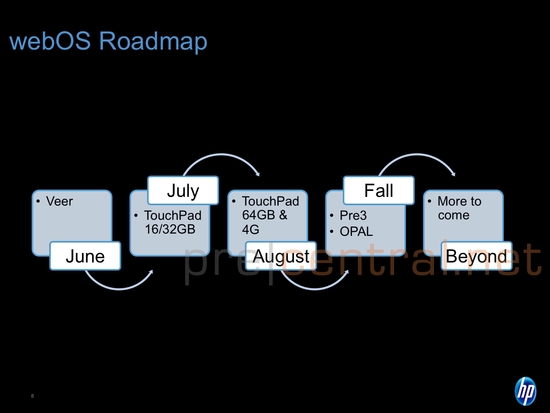 HP recently launched their first ever WebOS tablet which is known as HP TouchPad. TouchPad seems to be a good tablet and it was launched in USA earlier this month. Now it looks like HP is planning to expand their TouchPad line, according to a roadmap leaked by PreCentral. HP will be launching 64GB Wi-Fi version of TouchPad with white glossy finish and it will feature a 1.5 GHz dual-core Qualcomm Snapdragon processor, instead of 1.2 GHz. It will be a good deal for people who are looking forward to a sexy version of TouchPad with more internal memory and I think 64GB is more than enough for a tablet, no?
Another good news is that HP is also planning to launch 4G version of TouchPad. It will be launched as HP TouchPad 4G, it will be available in 32GB version and it will support AT&T HSPA+ network. It will be available in black glossy version like the original and probably there will be no difference between this and 32GB Wi-Fi version, only addition of the 4G radio. HP is making it a better choice for people who want to surf on the web right on the go as Wi-Fi version is only limited to your home, office or any other place with Wi-Fi network, but I am sure you will be able to check out the your email or Facebook any where you want with this upcoming 4G tablet.
Now some bad news, we recently told you about the HP Opal which is going to be a 7-Inch WebOS tablet and we heard that it will be out next month but the roadmap is telling us that it will be out in fall. Maybe we heard wrong before as this leaked shot is a "confidential HP product", but let's take it with a grain of salt. Another bad news is that Pre 3 is also coming in fall but maybe this is only for US as it's up for pre-order in UK and scheduled for mid-July launch, so let's see what happens.
That's all for now folks and more to come next year I think. Well, I didn't see anything about the keyboard-less WebOS device which was liked by all WebOS fans, maybe HP is keeping it as a surprise or planning to launch it later this year. Anyway, share your thoughts with us in the comment box below.