COLORFUL has introduced its new gaming laptop, the EVOL P15. This laptop stands out with its retro-futuristic Steel Blue design and powerful hardware, including 12th Gen Intel Core processors and NVIDIA GeForce RTX 40 Series graphics.
Gamers will appreciate the added flair of the RGB light bar on the laptop's front cover. Additionally, they are planning to launch the EVOL P16 with the same specs but a larger 16-inch display.
The EVOL P15 is armed with up to a 12th Gen Intel Core i7-12650H and NVIDIA GeForce RTX 4060 8GB, making it suitable for gaming and content creation. Its Steel Blue color and RGB lighting cater to modern gamers and esports fans.

The laptop boasts a 15.6-inch QHD 165Hz display with NVIDIA G-SYNC support for smooth gaming without screen tearing. For connectivity, it offers Wi-Fi 6E + BT wireless and a 1GbE LAN port. What sets the EVOL P15 apart is its robust cooling system, featuring a 6-heatpipe heatsink and dual fans.
The laptop incorporates four air vents for efficient heat dissipation. It also includes a handy One-key Cooling Mode, which allows users to switch between three cooling modes using the Fn+1 command.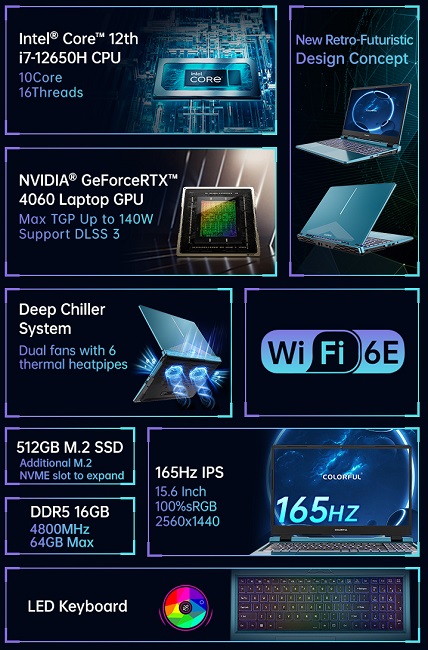 Quick specifications: COLORFUL EVOL P15 Gaming Laptop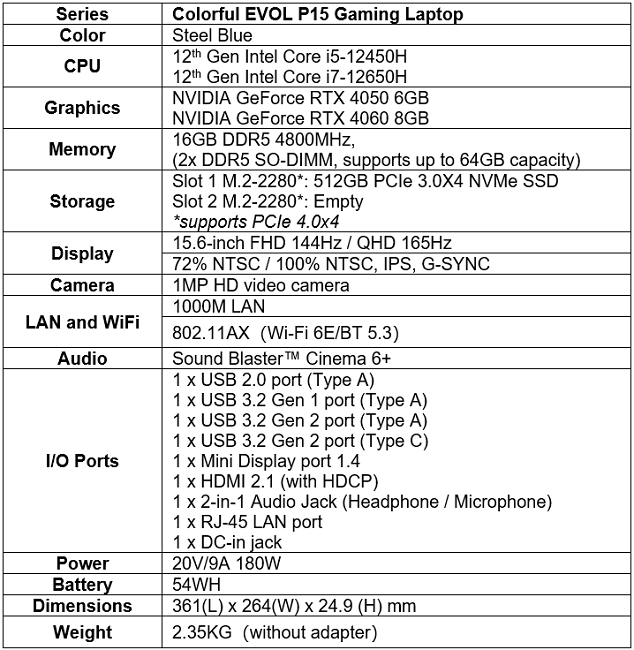 Pricing and availability
COLORFUL EVOL P15 with a 15.6″ FHD 144Hz display, i5-12450H processor, RTX 4050, 16GB RAM, and 512GB storage – RM 3,799 (USD 809 or Rs. 67,275 approx.).
COLORFUL EVOL P15 with a 15.6″ QHD 165Hz display, i7-12650H processor, RTX 4060, 16GB RAM, and 512GB storage – RM 4,599.00 (USD 980 or Rs. 81,440 approx.).
Availability will be announced at a later date, said the company.