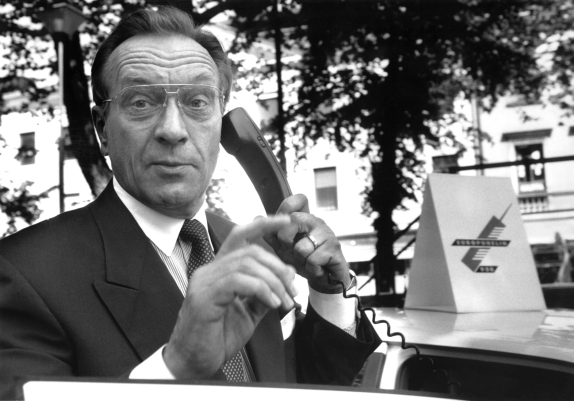 I graduated in Electronics and Communications and Finnish names are pretty common in any work in the wireless communication space.  Nokia's contribution to this space is pretty huge and the latest proof is Apple agreeing to become a licensee of Nokia. Now if you are a fan of technology , the first GSM call on a commercial network was made 20 years ago between Finland's  Prime Minister Harri Holkeri and Kaarina Suonio,vice mayor of the Finnish city of Tampere . The network was built by Telenokia and Siemens now known as Nokia Siemens Networks – for the Finnish operator Radiolinja,  now known as Elisa.
Watch the video below in Finnish to take a ride back into the past and watch the first ever GSM call in action.
httpv://www.youtube.com/watch?v=AkZn7jFd9Rc
GSM celebrates 20 years
First GSM call on July 1, 1991 marked start of a new era in global digital communications

On July 1, 1991, the world's first GSM call on a commercial network was made between Finland's former prime minister Harri Holkeri and vice mayor of the city of Tampere Kaarina Suonio. The first GSM network was built by Telenokia and Siemens – today's Nokia Siemens Networks – for the Finnish operator Radiolinja, now operating under the name Elisa.

During the call, Harri Holkeri and Kaarina Suonio discussed the benefits of the new, digital, GSM technology, including superior voice quality and security, and the fact that the phone's identity is in the SIM card, making it easy for consumers to choose the product they like.

The Global System for Mobile communications (GSM) was adopted in 1987 as the European standard for digital mobile technology. This second generation mobile technology could carry data as well as voice traffic. GSM's high-quality voice calls, easy international roaming and support for new services such as text messaging (SMS) laid the foundations for a worldwide boom in mobile phone use.

In the following years, the number of GSM subscribers grew beyond all predictions. It reached more than 500 million in the first decade to 2001. Today's 838 GSM networks in 234 countries and independent territories around the world have more than 4.4 billion subscriptions*. GSM is still growing fast, with 1 million new GSM subscriptions added every day. That's a rate of nearly 12 a second.

"GSM was the first digital technology based on open standards and one that made the widespread adoption of mobile phones possible," said Pekka Soini, head of corporate development office at Nokia Siemens Networks.

"GSM continues to evolve and will be here in the coming decades together with 3G and LTE as an essential building block of the mobile broadband. We see continued GSM business opportunities in Single RAN Advanced capable hardware modernizations, high-quality voice capacity upgrades as well as smart device, machine-to-machine and high definition voice enhancements. The latest innovation announced in June this year, the Orthogonal Sub-Channel Dual Full Rate feature, is a software feature that allows up to 100% increase in voice capacity and significantly enhanced speech quality for GSM," Soini continued.

"When we were building up the system and creating the first Nokia GSM phone that would make that first call very few of us dared to dream about the future," said Timo Ali-Vehmas, VP, compatibility & industry collaboration, Nokia. "None of us back then imagined the huge impact GSM would go on to have for the lives of billions of people around the world. Of course, none of this could have been possible without the pioneering work by so many bright minds in the industry over the last twenty years. That work continues today and it is terrific to see GSM continuing to evolve and renew in many exciting ways."

Nokia Siemens Networks technology directly supports 2.9 billion subscribers – almost half of the world's population – in 365 GSM networks in 143 countries. Nokia introduced its first digital handheld GSM phone, the Nokia 1011, in 1992. Other iconic models have included the Nokia 2110, while the most popular model has been the Nokia 1100, of which more than 250 million have been sold.

The GSM family of technologies, standardized by 3GPP, has evolved further to EDGE, 3G and LTE. Third generation 3G WCDMA networks have higher data speeds and more capacity for mobile broadband services. LTE, already in commercial operation in over 20 networks worldwide, marks the next step in technology evolution. The main driver for LTE is the rapidly growing need for data capacity for mobile broadband services. GSM, 3G and LTE are evolutionary technologies, with networks being built and expanded according to the needs of coverage and capacity, with seamless interworking between the technologies.