When we talk about dual screen Android powered devices, first thing which comes to our mind is the Kyocera Echo and it's failure in the market. Well this device is somewhat similar to the Echo, it is foldable with a hinge in the middle, can be closed and used as a phone but the similarity ends there. This new unnamed device from Imerj and Frog (Formerly known as Frog Design) looks promising with a good design (looks a bit like the iPhone 4 when closed), the software customizations over Android 2.3 and a good build quality.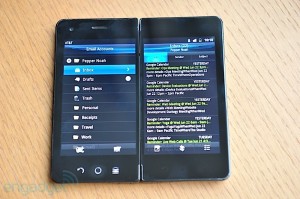 The unnamed device is months away from production, but the prototype which Engadget managed to get, looks quite good and stable. It is also really easy to open the device, just fold it like a book and you get a phone, and when you open it, the second screen automatically comes to life. Engadget mentions that the build quality of the device is "solid" and feels high-end.
Let's take a look at it's specs:
4" WVGA AMOLED (Both the screens)
Combined resolution of 800 x 960
Android 2.3 (Will be upgraded to Ice Cream)
TI OMAP dual core processor (The clock speed has not been disclosed yet)
1 GB DDR3 RAM
32 GB internal storage
microSD card slot (Expandable upto 32 GB)
1750 mAh battery
5 MP Camera
This device runs Android 2.3 (Gingerbread) with a custom UI on top of it. It provides true multitasking with quick switching in a card format, it also supports bezel gestures both adopted from WebOS. These are the features that really makes this device unique. The hardware of this device also looks up to date with a dual core processor and 1 GB of RAM, the catch is that internal storage which can range from 32 GB to 128 GB which is currently not available in any handset.
You can have a look at the official promo video of this device below. At the end this device is being put inside a tablet shell just like the Pad-Phone, but there is no news about that yet.
httpv://www.youtube.com/watch?v=AbhaWn_AWQw
This dual screen device really looks fantastic and totally unique, can it really revolutionize the Smartphone industry?
Source: Engadget