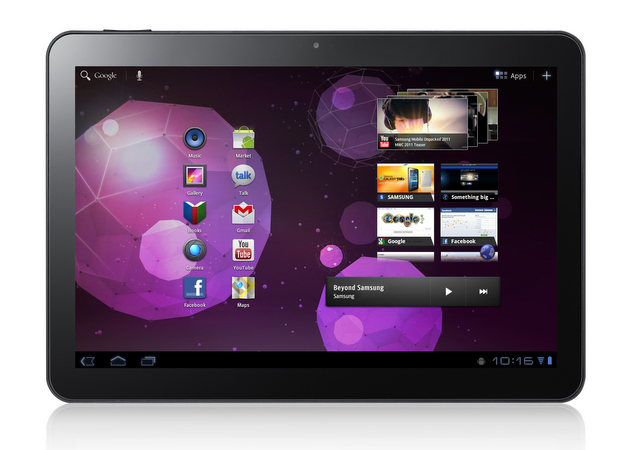 Samsung Galaxy Tab 10.1 is currently known as one of the best Android tablet available in the market at the moment. We just showed you an ad in which Samsung is telling us how slim is the tablet really is and Samsung also told us that it's time to tab. Verizon recently announced that they will be launching it soon and now it will be hitting another major US carrier. Sprint has officially announced the Samsung Galaxy Tab 10.1 but not the 4G/3G version. Sprint will be launching the Wi-Fi version of it and they are officially launching it on June 24 and Sprint is launching the 16GB version for $499.99. It's Samsung first ever dual-core tablet rocking on 1GHz Tegra 2 processor, Android 3.1 and other amazing features.
Well this tablet is already available in USA via retailers like BestBuy, so what's the advantage of getting it from Sprint? If you are planning to pick one from Sprint, then you can also get Overdrive Pro 3G/4G Mobile Hotspot by Sierra Wireless or MiFi 3G/4G Mobile Hotspot by Novatel Wireless to access Sprint's 4G network, now this is one good reason to pick up this tablet. No words on the price of 3G/3G hotspots.
So anyone getting it from Sprint? Check out the press release after the break.
Sprint Expands Mobile Tablet Portfolio With Launch of Samsung Galaxy Tab 10.1 on June 24 for $499.99
Ultra-Thin and Lightweight Tab Boasts a 10.1-inch HD Touchscreen, Android 3.1 and a Dual-Core Processor; Power Galaxy Tab 10.1 with an Overdrive Pro 3G/4G Mobile Hotspot by Sierra Wireless or MiFi 3G/4G Mobile Hotspot by Novatel Wireless for access to blazing-fast Sprint 4G speeds

OVERLAND PARK, Kan. (BUSINESS WIRE), June 21, 2011 – Sprint customers will be able to enjoy the convenience of Samsung Galaxy TabTM 10.1 16GB Wi-Fi version beginning June 24 through direct ship sales channels, including Sprint Stores, Web sales (www.sprint.com), Telesales (1-800-SPRINT1) and Sprint Business Sales for $499.99 (excludes taxes). It will be available for purchase in Sprint retail stores on July 24.

This powerful tablet boasts a brilliant 10.1-inch HD touchscreen (1,280×800) display delivering sharper movies, better game graphics, and crystal clear video chats. At just 0.34-inches, it is the world's thinnest mobile tablet. It comes with AndroidTM 3.1 Honeycomb with Android MarketTM providing access to more than 60,000 apps for Galaxy Tab 10.11 and an immersive, lightning-fast Web browsing experience.

"Samsung Galaxy Tab 10.1 expands Sprint's tablet innovation, growing our lineup to five options," said David Owens, Sprint vice president of product development. "This gives Sprint customers a one-stop-shop for all of their tablet needs. Galaxy Tab 10.1 is a dynamic tablet, but it is even more amazing when paired with the Sprint 4G network through our OverdriveTM Pro 3G/4G Mobile Hotspot by Sierra Wireless or MiFi®3G/4G Mobile Hotspot by Novatel."

Galaxy Tab 10.1 is designed with a brilliant 10.1-inch HD touchscreen display with WXGA 1,280×800 resolution, delivering vibrant colors and crisp clarity. The aspect ratio of the display is ideal for widescreen viewing of movies, TV shows and photos. It features two cameras – a rear-facing 3-megapixel camera with camcorder, flash and zoom, and a front-facing, 2-megapixel camera – enabling video chat.

Additional key features include:

Android 3.1 Honeycomb offering faster and smoother transitions between different applications, more intuitive navigation to and from home screens, and broader support of USB accessories, external keyboards, joysticks and gamepads
Android Market for access to more than 60,000 applications for Galaxy Tab 10.1
Mobile Email–IMAP and POP, GmailTM, MSN Hotmail® and Yahoo!®
Google Mobile Services, including YouTube, GmailTM, Google TalkTM and Google MapsTM
HD camcorder with 720p video capture
Full HTML Web browser with Google Search and Adobe® Flash® Player (10.3)
1GHz Tegra 2 dual-core processor
1GB of RAM, 16GB of storage
Wi-Fi enabled
Stereo Bluetooth Technology 2.1

Galaxy Tab 10.1 customers can expect a software update planned for this summer that will enable more favorite features and services including:

Customized User Experience "Samsung TouchWiz UX"
Samsung's TouchWiz user experience is designed with a Live Panel menu for customizing the home screen of Galaxy Tab 10.1 with digital pictures, favorite websites and social network feeds. In addition, the TouchWiz UX includes a "Mini Apps" tray of commonly used features, such as task manager, calendar and music player, which can be launched while other major applications are already in use.

Samsung Media Hub
The software upgrade will introduce the evolution of Samsung's popular movie and TV content service, known as Media Hub. Media Hub has been redesigned with a new user interface for even easier downloads of rented or purchased content. The new version of Media Hub also includes an HD Extender, which allows the user to play back Media Hub content on TV through an HDMI cable from the Galaxy Tab 10.1 dock or adapter.

Readers Hub & Social Hub
It will also gain access to Samsung's Readers Hub service, which is a robust library filled with more than 2.2 million books, 2,000 newspapers and 2,300 magazines. Also, the software upgrade will install Samsung's Social Hub service, which aggregates email, instant messaging, contacts, calendar and social network connections into a single interface.

Versatile Content Sharing
Samsung Galaxy Tab 10.1 will also receive Samsung's Allshare service, for seamless content transfer between the tablet and other DLNA-enabled devices, such as HDTVs, monitors and digital cameras. The software upgrade will also transform Galaxy Tab 10.1 into a device capable of accepting streaming content from a TV to the tablet itself.