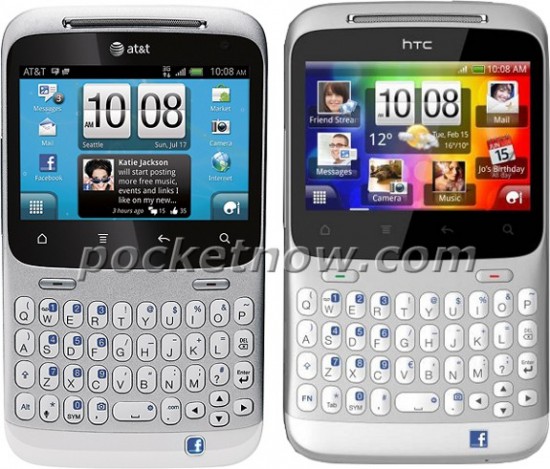 HTC ChaCha was announced by HTC at Mobile World Congress 2011 along with HTC Salsa and both are first ever HTC devices with dedicated Facebook button and features. We recently previewed it and we told you that it's a good device, and full review will be out soon. Now it looks like HTC ChaCha is heading towards AT&T, as you can see HTC ChaCha press shot with AT&T branding on it. HTC ChaCha recently passed FCC with AT&T GSM bands, which confirms it that it might be hitting AT&T. HTC ChaCha is a cure little device and I think AT&T is launching it to target teenagers, who actually love devices like that so they can keep in touch with their Social Networks, and as it has a portrait QWERTY keyboard, it is also good for instant messaging as well as text messages.
No words on the price and release date at the moment, but I am sure it will be around $100 on contract. And about the release date, it will probably hit AT&T next month, may be on July 17th as it's the date on phone homescreen. Well, I am making some rough guesses so hopefully we will see this cute little device soon.
So do you think this device is really hitting AT&T?