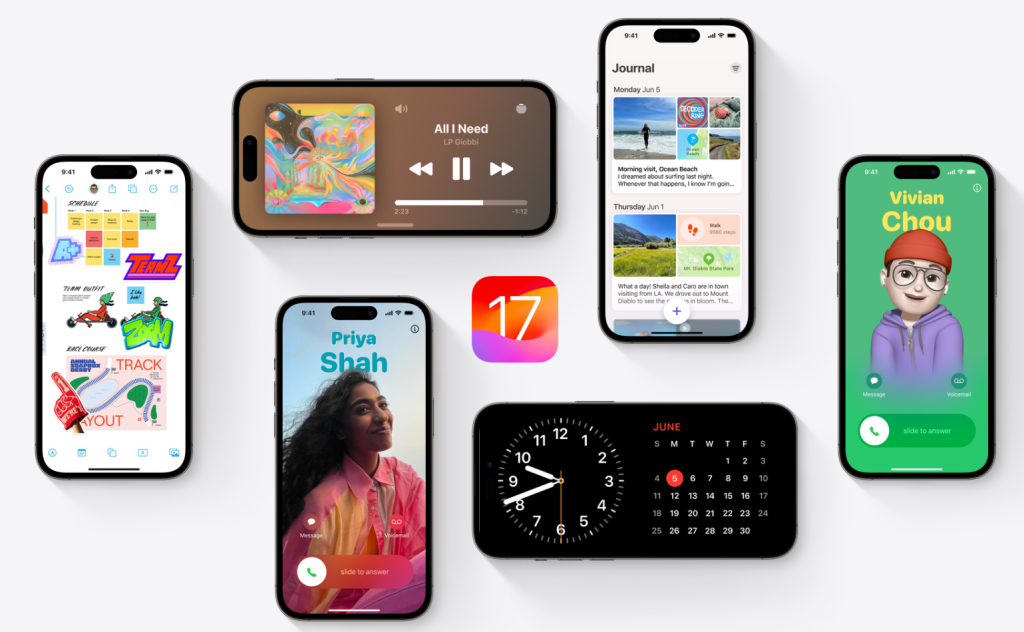 Apple unveiled iOS 17 during its WWDC 2023 event, bringing significant enhancements to Phone, FaceTime, and Messages. The update introduces improved communication apps, simplified sharing via AirDrop, smarter text input, and fresh features like Journal and StandBy.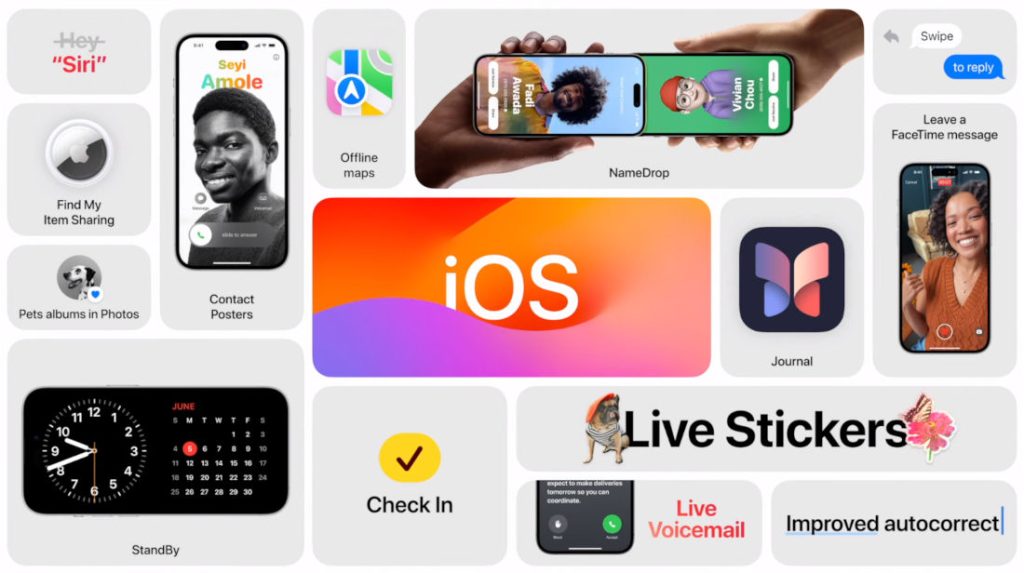 Personalized Contact Posters
The Phone app on iPhone gets a significant upgrade with personalized Contact Posters, offering users a fresh means of self-expression. Users can now customize their appearance for incoming calls, incorporating unique treatments for photos or Memoji, along with captivating typography and font colors. Contact Posters will also be accessible for third-party calling apps.
Live Voicemail
This feature that allows users to view real-time transcriptions while someone leaves a voicemail, and even answer the call while the message is being recorded.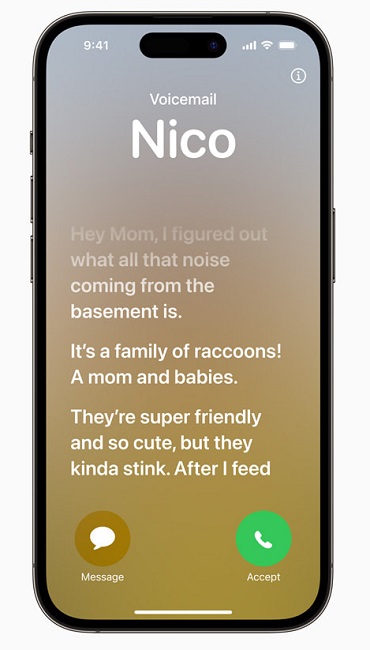 Spam calls flagged by carriers will not be displayed as Live Voicemail and will be automatically declined. Leveraging the Neural Engine, the on-device handling of Live Voicemail transcription ensures complete privacy.
FaceTime gets Audio and Video Messages
FaceTime has introduced audio and video messages, enabling users to leave messages for those unavailable for a call. Additionally, FaceTime calls become more expressive with Reactions like hearts, balloons, fireworks, laser beams, rain, and more. These effects can be activated with simple gestures, and third-party video calling apps can also utilize them.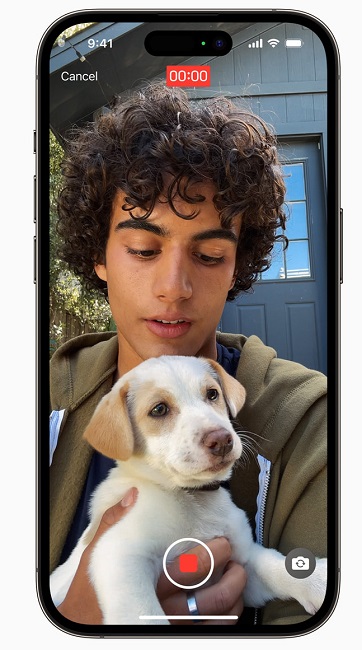 Furthermore, with Apple TV 4K, FaceTime expands to the largest screen at home. Users can initiate video calls directly from Apple TV using Continuity Camera or seamlessly transfer a call from iPhone to Apple TV. Center Stage ensures perfect framing as users move around the room.
New Messages
Messages in iOS 17 brings several notable features such as;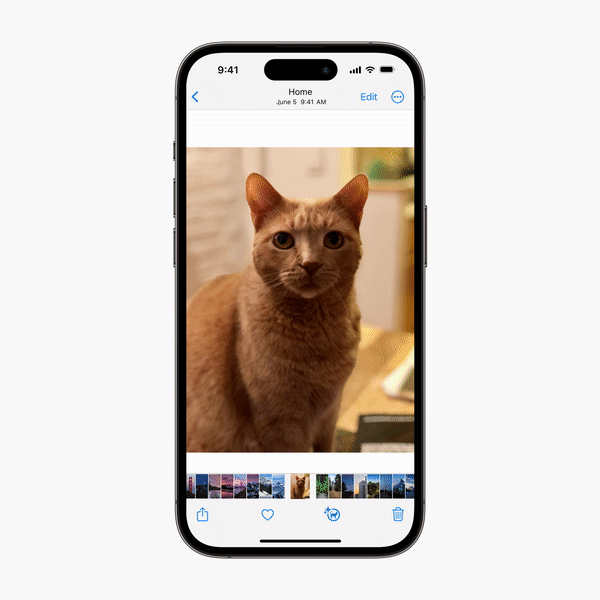 New stickers experience with emoji stickers and Live Stickers from photos.
Sleeker interface with expandable menu for iMessage apps.
Powerful search with filters for precise results.
Conversation continuity with catch-up arrow and inline replies.
Real-time location updates and automatic transcription of audio messages.
Check-In feature for safe arrival notifications with optional sharing of location, battery, and cell status.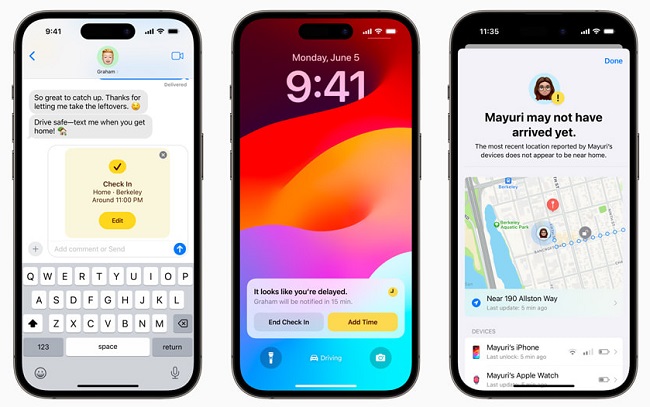 Sharing with AirDrop and NameDrop
AirDrop in iOS 17 introduces new sharing options: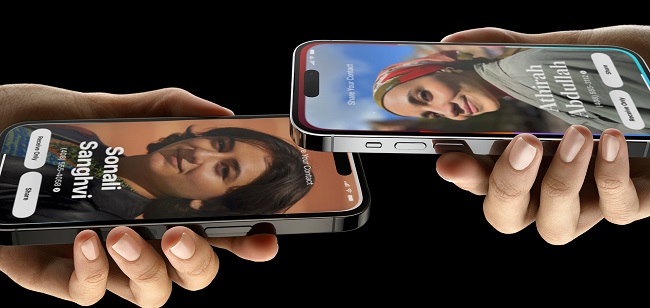 NameDrop: Easily share contact information by bringing iPhones or an iPhone and Apple Watch together.
Content Sharing: Share content or initiate SharePlay for listening to music, watching movies, or playing games when iPhones are in close proximity.
Updates to Autocorrect and Dictation
Autocorrect in iOS 17 receives a significant upgrade:
Transformer Language Model: A state-of-the-art on-device machine learning language model improves word prediction, enhancing accuracy and overall typing experience.
Refreshed Design: A redesigned interface provides better typing support.
Enhanced Sentence-level Autocorrections: Fixes a wider range of grammatical errors.
Inline Predictive Text Recommendations: Users receive word and sentence suggestions as they type, accessible with a simple tap on the space bar, resulting in faster text entry.
Improved Dictation: Utilizes a new speech recognition model for enhanced accuracy.
StandBy
iOS 17 introduces StandBy, a full-screen experience for iPhone when charging sideways. It offers glanceable information from a distance, perfect for nightstands, counters, and desks. Users can personalize StandBy with beautiful clock styles, favorite photos, and widgets, including Smart Stacks.
It supports Live Activities, Siri, calls, and larger notifications. StandBy remembers preferred views when charging with MagSafe. Easily accessible by tapping the screen and always available on iPhone 14 Pro with the Always-On display.
Journal app
Journal is a new app on iPhone that promotes reflection and gratitude through journaling. It utilizes on-device machine learning to provide personalized suggestions for journal entries, sourced from recent activities like photos, people, and places.
Scheduled notifications help establish a journaling habit. Journal prioritizes user privacy with app locking, on-device processing, and end-to-end encryption. It ensures that entries remain confidential and inaccessible to Apple or any other party. The Journaling Suggestions API also enables developers to integrate journaling suggestions into their own apps.
Here are additional features in iOS 17:
Safari: Enhanced privacy protection for Private Browsing, blocking trackers and unauthorized access. Locks when not in use.
Password Sharing: Share passwords securely with trusted contacts through iCloud Keychain. End-to-end encrypted.
Health App: Log daily moods and emotions, access mental health assessments and resources. Screen Distance promotes healthy device usage.
Maps: Offline maps for navigation, trail discovery in parks, real-time charging information for electric vehicles.
AirTag: Share with up to five people for location tracking, sound playback, Precision Finding.
Apple Music: Collaborative playlists, SharePlay in the car.
AirPlay: Intelligent content sharing, compatibility with hotel TVs.
AirPods: Adaptive Audio, Personalized Volume, Conversation Awareness, improved switching and call controls.
Home App: 30-day activity history, Matter-compatible lock features.
Reminders: Auto-grouping grocery list.
Visual Look Up: Identify subjects in paused videos, lift subjects from photos and videos.
Siri: Activate with a single "Siri" command, issue multiple commands.
Photos: Improved recognition in the People album.
Privacy Updates: Communication Safety, Sensitive Content Warning.
Accessibility Updates: Assistive Access, Live Speech, Personal Voice, Point and Speak.
Availability

iOS 17 developer beta is out now for Apple Developer Program members at developer.apple.com. The public beta will be available next month at beta.apple.com. The new software features will be available for free this fall as a software update for iPhone Xs and later, dropping support for iPhone 8 series and iPhone X.
Check out apple.com/ios/ios-17-preview for more information.
Speaking at launch, Craig Federighi, Apple's senior vice president of Software Engineering, said:
iOS 17 makes iPhone more personal and easy to use. It has new features for the apps we use every day to talk to each other. Phone, FaceTime, and Messages have many improvements that we think our users will like.

We also have new ways to share with AirDrop, better autocorrect, and new apps like Journal and StandBy. There is much more to explore. We are excited for everyone to try it.