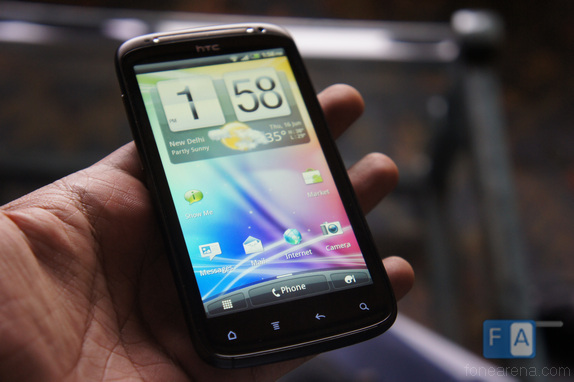 HTC had launched the Sensation Dual Core phone in India last week and here are a bunch of photos to prove that HTC designers are an awesome lot. The Sensation had premium written all over it and you are bound to agree the minute you lift the phone. Check out the Photo Gallery below. The Sensation boasts of the same unibody design found on other HTC phones.
The Sense 3.0 Weather widget is pretty cool.
The display is sightly curved to the inside.
Nothing in the bottom apart from a small groove to open the battery cover.
Volume keys  and microUSB port on the left
Camera , Flash and Speaker on the back
The phone packs an impressive camera and the Gallery loads stuff pretty quickly.
The Camera focuses really fast and shutter speed is one of the best we have seen in android phones
The Sensation runs on the latest version of Android – Gingerbread 2.3.3
The browser plays even HD videos in-line without having to open the Youtube app.
The Super LCD looks a bit dull next to the SuperAMOLED plus of Samsung but it aint that bad.
The processor is not as fast the S2 but still manages a score of 2160 in Quadrant.
If you have any questions about the Sensation let us know .  Expect a review soon.