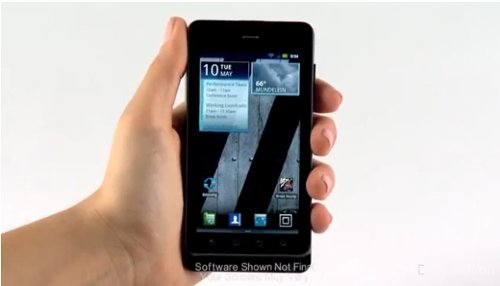 Verizon and Motorola launched their first ever Droid back in 2009 and the name of the device is Motorola Droid, which is one of the famous Android handsets available in the market. Last year, Motorola launched successor to Droid known as Droid 2, which is also a very good phone. We recently you leaked shots of Droid 3 and we told you that Motorola and Verizon are working on the successor of Droid 2 and it will be out soon. So far, we have only seen some leak photo of the device and some information related to it. We already know that it comes with a 4-Inch display and it has an 8-MP camera, which is capable to record video in 1080p. There is a sliding QWERTY keyboard which is actually a trademark of Motorola Droid series. It's possible that the display will feature qHD resolution. We heard that Droid 3 will be running on Texas Instrument's OMAP4 dual-core processor instead of Tegra 2, but we know its dual-core.
Droid 3 will feature new version of Motorola's custom skin known as MotoBlur and I am sure that it will be running on top of Android 2.3 a.k.a Gingerbread. A few Droid 3 tutorial videos were leaked few days ago on YouTube, and after few hours, they videos were no longer available due to copyright claim by Motorola. But check out the video after the break and it's uploaded on Daily Motion, and not claimed by Motorola yet. The video is created by Motorola but it's not official yet, so check out the Droid 3 in the video below:
[HTML1]
Tell us what you think about the Droid 3 in the comment section below.