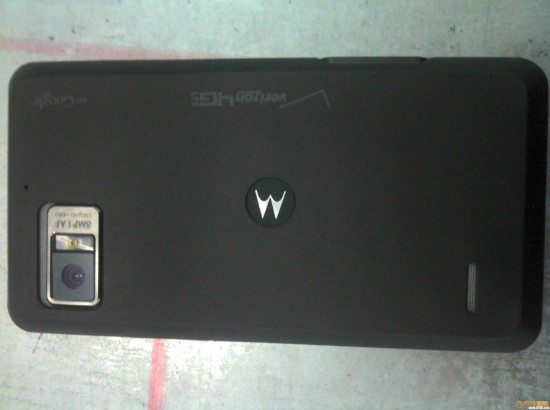 Motorola Droid Bionic was announced back at CES 2011 along with Atrix 4G, and Bionic was headed to Verizon Wireless. But then Motorola decided redesign Droid Bionic, and launch it as a completely different device. We recently showed you some leaked shots of Motorola Targa, which is actually codename of redesigned Droid Bionic. We saw a blurry shot back then, but now we finally have some clear shots of the Droid Bionic. The device was leaked twice with interesting shots and information. First batch contains back side images and an image with a laptop dock, as Motorola CEO said that there will be more devices in future with laptop dock functionality. The back side of the device is just like we saw in the image of Targa, but there is no hump like Droid X and Droid X2 on the camera side.
In the second batch, the phone was compared with Motorola Defy and people, new Droid Bionic is really a monster. As you can see the image above, Atrix is like a baby in front of Bionic. Bionic features a 4.5 Inch display, an 8-MP camera with LED flash, and there is also a possibility that it will feature Texas Instruments OMAP4 dual-core processor instead of Tegra 2. It will also a bring a new 3D version of MotoBlur, and it will be running along with Android 2.3.4.
Well folks, that's all we currently know about the Bionic. The device looks better than the old one I think, and hopefully Verizon will be launching it soon. So anyone looking forward to this monster?