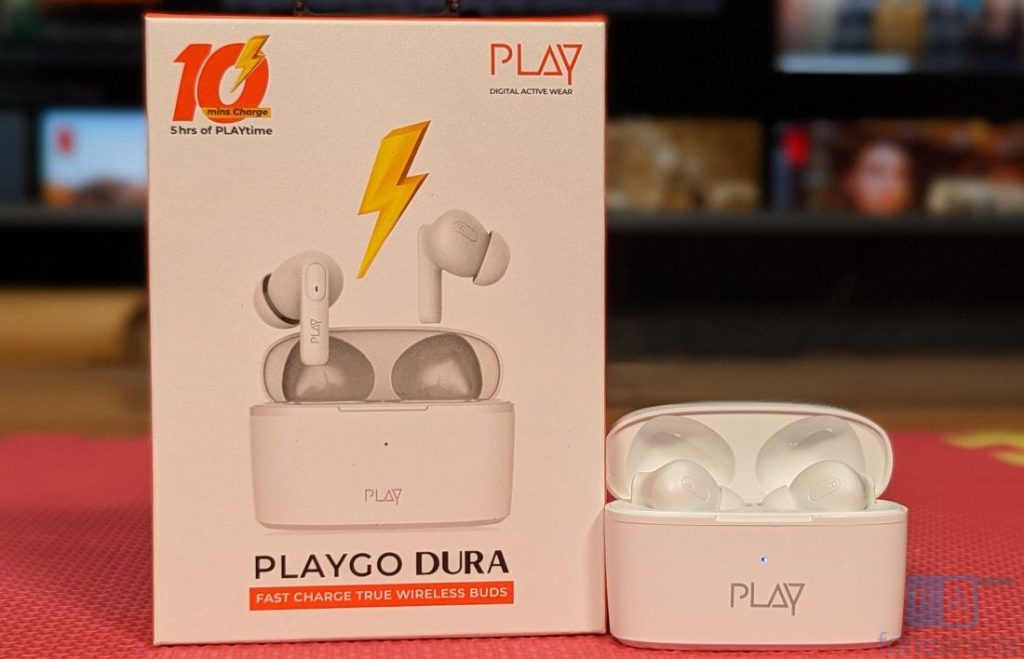 PLAY, popular for its mobile accessories, today launched DURA, the company's latest budget True Wireless Earbuds. These 'Made in India' earbuds feature an in-ear design, has EBEL (Enhanced Bass and Extra Loud) drivers for crisp audio, promises up to 10 hours of standalone and 50 hours of battery life with the case. Let us dive into the review to find out if this one is good.
Box Contents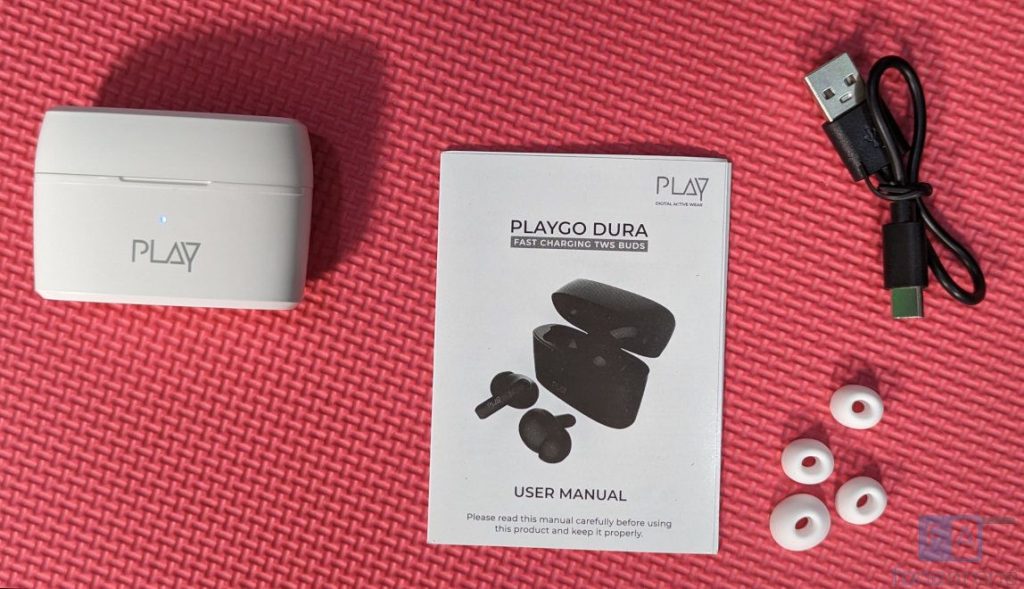 PLAYGO DURA in Black colour
USB Type-C Cable
Ear tips in Large and Small sizes (Medium installed)
User manual and warranty information
Design and Build Quality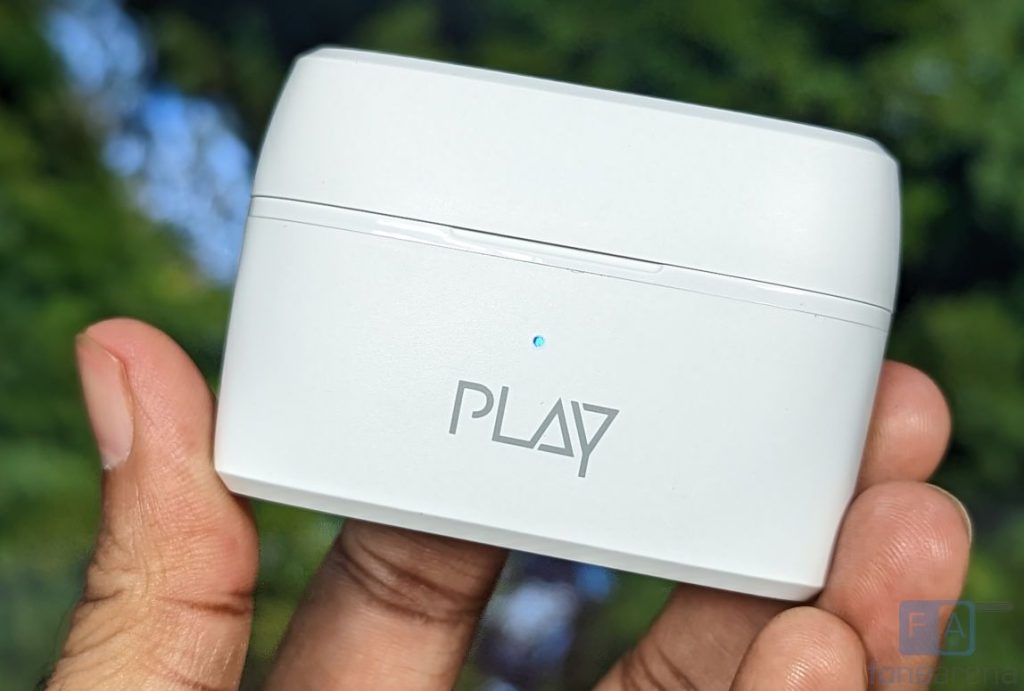 Starting with the design, the headset comes in a small box that fits in your pocket. There is a Play branding on the front along with an LED light indicating the charge left. The box is made of plastic, but doesn't attract fingerprints or prone to scratches. Earbuds weigh about 4 grams per bud, which is light for a comfortable, long period of use.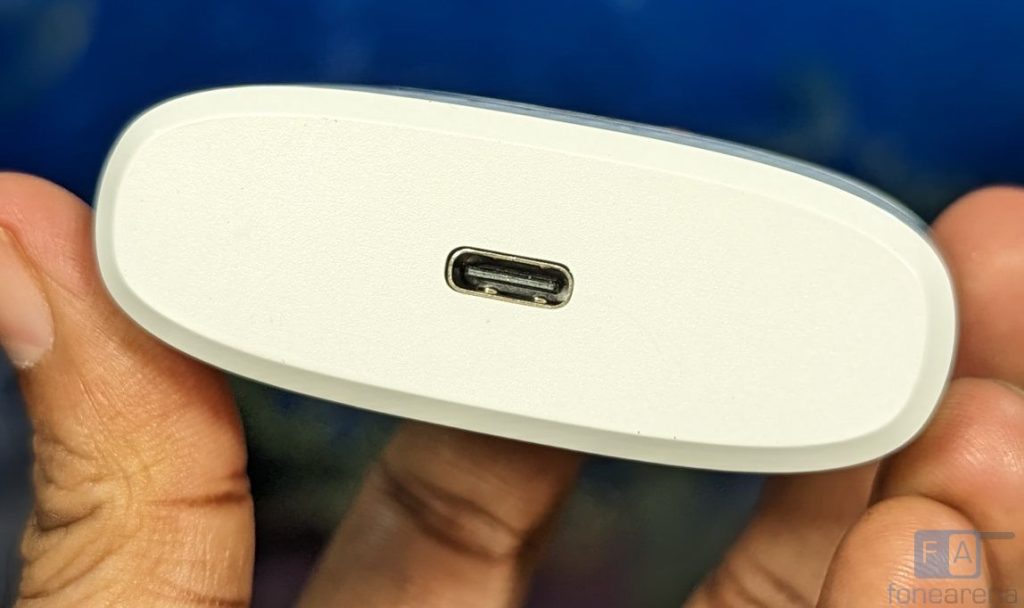 The USB Type-C port is present on the bottom.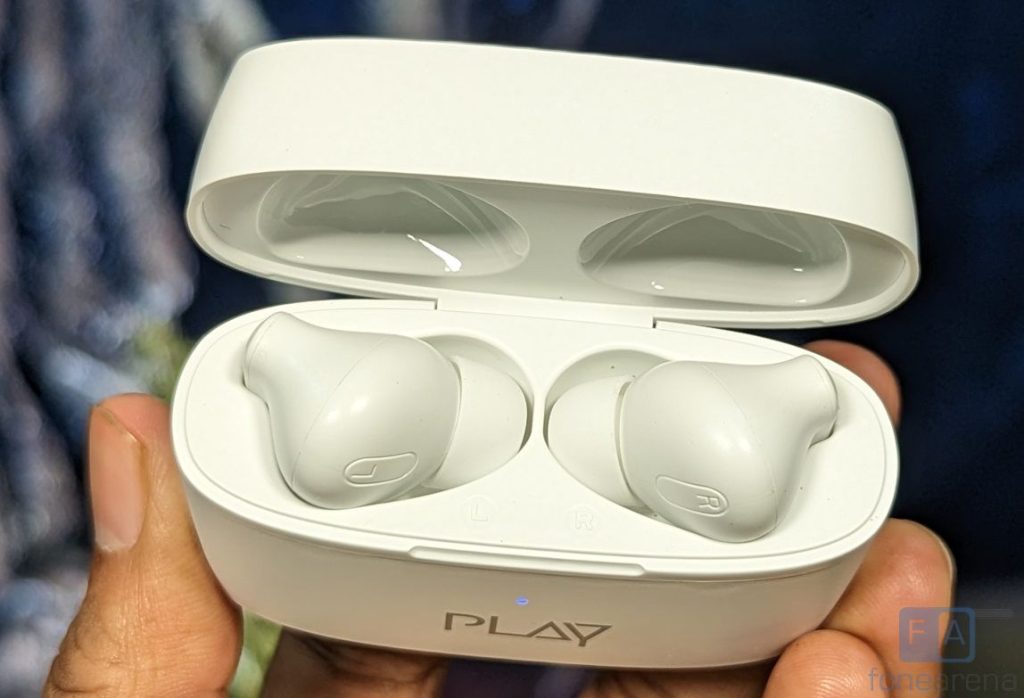 Even the earbuds have a matte finish. The earbuds also come in black colour.
The earbuds have an in-ear design that offers a comfortable fit and the in-ear hook fit design ensures a secure fit even when you are running or during workouts. I have been using this for my runs for an hour without any issues. The earbuds have LED light that glows in red and blue colours.
Touch controls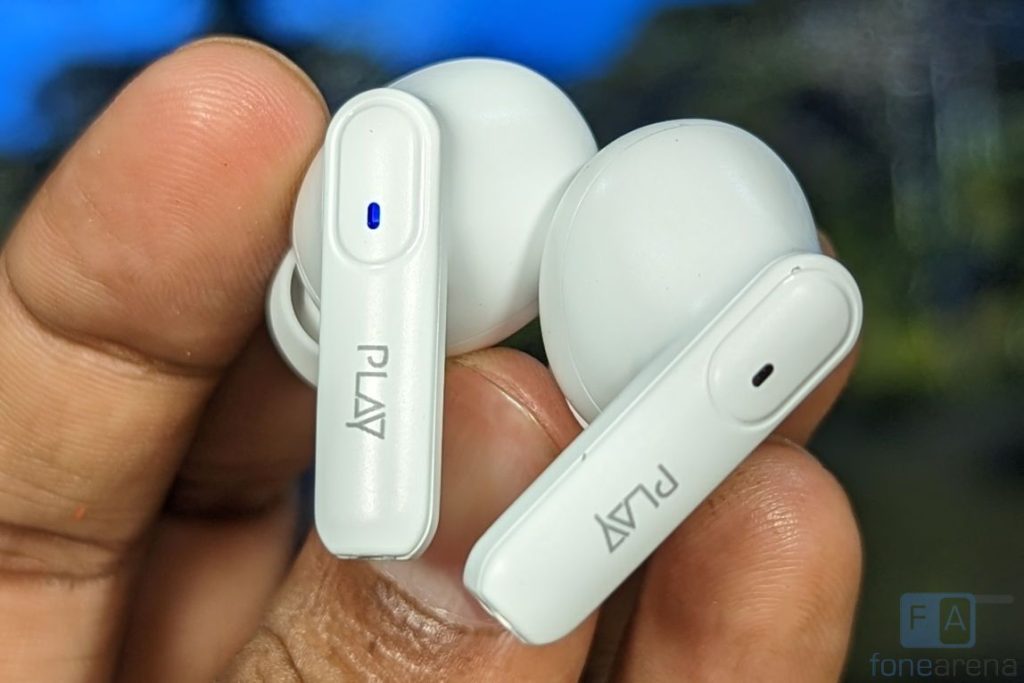 There are touch controls on both the earbuds that let you play or pause music, go to previous or next song, launch voice assistant and accept or reject calls, and it also has volume controls. Check them out below.
Function
Left earphone (L)
Right earphone (R)
Play/Pause, Answer / Hang calls
Double tap
Previous Song
Triple Tap
Next Song
Triple Tap
Volume down
Touch and Hold
Volume up
Touch and Hold
Voice Assistant
Tap four times
The company doesn't mention if the earbuds have IP ratings.
Audio Quality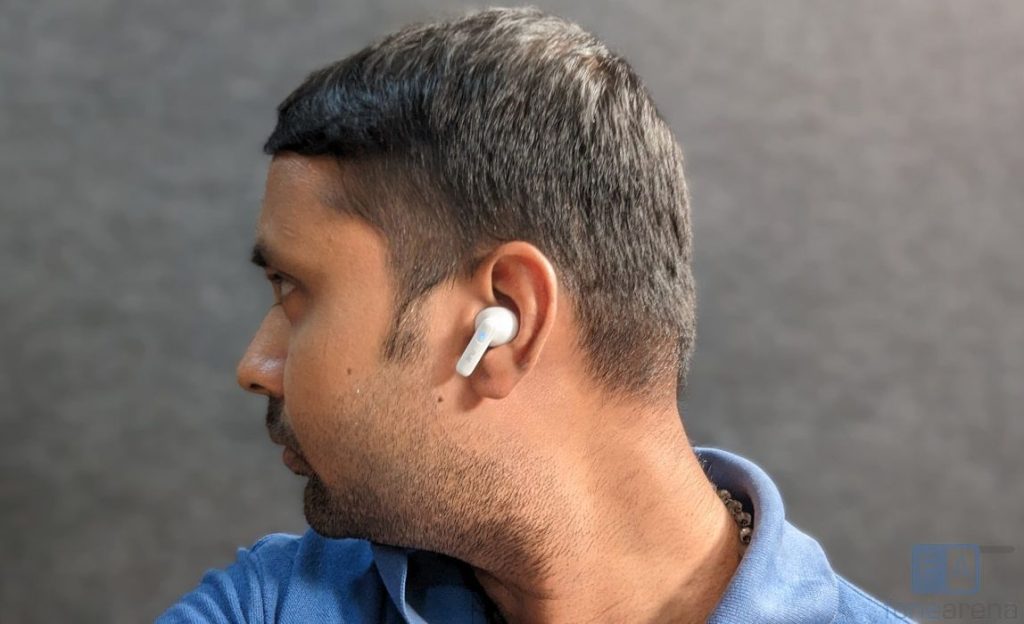 Coming to the audio quality, these earbuds offer good audio quality with decent bass for the price, thanks to 10 mm drivers and proprietary EBEL (Enhanced Bass and Extra Loud) drivers. Since it has an in-ear design, the passive noise isolation is decent.
It packs the Sub band Coding (SBC) that is capable of bit rates up to 328 kbps for listening to 320-bit MP3s. This is common in Bluetooth devices with Advanced Audio Distribution Profile (A2DP). Difference between audio quality in SBC and aptX is minimal, but the latency is normally over 100ms with SBC. We did not face any such latency issues during music or video playback, but it is noticeable when playing games. Wish it had AAC and dedicated low-latency mode for gaming, which is common even in budget TWS earbuds these days. Overall, the audio quality is better than expected in most conditions.
The earbuds have a tiny microphone, which is decent in most cases in picking up your voice clearly for calls. It might struggle in crowded and noisy environment, which is common in most Bluetooth headsets in the price range.
Connectivity and Pairing
The Bluetooth headset supports Bluetooth 5.1, so you can connect it to Android and iOS devices with Bluetooth support. Taking the earbuds out of the case lets you pair it with your phone. Left earphone automatically connects to right earphone, and you hear the audio feedback 'connected'. Each earbud can be used independently. You can remove any one earbud from charger case, it automatically becomes master earpiece.
The headset doesn't have a companion app, but you can launch Siri on iOS and Google Assistant on Android devices when you tap right or right earbuds four times.
Battery Life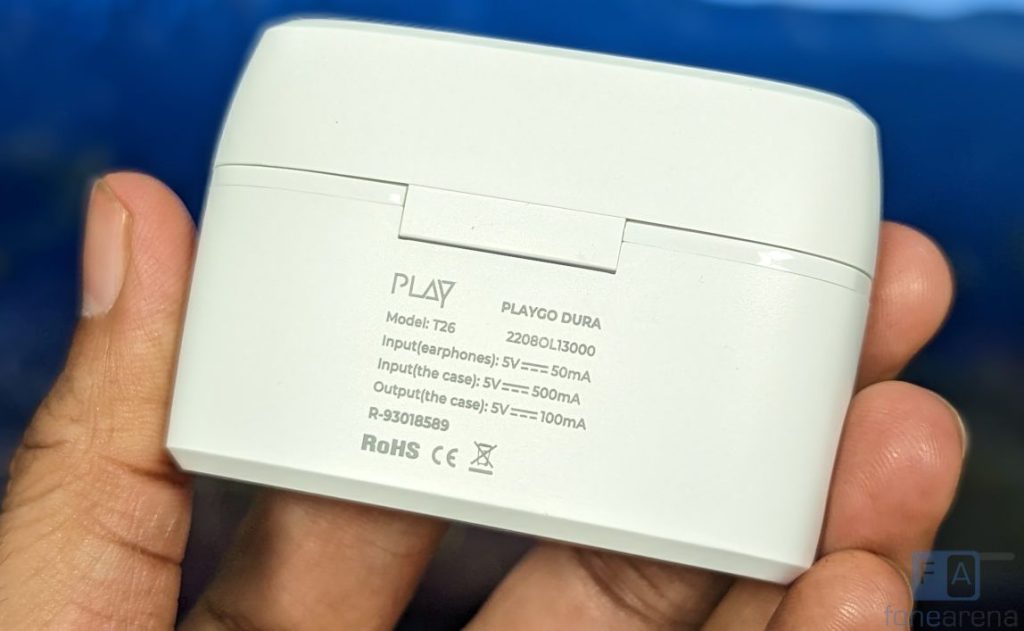 The 50mAh battery in the buds promise about 10 hours of battery life, and we managed to get about 8 and a half hours of battery life on a single charge with about 70% volume, which is good. The headset automatically turns off when it's not in use. The 300mAh battery in the case promises a total 30 hours of battery life. It gives audio prompts to charge the headset when the battery is low.
Charging the earbuds take about 50 minutes and charging the case from 0 to 100% takes about 1 hour using USB Type-C port. The LED light on the case lights up, indicating the charge. The earbuds also come with fast charging support that promises 5 hours of playtime with just 10 mins of charging, which is good.
Conclusion
Overall, the PlayGo Dura is a good true wireless earbuds for Rs. 1499. It has a light-weight design, has volume controls that you rarely see in the budget, and it offers a good battery life as well as fast charging. The earbuds lack AAC support and a dedicated low-latency mode. It is available from PLAY e-store, and e-commerce platforms like Amazon.in and Flipkart.