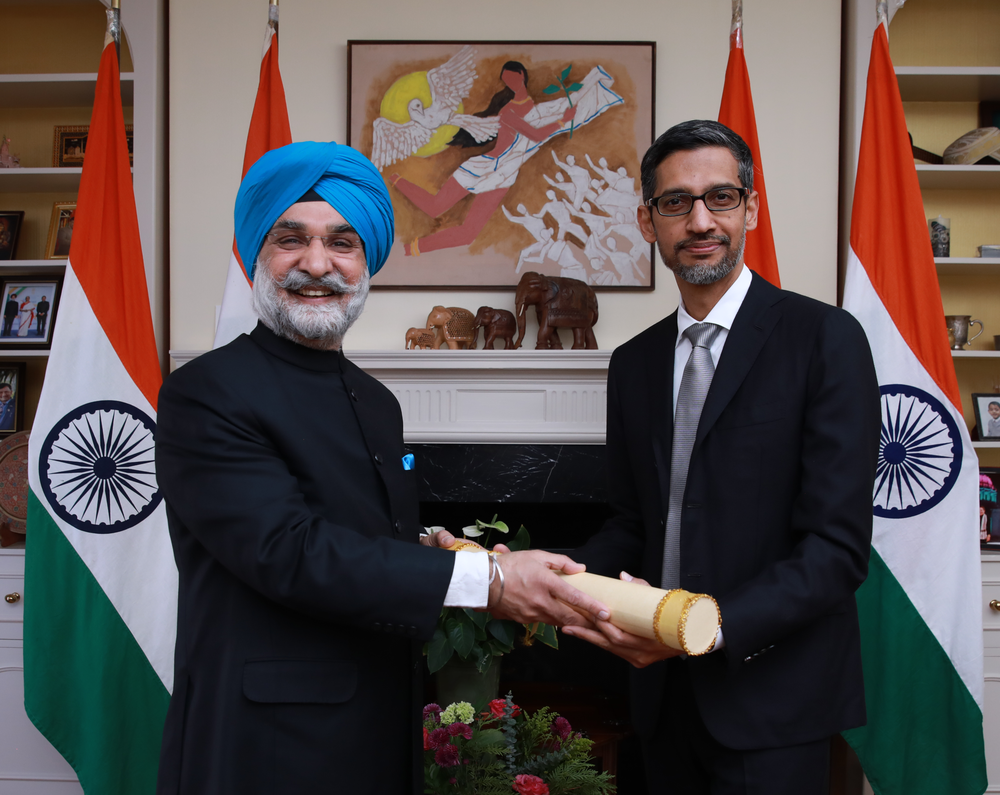 Taranjit Singh Sandhu, India's Ambassador to the United States, presented Sundar Pichai, CEO of Google and Alphabet, with the Padma Bhushan Award on behalf of the Government of India. The Padma Awards are India's highest civilian honours, in case you didn't know. Sundar expresses his feelings after receiving the award in San Francisco.
Delighted to hand over Padma Bhushan to CEO @Google & Alphabet @sundarpichai in San Francisco.

Sundar's inspirational journey from #Madurai to Mountain View, strengthening 🇮🇳🇺🇸economic & tech. ties, reaffirms Indian talent's contribution to global innovation pic.twitter.com/cDRL1aXiW6

— Taranjit Singh Sandhu (@SandhuTaranjitS) December 2, 2022
He starts out by saying that "India is a part of me." I carry it with me wherever I go. On the occasion, he expressed gratitude to Ambassador Sandhu and Consul General Prasad for hosting him to receive the Padma Bhushan. I am deeply grateful to the Indian government and people for this tremendous honor. "It means a lot to be recognized in this way by the country that shaped me," he further added.
He also says that going back to India many times over the years and seeing how quickly technology has changed has been amazing. From digital payments to voice technology, more and more of India's innovations help people all over the world.
Businesses are taking advantage of the opportunities that come with digital transformation, and more people than ever before have access to the internet, even in small towns and villages. Prime Minister Modi's vision for "Digital India" has helped speed up this progress, and I'm proud that Google continues to invest in India, working with governments, businesses, and communities over two decades of change.
He said that Google will put $10 billion into India's digital future. They will try to make internet access more affordable, come up with solutions for India's unique needs, and help businesses of all kinds adapt to the digital age.
Google has trained over 1 million women through WomenWill Entrepreneurship Program and over 55,000 teachers in conjunction with the government and local NGOs. The NASSCOM Foundation and Tata Strive supported over 100,000 Google Career Certificates.
This year, Google Translate added 24 new languages, eight of which are native to India, using machine learning. It means so much to see people access information and knowledge in their preferred language and see the world open up for them. This is why I'm optimistic about technology and feel India can lead.
Speaking on the occasion, Sundar Pichai, CEO of Google and Alphabet, said:
I see so much opportunity ahead. Next year, India will take over leadership of the G20. It's an amazing opportunity to build consensus on strengthening the global economy by advancing an internet that is open, connected, secure, and works for everyone, a goal we share.

I look forward to continuing the great partnership between Google and India, as we work together to bring the benefits of technology to more people.