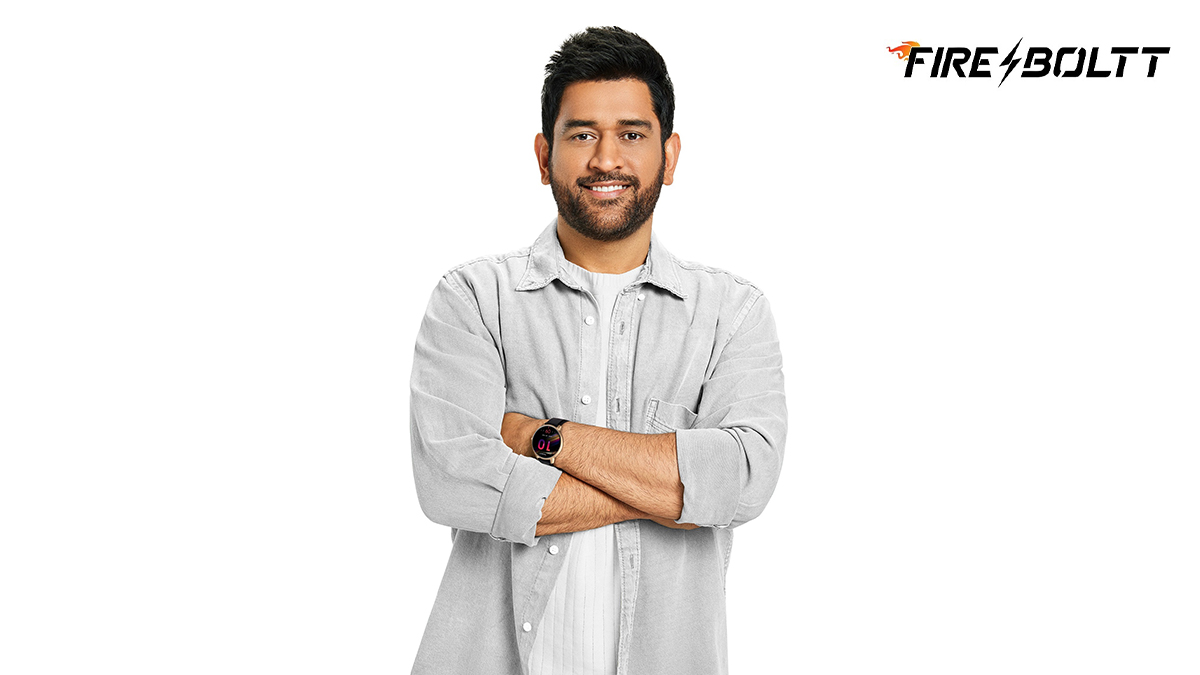 Fire-Boltt has named Indian cricket's star, Mahendra Singh Dhoni, as its new brand ambassador. Dhoni is the most recent addition to Fire-ambitious Boltt's marketing and endorsement ambitions in India.
The cricketer will be the brand's face and will participate in a variety of marketing, advertising, and endorsement initiatives for Fire-Boltt, which has reclaimed the top spot in the Indian smartwatch market with a 28% market share.
A collaboration with Dhoni, who has a reputation for dependability, would help the brand aggressively spread its footprint across the country and establish its position as the most trusted wristwatch brand in India. Fire-affiliation Boltt's with MS Dhoni will help it reach more people in India and around the world.
As the market for smartwatches grows quickly, this relationship will be very important for the brand, which wants to be the best in its field. Mahendra Singh Dhoni will be the leading face of the brand's marketing campaigns alongside film industry icons Vijay Deverakonda, Kiara Advani, and Vicky Kaushal.
The company claims that its unrelenting persuasion and intuitive agility have led to its extraordinary growth and made it the top smartwatch brand. Fire-Boltt is the 4th largest brand globally behind Apple, Samsung, and Huawei, with worldwide smartwatch market growth of 13% YoY in Q2 and will reach greater heights in the near future.
Talking about his association with the brand and the smartwatch, Cricket Superstar Mahendra Singh Dhoni, said,
Fitness plays an important role in my life. Being an athlete, consistency is important. Fire-Boltt's range of smartwatches assists people in performing the right amount of workout regimes. I'm glad to be associated with a brand that has a global appeal.
Commenting on this achievement, Arnav Kishore, Founder & CEO at Fire-Boltt asserted,
We are extremely passionate about the addition of MS Dhoni to our group of inspiring ambassadors, he is a natural fit for the brand. The impeccable personality of MS Dhoni and his continuous fame marries well with our vision to carve a niche for ourselves in the fit-tech space. MS Dhoni is one of the most respected cricketers in the world of cricket and he remains to be an idol for aspiring cricketers across the globe. The association with this iconic wicketkeeper, captain, batsman, or one may say a living legend, reflects our unwavering commitment to offering people the best solution to their smartwatch woes.
Adding to the excitement, Aayushi Kishore, Co-Founder, Fire-Boltt, said,
The ethos of Fire-Boltt to foster a wholistic experience for each & every customer has been deeply imbibed in all the initiatives that we undertake here and MS Dhoni embodies Fire-Boltt's fitness heritage seamlessly. From the factory level to the top management, true & cohesive efforts are reflected in all of our products, communication, branding and our customer relations. With this association, we wish to accentuate our capabilities and become a household name just like Mahendra Singh Dhoni.