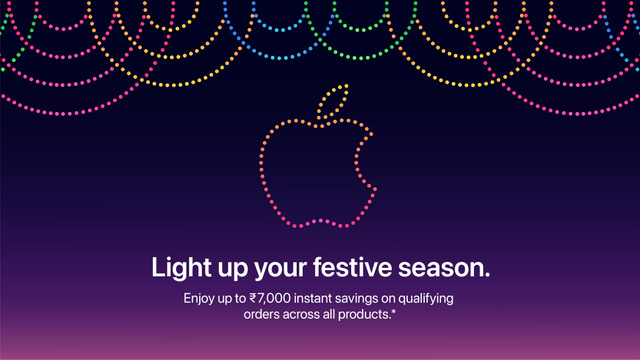 Apple has started Diwali Festival sale today, as usual. The company has highlighted the fact that the holiday season has arrived and that the Apple Online Store is offering fantastic deals to brighten everyone's season. As a part of the sale, users will receive 7% instant savings on all products, up to Rs. 7,000.
Apple Store Online Diwali Offer
HDFC Bank or American Express credit card users can get up to Rs. 7,000 in instant savings on orders over Rs. 41,900 across all products. This promotion applies to one or more items that total Rs. 41,900.
Offers no-cost EMIs for 3 or 6 months from leading banks. Also, if you want to buy a new iPhone, you can trade in your old smartphone and get credit right away.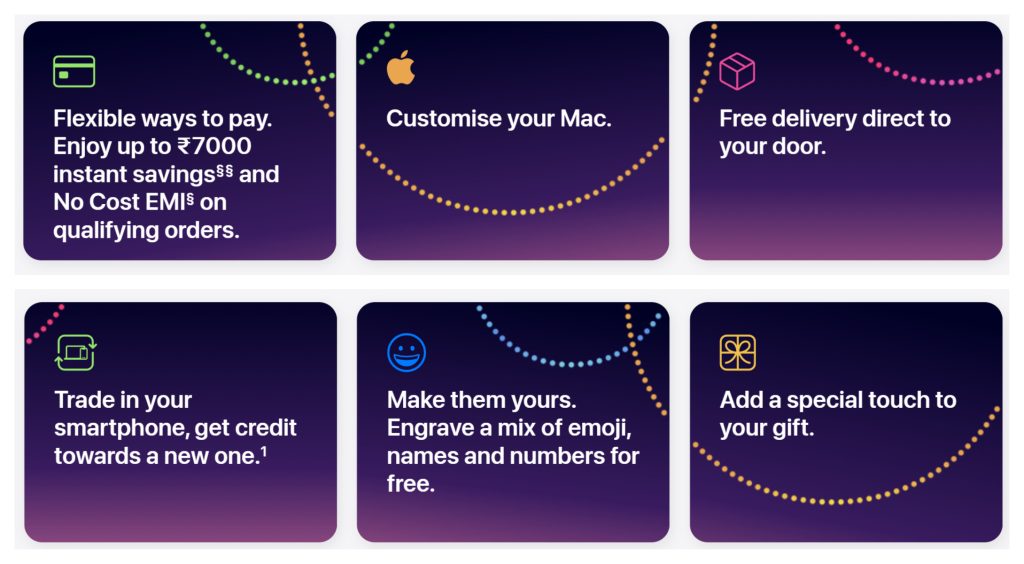 Save with Trade In
With Apple Trade-In, customers can easily trade in their old smartphone for store credit that can be used toward the purchase of a new iPhone.
Free Engraving
Customers can add custom engraving in Hindi, Bengali, Marathi, Tamil, Kannada, Gujarati, Telugu, and English to iPad, AirPods, AirTag, and Apple Pencil (2nd Gen) products. Applicable, but only in the online Apple Store for free.
Customize your Mac
Customers can customise every new Mac to fit their demands, whether they want more RAM, more storage, or a more potent graphics card.
Apple Specialist
At the Apple Store Online, Apple Specialists are on hand to help and give advice. From product features to device setup, Apple consumers can get online and phone help in English and Hindi.
Personalized Set Up Session
Apple helps you maximize your new device while you shop. Schedule a free session with a specialist to cover basic and advanced subjects.
Today At Apple
Apple offers free instructional sessions on photo, video, audio, coding, art, and design. These sessions are held across the world and taught by our Creative Pros and sometimes world-class artists, photographers, and musicians. These seminars aim to motivate others to pursue their passions and favourite items.
Virtual Studio: Draw a Treasured Memory with Keerat Kaur
As part of Diwali, Apple is organizing an online event with Sikh artist Keerat Kaur to bring your favourite memory to life on iPad. Using a significant word or phrase as a starting point, draw an outline in Procreate or another programme.
Guided by Keerat, users explore colour, characters, motifs, and more to create a personal creation. The online event will happen on Wednesday, October 5, 2022, between 8:00 p.m. and 9:30 p.m. (IST).
The Apple Store Online Diwali Offer is available on Apple Stores Online across India starting today, September 26.