It's been some time since i last had a Sony Ericsson smartphone in my hand. After the desaster named Sony Ericsson Xperia X10, i was almost frightened to go back to SE again. Sony sure had it's qualities, but they kinda missed it with the X10. big time. Fast forward into 2011, Sony Ericsson seemed to have learned from their mistakes and CES was a first sign of things to come, with the introduction of the Sony Ericsson Xperia Arc. Slim, sexy and Gingerbread under the hood. A recipe, i thought, could breath new life into SE's Smartphone division.
Impressed with SE's latest try, I was eager to get my hands on the Arc. It attracted me in many ways. Even more so, when i had my hands on one shortly at the Sony Ericsson on Ice event some time ago! The time has come, when the fine folks of Sony Ericsson's PR agency (thanks Marlene!) thankfully sent a review unit over.
So did it live up to it's hype? Read on, once again divided into hits and misses (which will follow up later on):
Sony Ericsson Xperia Hits:
Form Factor: Although I'm no fan of the material choice (more on that later on), i gotta say that the 8,7mm body (on the thinnest spot) is really hitting one of my weak spots. I've always been a big fan of slim, sexy devices, and the Arc is definitely that. With only 117g it's very light, and features a good size, 125 x 63 mm. SE made sure to not waste a lot of space above and below the display, so the phone was not made unneccessarily big. Yes, big fan there.
The Battery: Yes, i know there's the Samsung Galaxy S 2 too, but cramming a 1.500mAh battery in such a slim device deserves a mention. The battery is ridiculously thin, yet a very powerful solution, compared to devices with a desperate need of some extra juice. Yes, i'm looking at my own HTC Desire HD right now. Battery life was decent, and without Juice Defender, i was able to get through a whole day. i like, a lot.
Display: Sony Ericsson has equipped the Arc with yet another next step in technology, the so called Reality Display, powered by the mobile Bravia engine. Promising less noise, enhanced colours and richer contrasts, SE really went into town here. The 4,2″ 854×480 pixels LCD-screen does indeed promise a lot – did it deliver? Yes, partly. For once, i gotta say that this has to be one of the best LCD-screens around. Mind you, things are different when coming from more extreme viewing angles, which just happens if the screen is backlit, but in normal situations, the display was very, very good. Colours and even black tones are very good, readability in sunny weather conditions equally good. It's difficult to see big differences when the Bravia Engine is on and off (which apparently happens when looking at pictures and videos), but still, i am impressed here.
Camera: Ladies and Gentlemen, what you are looking at, is undoubtedly the best camera I have seen so far on an Android Device. The 8 MP, Exmor R sensor-equipped camera comes with a single LED flash (no dual solution, for reasons unknown) and some neat little software features. Pictures in daylight turn out to be very good, although sometimes a bit oversaturated pictures. If you compare the Nokia N8 with the Sony Ericsson Arc, you will notice that the N8 is producing the pictures in a more realistic color tone, while the Arc gives each picture a more vibrant color. Don't get me wrong here, the Nokia N8 obviously remains king of camera phones, but compared to some of cr*p I have seen on other Android devices, the Arc is a very, VERY welcome change here.
The Exmor R sensor helps when the light isn't that great anymore, and while most cameras struggle in poor light situations, the Arc did a surprisingly good job. It's no thing of wonder, but still works decently. The LED flash is not exactly powerful, but with the addition of the new sensor, things usually turn out very nice. The camera app has been overhauled by Sony Ericsson, equipping it with features like an auto-scene mode, touch-to focus, etc. The auto-scene mode is especially nice, given that it even chooses between normal or macro mode! Videos are shot in 720p HD resolution at 720p, complete with continuous autofocus.
(For more camera shots of the Sony Ericsson Xperia Arc, click one of the pics or this link to get to my Flickr Set: Sony Ericsson Xperia Arc cam shots)
Android 2.3 aka Gingerbread: Everyone who follows the mobile scene a bit, may remember the desaster of the Sony Ericsson X10. SE decided to overhaul the UI heavily, instead of being up to date. With the Arc, SE has learned from past mistakes, equipping it with Android 2.3.2 out of the box, with all it's goodness and apart from that, promising faster updates for their devices. Alongside some of the new features, like for example an overview about all used homescreen widgets via pinch to zoom, Gingerbread gives every Android phone a notably better battery life, which is always appreciated when using one of those powerhungry Androids. Another new feature I've found out, is a new E-Mail preview function (which does not work in the Gmail App). This can be brought up using the menu button while at your mail list, in either portrait and landscape, or landscape only and gives you a very cool drag down preview of the selected E-mail. I'll show you what I mean in a video in the next couple of days.
Now let me make one thing perfectly clear: The UI definitely looks pretty. Everything is animated nicely, and it's fun to use, HOWEVER, it's certainly not as functional as f.e. Sense UI from HTC, which is by far my favourite Android experience. Therefore yes, having Gingerbread is great and even though it's working almost flawless and fluid, you will find the software part also in the second part 2 of my Arc review, which covers everything I wasn't so happy about.
Sony Ericsson life.contacts: This is more an app than a feature, but since this one comes from SE, I definitely wanted to mention it here! life.contacts is a simple contacts widget, bringing up your frequently used contacts. The contacts will get resorted once you talk more to other people, so you always get your latest displayed. The widget comes now in 3 sizes (small, large and XXL), and gives you every possible connectivity feature for those contacts. Another gimmick is the notification email, which drops by, whenever you missed a call or received a SMS. Might come in handy for some people, but I found it rather annoying after some time, so thankfully this can be switched off. This widget comes from Sony Ericsson, but works on all Android devices (or at least on everyone I've had my hands on lately!)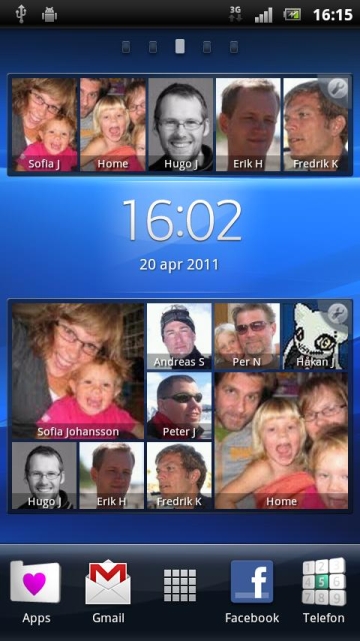 As you can see, there is a lot of things to like about the Sony Ericsson Xperia Arc. I certainly love the slim package, the very good camera, and even the Display which performs nicely even if it's no AMOLED unit. But, as usual for my reviews, there are things I was not happy about, so make sure to check back in a few days, when I'll show you what I didn't really like about the Arc!
Find my picture gallery of the Sony Ericsson Xperia Arc over at my Flickr page: Sony Ericsson Xperia Arc Gallery
Find a constantly updated Flickr set with camera shots by the 8MP camera of the Arc here: Sony Ericsson Xperia Arc Camshots