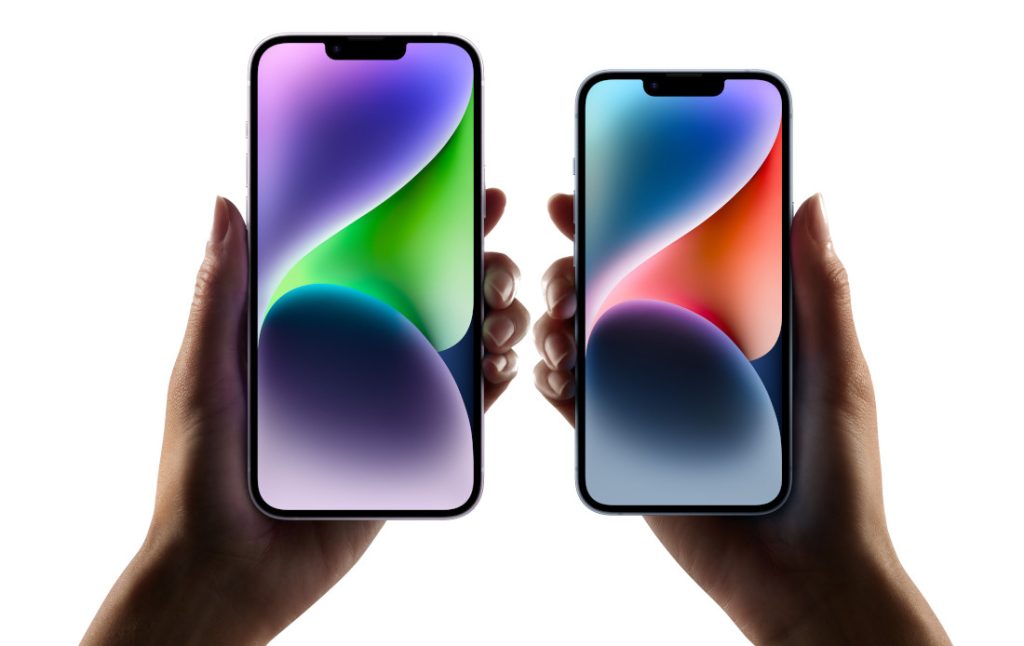 Apple announced the iPhone 14 along with a host of other products at the company's Far Out event a few hours ago. I was curious about the price of an unlocked iPhone 14 so I landed up on this page on the company's website which shows that Apple is charging a $30 premium for the iPhone 14 and 14 Plus when purchased without a carrier plan.
Here is a screenshot below which shows that the base version of the iPhone  14  that actually retails for $799 in the US. If you choose a carrier such as AT&T, Sprint, T-Mobile or Verizon the price is $799 but when you pick the "Connect to any carrier later" option, the price jumps up to $829.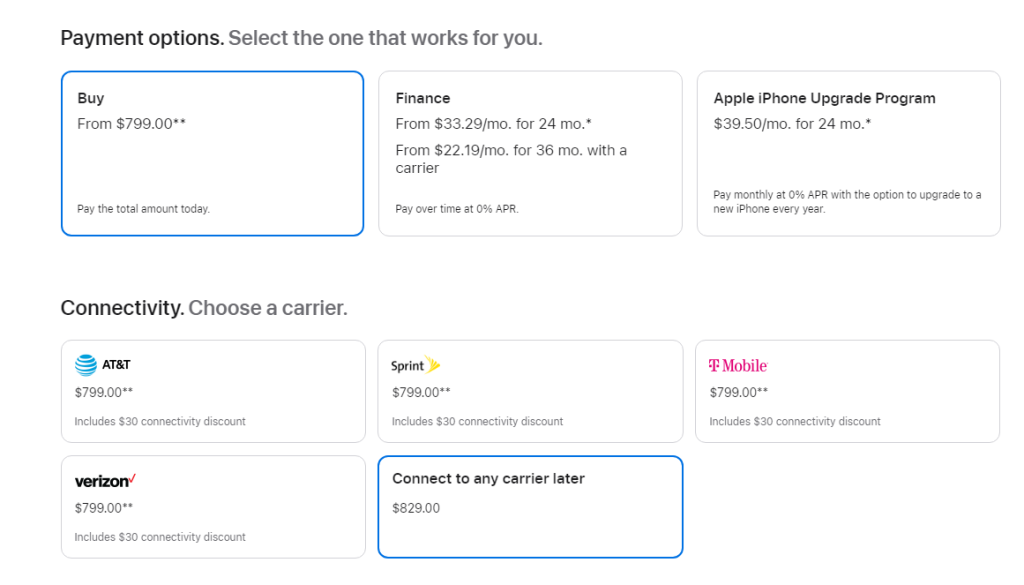 It is the same case with the iPhone 14 Plus which actually starts at $899 if you select a carrier. Otherwise, it will set you back by $929. It does mention a $30 connectivity discount.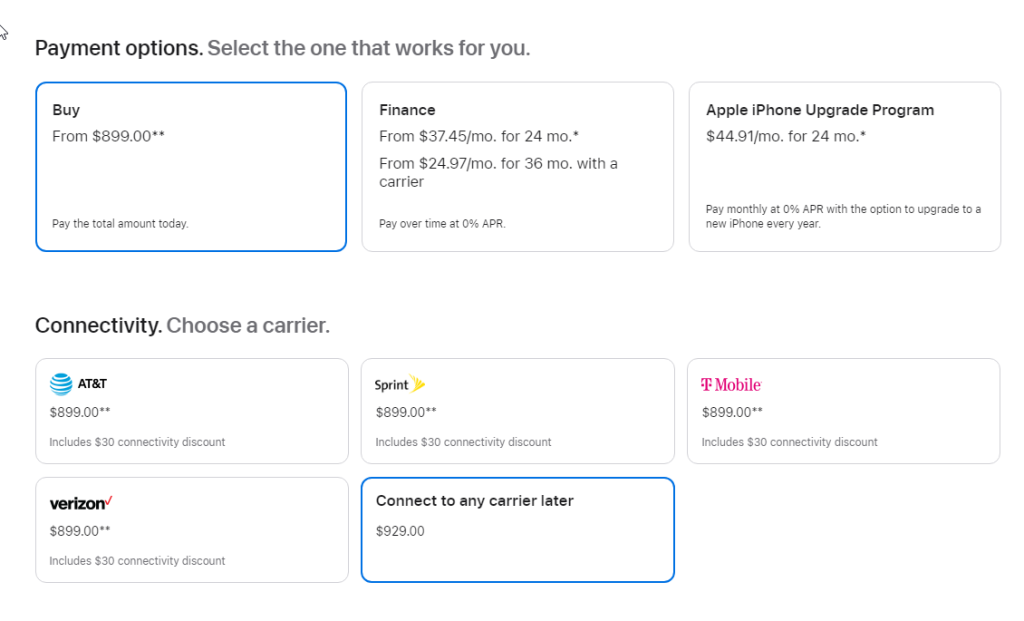 We noticed this pricing of the iPhone 14 and iPhone 14 Plus but for the iPhone 14 Pro series , there is no difference in price whether pick a carrier is picked or not picked.  All iPhones sold by Apple on apple.com or at its stores are fully unlocked usually, so we are not sure what has changed with the latest launch.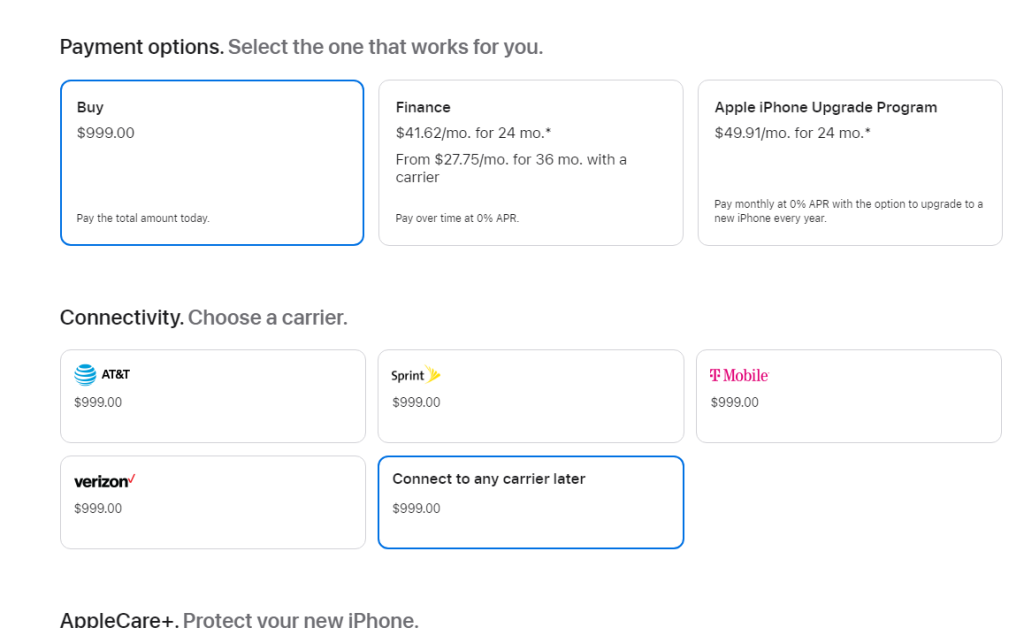 It is worth mentioning that iPhone 14 models sold in the US no longer have a physical SIM card slot and exclusively use eSIMs for cellular connectivity.  It is unclear at the moment if iPhone 14 users in the US need to purchase or possess an eSIM to activate the iPhone at the time of purchase. There is a mention in footnotes that the price includes a $30 AT&T, T-Mobile, Sprint, or Verizon discount and requires activation with carrier. Would a unactivated iPhone 14 work with any carrier or operator in the US or anywhere in the world? We need to wait till September 16th to find out. It is tricky more than ever before because previously iPhones had a physical SIM card slot which meant you could use any SIM from any operator in the world as long as it was using standard GSM 2G, 3G, 4G or 5G technology. With eSIM being the only way to connect to a network on the iPhone 14 in the US, there are some unanswered questions. For those who are trying to purchase the iPhone 14 from the US and use it outside in another country, I would request you to wait till launch day for more clarity.