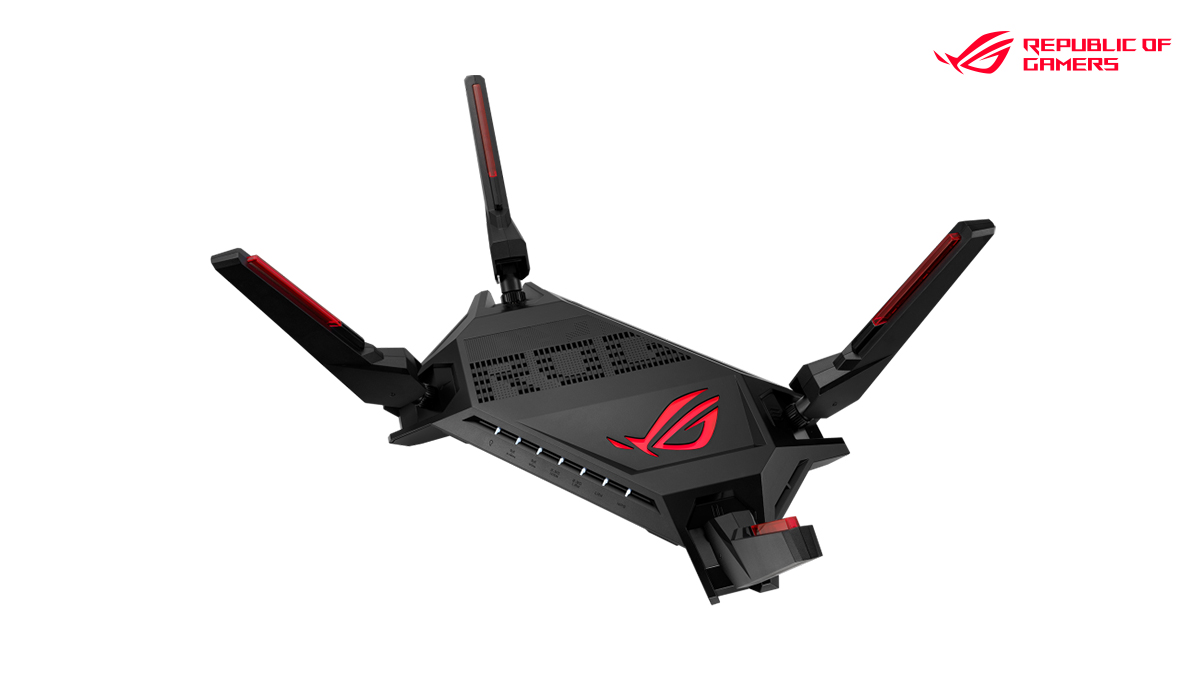 ASUS Republic of Gamers (ROG) showed off the Rapture GT-AX6000 today. It is a high-performance Wi-Fi 6 (802.11ax) gaming router with a striking new look. It boasts wireless rates up to 6000 Mbps with ASUS RangeBoost Plus for increased range and is powered by a 2.0 GHz 64-bit quad-core Broadcom CPU and the company's newest Broadcom Wi-Fi 6 chipsets.
The GT-AX6000 router commands attention thanks to ASUS Aura RGB lighting effects. The GT-AX6000 contains two 2.5 GBPS Ethernet ports, and the router supports both WAN and LAN aggregation. It was designed for high-speed throughput to provide greater bandwidth to more devices.
It offers Ultrafast Wi-Fi 6, a dual-band router that boosts speed up to 6000 Mbps with 160 MHz channels for better efficiency and throughput and comes with dual 2.5G ports, hence the traffic via 2.5G ports has top priority; flexible WAN/LAN network port configurations.
The device is powered by Extreme Quad-Core CPU Power, a high-performance 2.0 GHz quad-core 64-bit CPU that takes computational capabilities to the next level. The exclusive ASUS RangeBoost Plus improves signal range and overall coverage and also has Triple-Level Game Acceleration, which accelerates game traffic every step of the way from device to game server.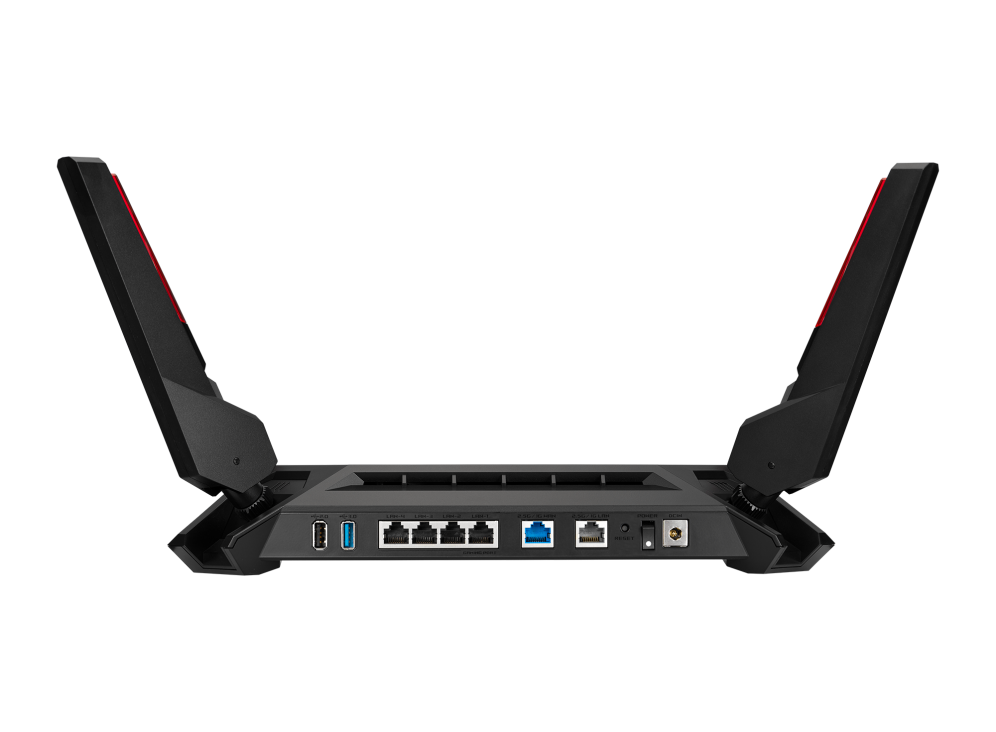 A complete whole-home mesh Wi-Fi network can be built utilizing any ASUS AiMesh-compatible router as a mesh node to increase network coverage, get rid of dead spots, and provide fast, dependable Wi-Fi across the entire house. Gamers can quickly activate the Mobile Game Mode to give their phones priority by using the ASUS router app. For a better online gaming experience, they'll enjoy lower ping times and decreased latency.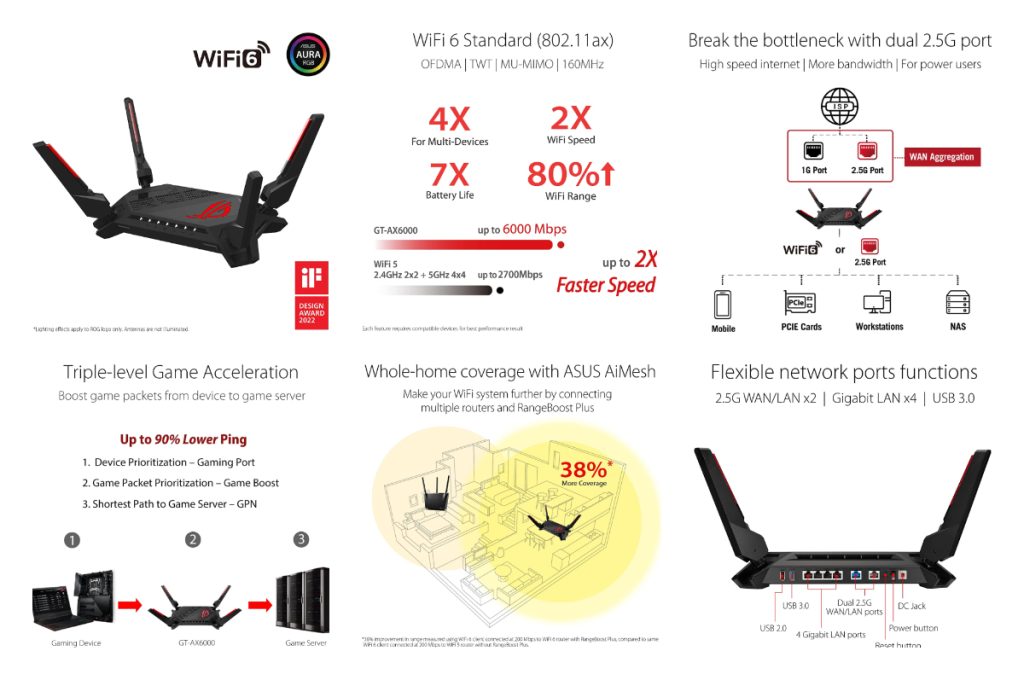 Specifications: ROG Rapture GT-AX6000
Network Standard: IEEE 802.11a, IEEE 802.11b, IEEE 802.11g, IEEE 802.11n, IEEE 802.11ac, IEEE 802.11ax, IPv4 and IPv6
Broadcom 2.0 GHz quad-core 64-bit CPU and WiFi chipsets
ASUS Aura RGB lighting effects
Product Segment: ASUS AX6000 ultimate AX performance
AX technology: Yes
Antenna: External antenna x 4
Data Rate: 2.4GHz AX: 4×4 (Tx/Rx) 1024 QAM 20/40MHz, up to 1148Mbps and 5GHz AX: 4×4 (Tx/Rx) 1024 QAM 20/40/80/160MHz, up to 4804Mbps
Processor: 2.0 GHz quad-core processor
Memory: 256 MB Flash, 1 GB RAM
Ports: RJ45 for 2.5 Gigabits BaseT for WAN/LAN x 1, RJ45 for 2.5 Gigabits BaseT for LAN x 1, RJ45 for Gigabits BaseT for LAN x 4, USB 3.2 Gen 1 x 1, USB 2.0 x 1
Button: WPS Button, Reset Button, Power Button, LED Control Button
OFDMA (Orthogonal Frequency Division Multiple Access),
Beamforming: standard-based and universal
LED Indicator
Pricing and availability
The ASUS ROG Rapture GT-AX6000 is priced at Rs. 38,000. It will be offered starting this month at online retailers, partners, and authorized ASUS stores.