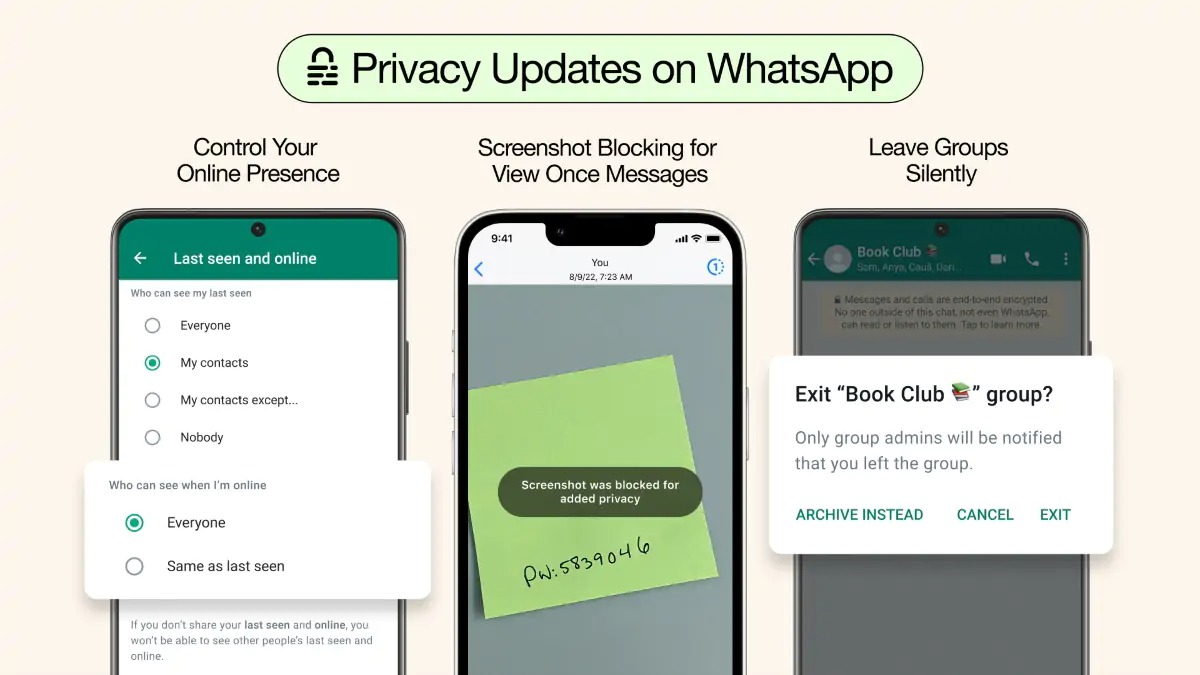 Mark Zuckerberg, the CEO of Meta, showed off three new and important privacy features for WhatsApp today. Also, WhatsApp is starting a global campaign to make people aware of how we work to keep people's private conversations on WhatsApp safe.
The U.K. and India are the first two countries for this campaign. Aside from highlighting the app's multiple layers of security, WhatsApp said the goal of the campaign is to show what it's like to feel safe during a completely private chat. Earlier, WhatsApp started rolling out a feature that now allows you to delete a message even after 2 days. Below are the new privacy features from WhatsApp;
Exit group chats without notifying everyone:
Users can now exit a group conversation in secret, and only the administrators will be notified. This feature will be made available to all users globally starting this month.
Who can and cannot see "Online":
Users of WhatsApp now have the ability to control who can and cannot see them when they are online, thus allowing them to check their activities privately. Throughout this month, this feature will be made available to all users globally.
Prevent screenshots on "View Once" messages:
The company is testing adding screenshot blocking to its "View Once" messages as an extra way to protect users' privacy. At the moment, this feature is in testing and the availability of the same will be announced by the firm later.
Regarding the features, WhatsApp Head of Product, Ami Vora, said:
At WhatsApp, we're focused on building product features that empower people to have more control and privacy over their messages. Over the years, we've added interlocking layers of protection to help keep their conversations secure, and the new features are one way we continue to deliver on our commitment to keep messages private.