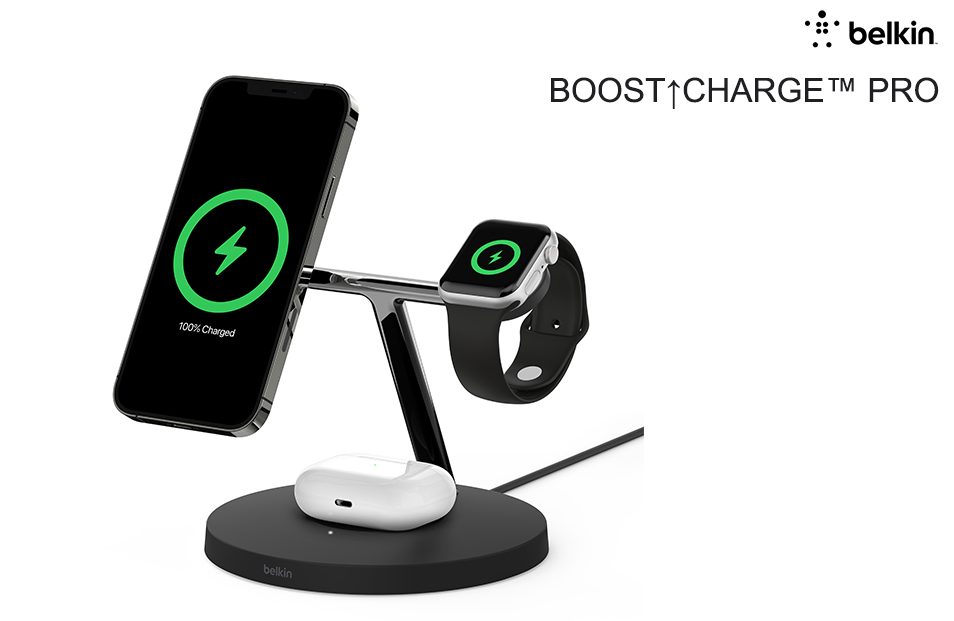 Today, Belkin announced the new and improved BOOST↑CHARGE PRO 3-in-1 Wireless Charging Stand, which has been upgraded to support fast charging on Apple Watch Series 7. This upgraded variant will deliver the very same features to the iPhone 13 as well as iPhone 12 models, AirPods Pro or AirPods with Wireless Charging Case, all while maintaining the familiar form factor of the product that was launched in 2020.
The charger features an architecturally inspired design, and its premium stainless steel finishes are a perfect fit for your iPhone 13 and perhaps iPhone 12 series devices, as well as other Apple products. Your AirPods are properly aligned and charging whenever you see a white LED light on the device, which indicates that the charging process is working properly. When your AirPods aren't aligned properly or there's something else getting in the way of your charge, an amber LED light will illuminate to let you know.
The MagSafe technology guarantees perfect alignment and 15W of fast wireless charging at all times, making it the most convenient way to charge an electronic device to date. Even if the group text causes your iPhone 13 or iPhone 12 to buzz non-stop, the secure connection will keep it safely in place and prevent it from falling.
Consumer can get the iPhone 13 and iPhone 12 models charged as quickly as possible without compromising safety. The 3-in-1 Wireless Charging Stand with MagSafe has a powerful magnetic charging feature for your Apple Watch that is both safe and efficient, and it is capable of delivering up to 15 watts of power. It charges your Apple Watch Series 7 from 0% to 80% in 45 minutes, up to 33% faster than the Series 6.
The BOOST CHARGE PRO3-in-1 Wireless Charging Stand with MagSafe technology allows you to simultaneously charge three Apple devices. Additionally, the company offers a 2-year warranty on the charger.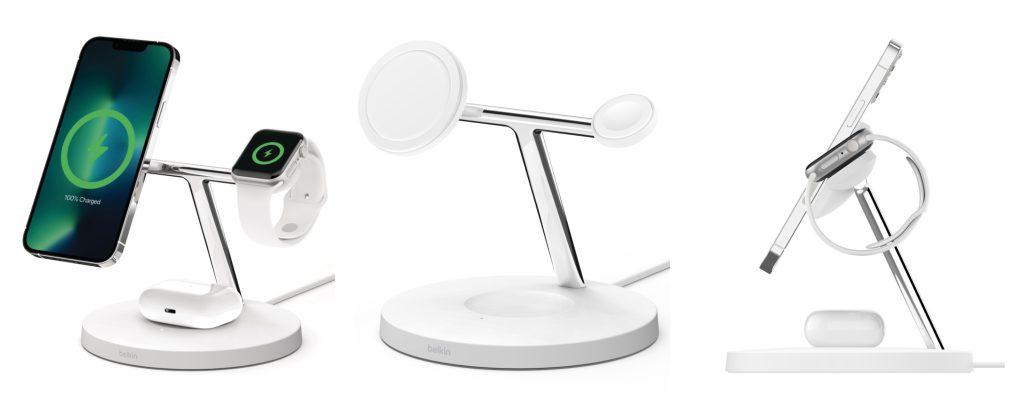 BOOSTCHARGE PRO 3-in-1 Wireless Charging Stand: Specifications
Supports fast charging for Apple Watch Series 7
MagSafe stand for iPhone features a non-slip design to support iPhone 13 or iPhone 12 models in portrait or landscape mode
Provides 5W charging power for AirPods Pro and AirPods with Wireless Charging Case
Available in Black and White colors
Compatible with official MagSafe cases
Includes 2-year warranty
Package Includes: BOOST↑CHARGE PRO MagSafe 3-in-1 Wireless Charging Stand with MagSafe AC Adapter
Pricing and availability
The Belkin BOOSTCHARGE PRO 3-in-1 Wireless charging stand is priced at US$ 149.95 (Rs. 11,845 approx.). The device will be sold in Apple stores in America and Asia starting this June, and in EMEA, Australia and New Zealand starting in July. In the upcoming months later this year, the device will be offered in retail outlets for the rest of the world.