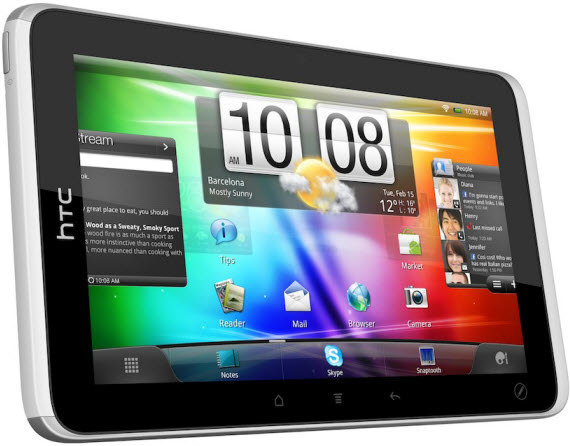 We recently told you that BestBuy will exclusively launch HTC Flyer in USA, which is HTC's first ever Android powered tablet. HTC Flyer looks like an amazing tablet and it comes with a totally different experience. It's running Android Gingerbread OS but we heard recently from HTC that the tablet will receive Honeycomb update shortly after launch. Well after listening about the Honeycomb update, a lot of people are looking forward to it. Now BestBuy has officially launched the HTC Flyer Wi-Fi version and it's now available for pre-order. They are offering it for $499.99 and store launch is still not confirmed. But if you are pre-ordering it, then you will get it after May 22th as expected. So I hope it will hit stores by the end of this month.
HTC Flyer appears to be a big challenge for tablets like Samsung Galaxy Tab and other Android tablets. HTC is also planning to launch Honeycomb tablets later this year, and as we know that HTC always bring amazing and different stuff, I am sure their tablet will be good enough to stand between tablets like ASUS EeePad and iPad2.
So who's pre-ordering the HTC Flyer today, anyone?