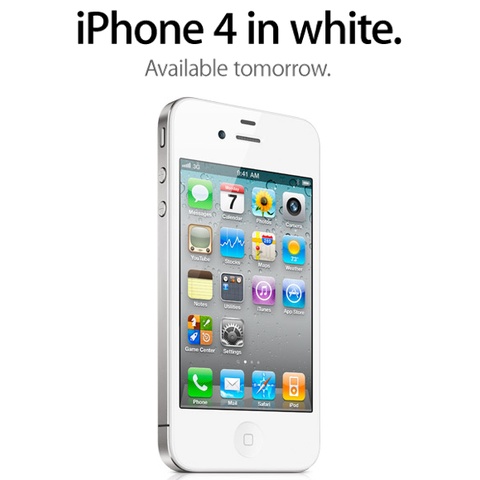 Apple officially announced the iPhone 4 last year and it's almost one year old now. iPhone 4 is no doubt a great device and Apple has sold more than 18 million iPhone units so far. When it was announced, Apple also announced that there will be a White iPhone 4 too but then Apple postponed it till July, and then in October, Apple delayed it again till 2011. We heard that it will be out around summer 2011 and now it's finally here.
Apple has officially announced the White iPhone 4, which looks more beautiful as compared to the Black iPhone 4. White iPhone 4 will hit AT&T and Verizon on April 28th, and also Apple authorized retailers in following countries:
Austria, Australia, Belgium, Canada, China, Czech Republic, Denmark, Finland, France, Germany, Hong Kong, Ireland, Italy, Japan, Luxembourg, Macau, Netherlands, New Zealand, Norway, Singapore, South Korea, Spain, Switzerland, Sweden, Taiwan, Thailand, UK and USA
Well, it's not hitting India tomorrow but Apple said that it will be available in many other countries soon and I am sure that India is also part of it. Just like the Black iPhone 4, 16GB and 32GB model will be available for $199 and $299 respectively on contract. I think that launching it right now doesn't make any sense because people already got the Black iPhone 4 and also the next iPhone is coming out in September as we heard. Well, if you are an iPhone fan then no one can stop you. So folks, pick up your collected pocket money and be ready tomorrow because I am sure that you are going to make Black iPhone 4 owners jealous with your new device. So anyone getting it tomorrow? And please share your opinion about the White iPhone 4.