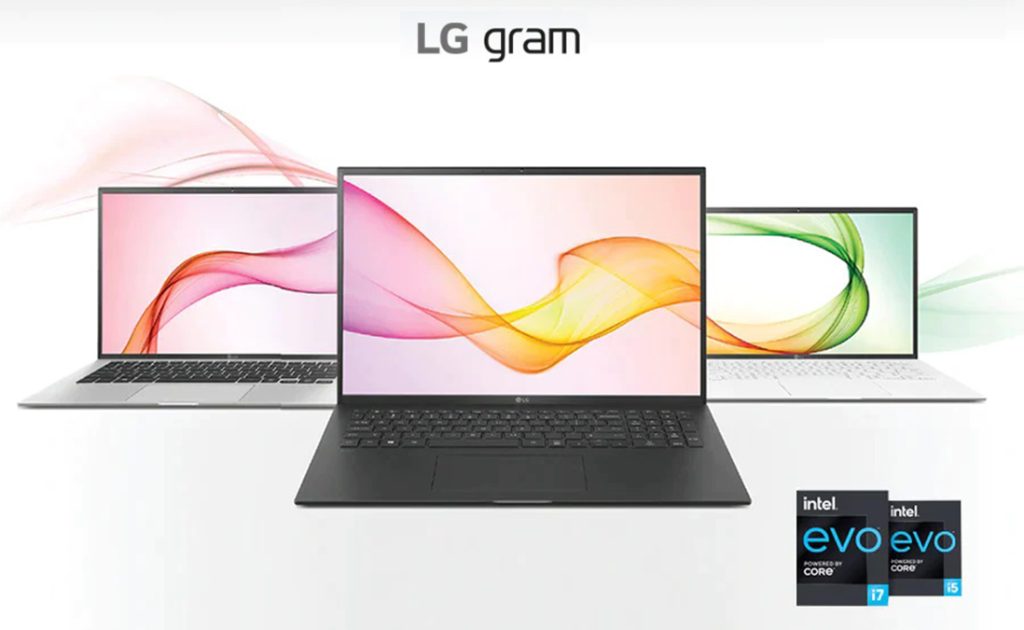 A new generation of premium laptops from LG Electronics are coming in 2022. For a wide range of people, the new models build on the brand's history of supreme portability with sleek, ultra-light designs and cutting-edge software and technology that make them easy to carry.
The LG gram portfolio for 2022 includes seven new models: 17 (17Z90Q), 16 (16Z90Q), 15 (15Z90Q), 14 (14Z90Q), and 2-in-1 (16T90Q and 14T90Q) LG gram +view IPS Portable Monitor (16MQ70). Each LG G-Series laptop includes a powerful Intel Core processor from the 12th generation.
This year's laptops also have Gen4 NVMe SSDs and low-voltage LPDDR5 RAM, for a performance improvement of roughly 22% over last year's versions. The 2022 LG gram is Intel Evo Platform certified and has a long battery life, allowing customers to work or play while on the move.
LG's premium laptops are known for their excellent visual quality, and their latest models reaffirm that. The new models include a 16:10 aspect ratio, a WQXGA (2,560 x 1,600) resolution IPS panel and 99% coverage of the DCI-P3 color gamut. LG's superior IPS screens are now anti-glare, minimizing distracting reflections and making it easier to see what you're working on in any lighting condition.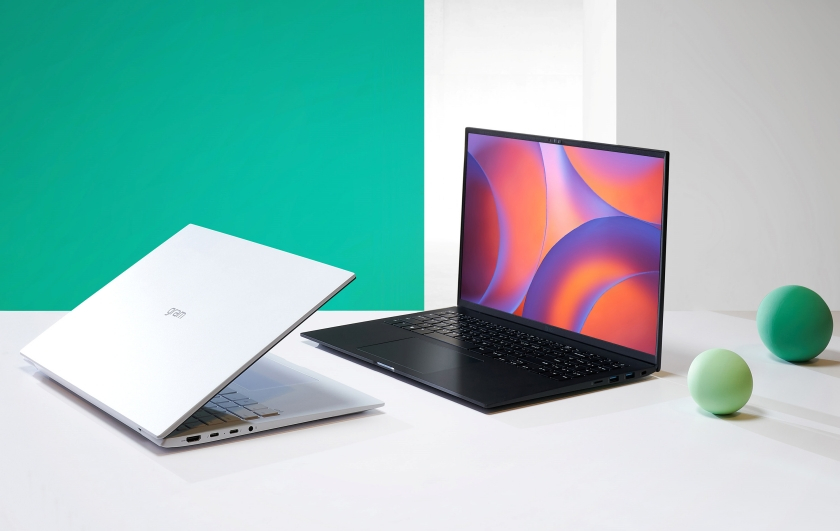 LG Glance by Mirametrix, an AI-powered software solution that improves security and convenience, is included in the 2022 LG Gram laptops. When the user leaves the laptop, LG Glance by Mirametrix locks the screen. If someone is peering over the user's shoulder, it informs them and blurs their work. If a second monitor is attached, the mouse cursor and current window instantly switch to the second screen. This year's models also have built-in Full HD webcams and face-log-in for video conferencing.
With small, ultra-lightweight designs that don't compromise on durability or performance, these devices have maintained their basic essence. Each model has a great screen-to-body ratio and is durable enough to meet the MIL-STD-810G standard. Moreover, all 2022 LG Gram products come in eco-friendly packaging that can be used as a desk calendar and pencil holder after unwrapping.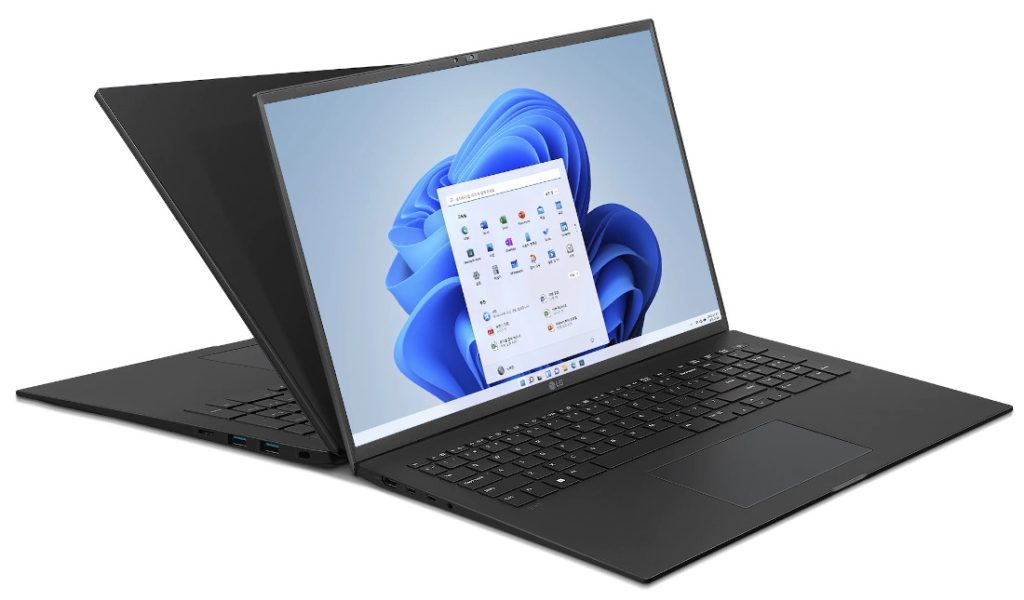 The new LG Gram 2-in-1 16-inch and 14-inch variants come with pre-installed drawing and note-taking capabilities suited for the LG Stylus Pen (Wacom AES 2.0). With stylus compatibility and LG's AI-based user interface, the new gram laptop convertibles that are more efficient and provide a more responsive and pleasurable writing and sketching experience. Users can expand their digital workspace with the +view for LG gram, a portable 16-inch display with a detachable cover. The 16MQ70 can be used vertically or horizontally next to a laptop, giving it a seamless look with a 32:10 aspect ratio IPS screen for great multitasking.
Specifications: LG gram 2022 models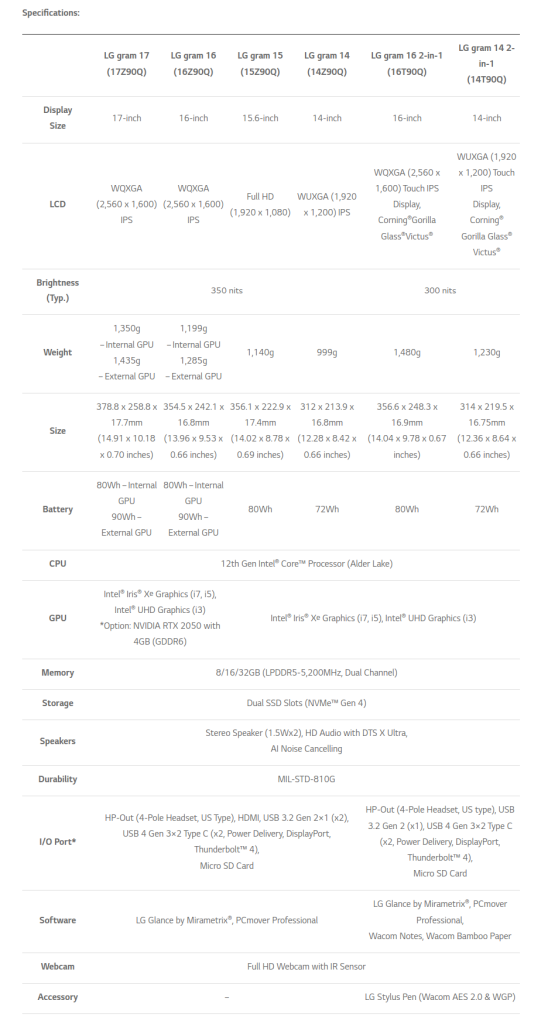 Availability
The LG gram portfolio for 2022 will be available in major markets across North America, Europe, and Asia beginning in the second quarter of this year.
The LG Gram 16 and Gram 17 have 3 colour options: white, black and charcoal. The LG Gram 16 already went official in Korea priced starting at 2.29 million won (Approx. Rs. 1,43,520) for the Core i5/16GB/256GB model and LG Gram 17 is priced starting at 2.39 million won (Approx. Rs. 1,49,820) for the i5/16GB/256GB model.
The LG gram +view IPS Portable Monitor costs $349.99 (Rs. 26,780 approx.). Pricing for the other devices should be out soon.
Speaking of the introduction of LG gram 2022 laptops, Seo Young-jae, senior vice president and head of the IT business unit of LG Electronics Business Solutions Company, said,
The 2022 gram series honors the brand's identity and heritage with supreme portability, outstanding performance and optimized user experiences. Ideal for dynamic people on the move, LG gram products are designed to maximize productivity no matter where you are or what you're working on.