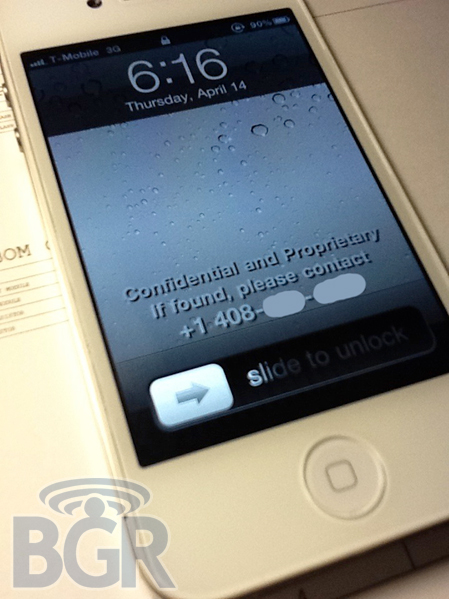 iPhone is one of the most selling devices in the USA, and it's my personal experience that out of 10 people, 6/7 people are iPhone owners. Android is giving Apple a hard time, but Apple has its own special and unique place. iPhone 4 was launched by Apple last year and is currently available at AT&T and Verizon Wireless in USA. Both carriers have sold millions of iPhone and now it looks like Apple is looking for another mobile network. Our friends over at BGR got their hands on number of leaked shots of an iPhone running on the T-Mobile 3G network. It's the white iPhone which is not announced yet and it's actually the prototype version running on T-Mo 3G bands. The internal model number of the device is N94, whereas the Verizon one is N92 and original GSM version is known as N90. It seems that the device is running the test version of iOS which we saw a few days ago running on an iPhone.
Well, I don't think so that T-Mobile will launch an iPhone 4 now because it's not the right time to launch it and very late. But maybe the phone in the image above is the successor to iPhone 4 because 9to5 Mac is reporting that this prototype version is running Apple A5 chip which was first seen on the iPad 2. They are saying that this device will be known as iPhone 4S. Like the successor to iPhone 3G was iPhone 3GS, it's possible that iPhone 4S will be the successor to iPhone 4 with same design and some major changes under the hood.
So after gathering all the rumors and leaks, the next iPhone will come with a new version of iOS, 8 Megapixel camera and a new dual-core processor under the hood, which means more power and high-profile games. We also heard that the next iPhone is coming out in September, maybe we will see this new device in September or it's also possible that Apple will launch the new iPhone as iPhone 4S this June/July. Well, stay tuned with us because we know that Apple has something big up their sleeves and tell us if are you looking forward to the next iPhone.