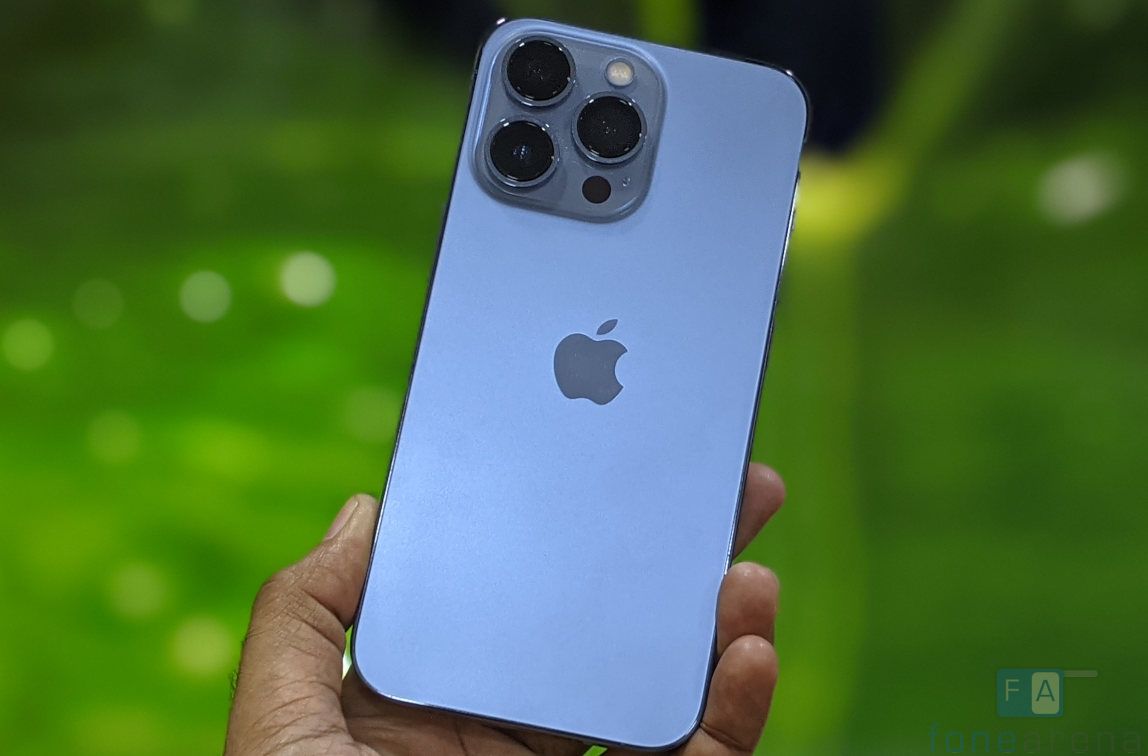 The global smartphone market witnessed an overall growth of 5.7% in 2021 when compared to 2020, after shipping a total of 1.35 billion units. However, the market did witness a a decline in shipments during Q4 of 2021, shipping a total of 362.4 million phones, which calculates to 3.2% YoY decline.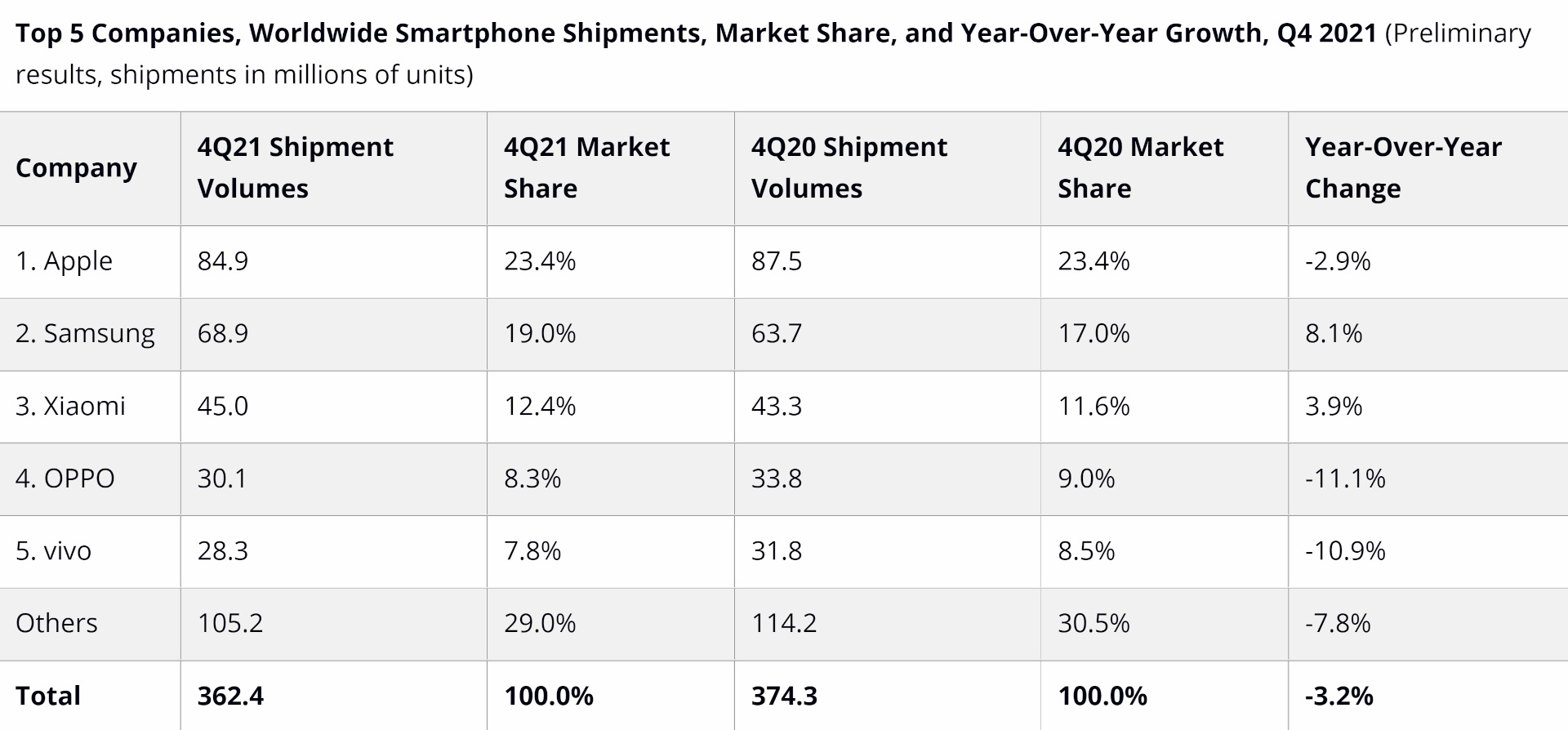 Leading the market during Q4 2021 was Apple, with a total of 84.9 million units shipped, even though it declined 2.9% YoY. They were followed by Samsung, who recorded a growth of 8.1% YoY with 68.9 million units shipped.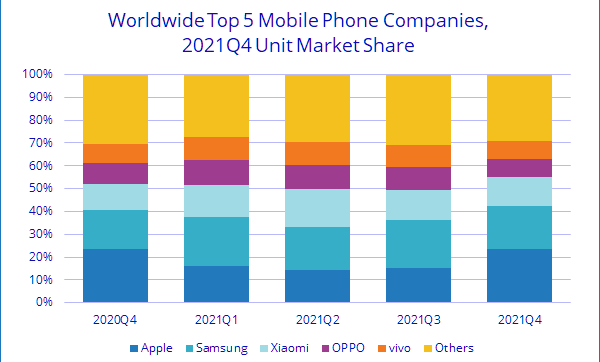 Xiaomi came in third place with 45 million units shipped and 3.9% YoY growth. OPPO and Vivo took 4th and 5th place, both declining 11.1% and 10.9% respectively.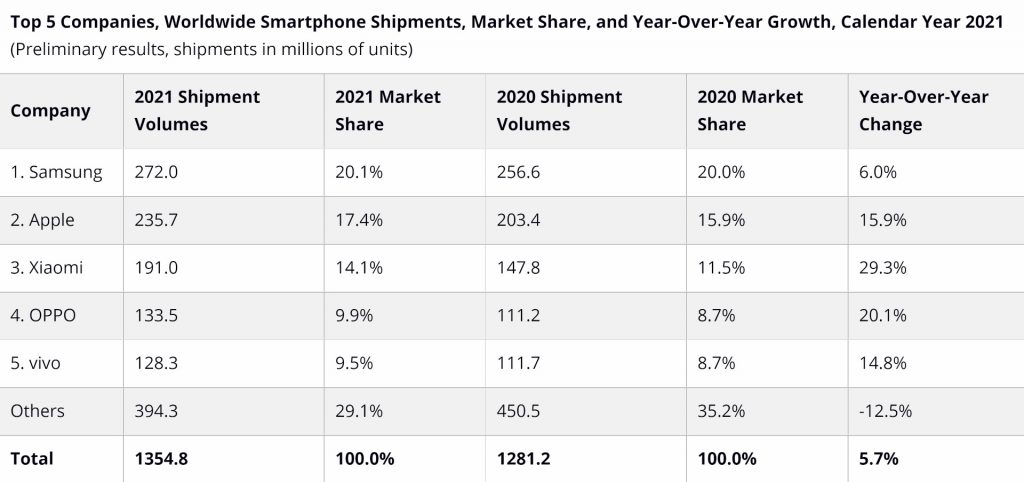 Overall during 2021, Samsung led the market with a total of 272.2 million units sold and grew 6.0%. In 2nd place was Apple with 235.7 million units shipped, followed by Xiaomi in 3rd place, who grew the most at 29.3% YoY. This indicates that Xiaomi was the brand that filled in the hole left by HUAWEI's exit from the market. Just like before, OPPO and Vivo came in 4th and 5th place respectively.
Commenting on the market, Nabila Popal, research director with IDC's Mobility and Consumer Device Trackers, said:
The fact that 2021 would have come in drastically higher if it were not for the supply constraints adds even more positivity to the healthy 5.7% growth we saw for 2021. To me it gives a message that there is significant pent-up demand in almost all regions. Even in China, where there are some challenges around weakening consumer demand, the market performed much better in the fourth quarter than expected, 5% better to be exact, albeit still a year-over-year decline. With channel inventory low in almost all regions and as supply constraints ease up towards the middle of the year, IDC expects this pent-up demand to drive the market toward healthy growth in 2022.