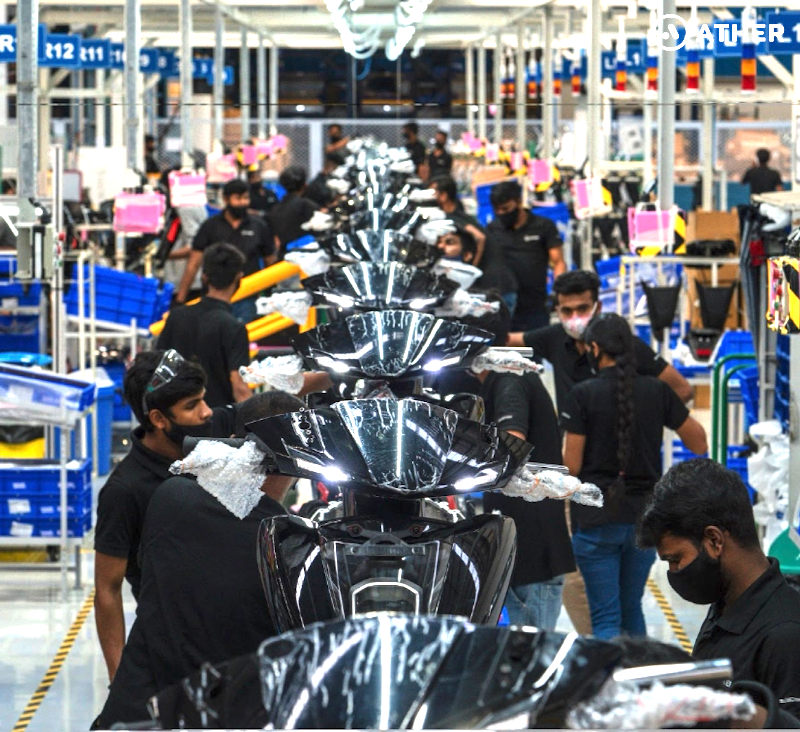 Ather Energy, makers of 450, 450 Plus and 450X electric scooter, has announced its second electric vehicle manufacturing plant in Hosur, Tamil Nadu. The factory is capable of annual production of 280,000 electric scooters, so it will have cumulative annual production capacity of 400,000 units, including the current production capacity of 120,000 units in its first plant which is spread over 1,23,000 sq. ft.
The company started production at its first Hour EV manufacturing facility in February this year. Production in the second plant will begin in 2022, said the company. It added that the new facility will focus on lithium-ion battery manufacturing.
The company also announced that it will invest 650 crores in the next five years to enhance operational efficiency and production capacity to meet the demand. We should know more details about the new manufacturing plant next year when it begins the production.
Ather said that sales have grown by 20% every month since November 2020, and that bookings for the 450 Plus and 450X have grown four-fold between April and October this year.
Ather Energy plans to strengthen its retail operations by expanding to new markets. The company plans to expand to around 150 Experience Centers in 100 cities by March 2023.
Regarding the new plant, Tarun Mehta, Co-Founder & CEO, Ather Energy said:
The EV demand has been shooting up across the country, and customers are coming in expecting electric scooters to wow them. This customer expectation is why our 450 series of electric scooters – the 450X and 450 Plus is seeing massive demand as it is the best electric scooter in the country today. Our experience centres are scaling up rapidly, and our retail footprint is set to grow by six times in the coming quarters. So, within just ten months of opening our current facility, we find ourselves already operating at full capacity. We are commissioning the second plant to be ready for 2022. With this capacity expansion, Ather is well on its way to becoming the country's largest EV producer by next year.