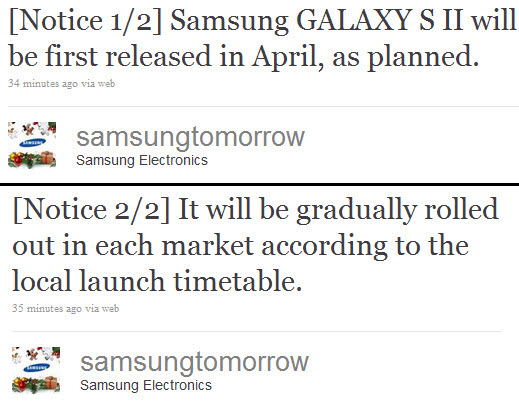 Back in February, Samsung announced the powerful Galaxy S II smartphone at the Mobile World Congress (MWC) 2011 in Barcelona. This handset is the successor of the popular Galaxy S smartphone. It runs on the latest Android 2.3 (Gingerbread) Operating System. This handset was expected to release in May, but Samsung recently tweeted that, the powerful Galaxy S II will release in April as planned.
@SamsungTomorrow tweeted,
[Notice 1/2] Samsung GALAXY S II will be first released in April, as planned.

[Notice 2/2] It will be gradually rolled out in each market according to the local launch timetable.
Samsung Galaxy S II features a 4.3 inch Super AMOLED Plus display with 800×480 pixels resolution, 1 GHz dual core processor, Android 2.3 (Gingerbread) operating system, 3D user interface, 8 megapixel camera with full HD (1080p) video recording, HSPA+ connectivity, Bluetooth 3.0+HS, Android Market, Social Hub Premium, Readers Hub, Game Hub, Music Hub, Kies Air, NFC (Near Field Communication) and much more.
This is definitely a good news for most of us, since there is no delay, as rumored and we won't have to wait untill June to get our hands-on. Samsung also said that, Galaxy S II will be released depending on the local launch timetable in different markets. This handset is also rumored to launch in India, at the end of this month. Are you planning to buy the Samsung Galaxy S II? Let us know your views in the comments below.