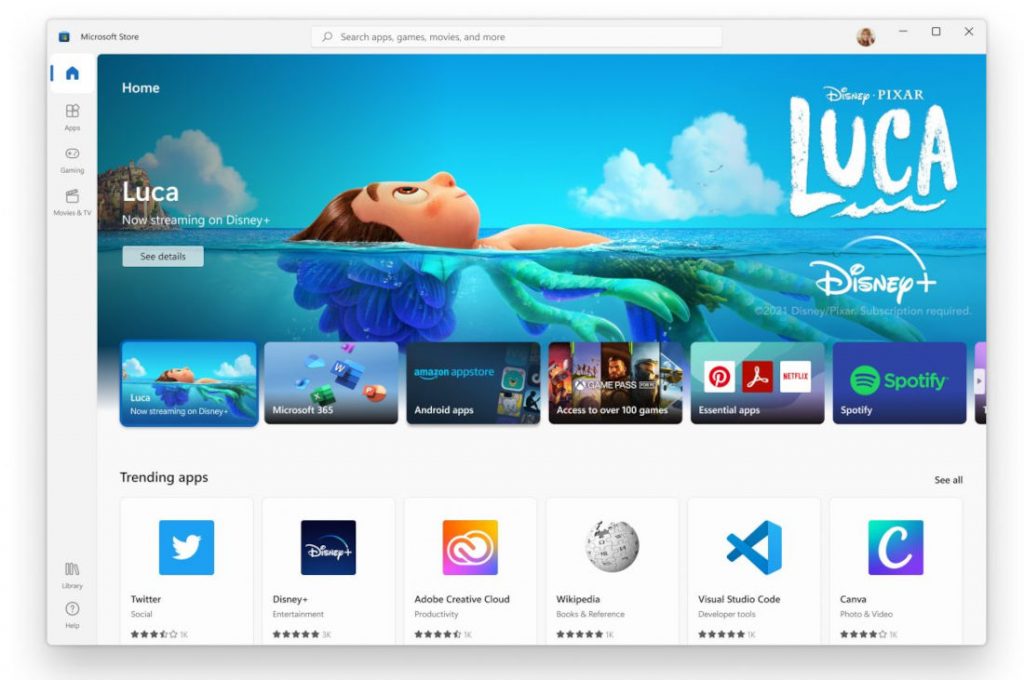 At the Windows 11 event, Microsot also introduced  new Microsoft Store coming soon to both Windows 11 and Windows 10 that will let users discover and install the best apps, games, movies and even special offers – like unique movie discounts for Xbox Game Pass members. Several apps, including Adobe Creative Cloud, Disney+, TikTok, Zoom, and some of own apps like Microsoft Teams, Visual Studio, and even Notepad and Paint will be coming to the Microsoft Store on Windows.
Get introduced to the best apps and games with curated stories and collections, rich editorial content to keep you informed about the best apps and inspire you to achieve more with your device.
For the first time, Android apps will be available in the Microsoft Store, and users can easily download these apps through the Amazon App store, thanks to partnership with Amazon.
New pop-up store to install apps from the browser; when you click a Microsoft Store download badge on a web page, the Microsoft Store will pop up to manage the installation – without pulling you away from what you were doing.
Windows 11 will benefit developers and bring more apps, games, movies, shows, and web content to users where:
Developers and independent software vendors apps (ISVs) can bring in their apps to the Microsoft Store regardless of the app framework they are built on, such as Win32, .NET, UWP, Xamarin, Electron, React Native, Java and even Progressive Web Apps. Developers can sign up later today to publish desktop apps, or build and package PWAs using the latest open-source tool PWABuilder 3.
App developers can still use Microsoft's commerce ecosystem, with a competitive revenue share of 85/15 for apps and 88/12 for games.
Starting July 28, app developers will also have an option to bring their own or a third party commerce platform in their apps, and if they do so they don't need to pay Microsoft any fee. They can keep 100% of their revenue.
Early preview of the new Microsoft Store will be available in the upcoming Windows Insider build releasing next week.