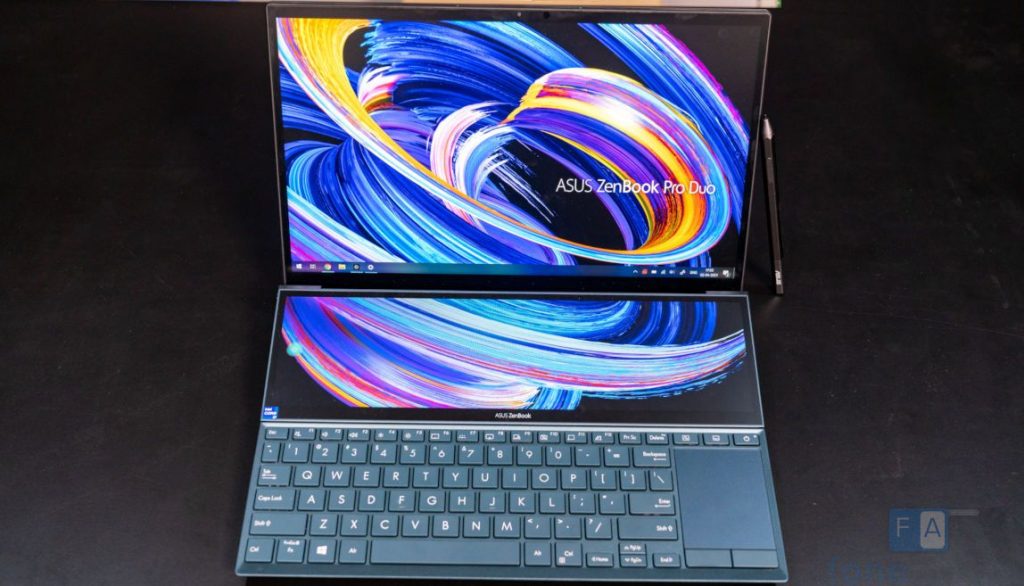 In recent years, major computer brands have tried introducing new form factors for laptops, with varying degrees of success. ASUS themselves have tried putting another display on a laptop, like underneath the touchpad. The ZenBook Duo takes another route though – it has a full 12.65-inch secondary display along with its primary 14-inch display. ASUS is targeting this laptop towards creative professionals, such as photographers, videographers and even digital artists, thanks to its support for a stylus. After using the laptop for about a week, here is my review about it.
Specifications
CPU
Intel Core i7-1165G7 processor
Display options
14-inch LED-backlit Full HD (1920 x 1080) display
Secondary Display
12.65-inch ScreenPad Plus (1920 x 515p resolution)
IPS-level panel with stylus support
Operating system
Windows 10 Home
Graphics
NVIDIA GeForce MX450 with 2GB GDDR6 memory
Main memory
16 GB 4266 MHz LPDDR4X onboard
Storage
1TB M.2 NVME PCIe 3.0 x4 SSD
Connectivity
Wi-Fi 6 + Bluetooth 5.0
Camera
HD infrared (IR) webcam (supports Windows Hello)
I/O ports
2 x Thunderbolt 4 USB-C, 1 x USB 3.2 Gen 2 Type-A, 1 x full size HDMI 1.4,
1 x 3.5 mm audio jack, 1 x MicroSD reader
Battery
70 Wh lithium-polymer battery with up to 17-hour1 of battery life
Dimensions
324 x 222 x 16.9 mm
Weight
Approx. 1.6 kg
Build Quality, Design and Display(s)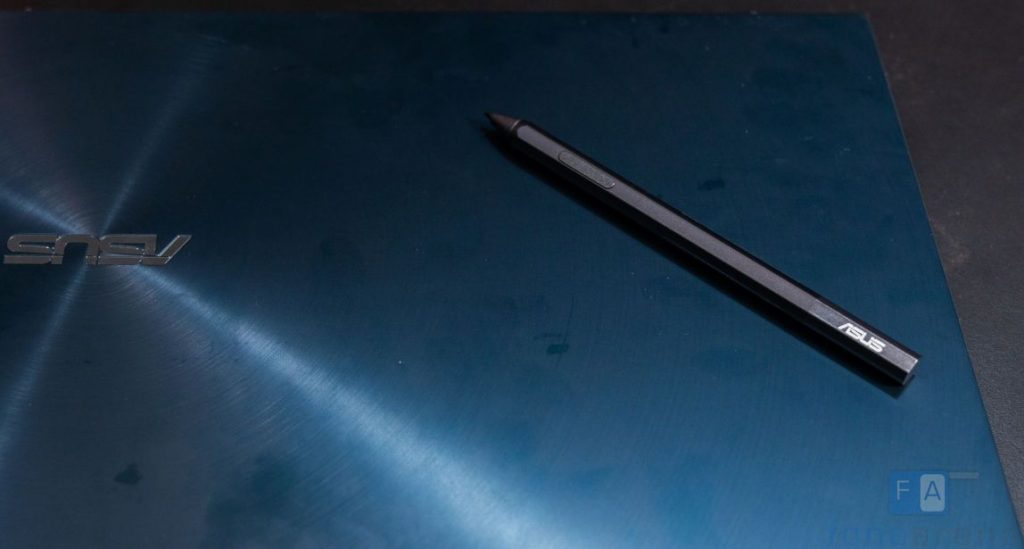 The ZenBook Duo 14 has fantastic build quality, thanks to its Magnesium Aluminium alloy lid and chassis construction. It feels solid in the hand, and it does not flex pretty much anywhere. The laptop is sleek, and it  weighs about 1.6kgs, which is impressive considering that it has literally two displays. I really like the design of the laptop, it is stylish with an angular side profile, and I quite like the concentric circle design on the lid, which is a characteristic design element in ASUS laptops.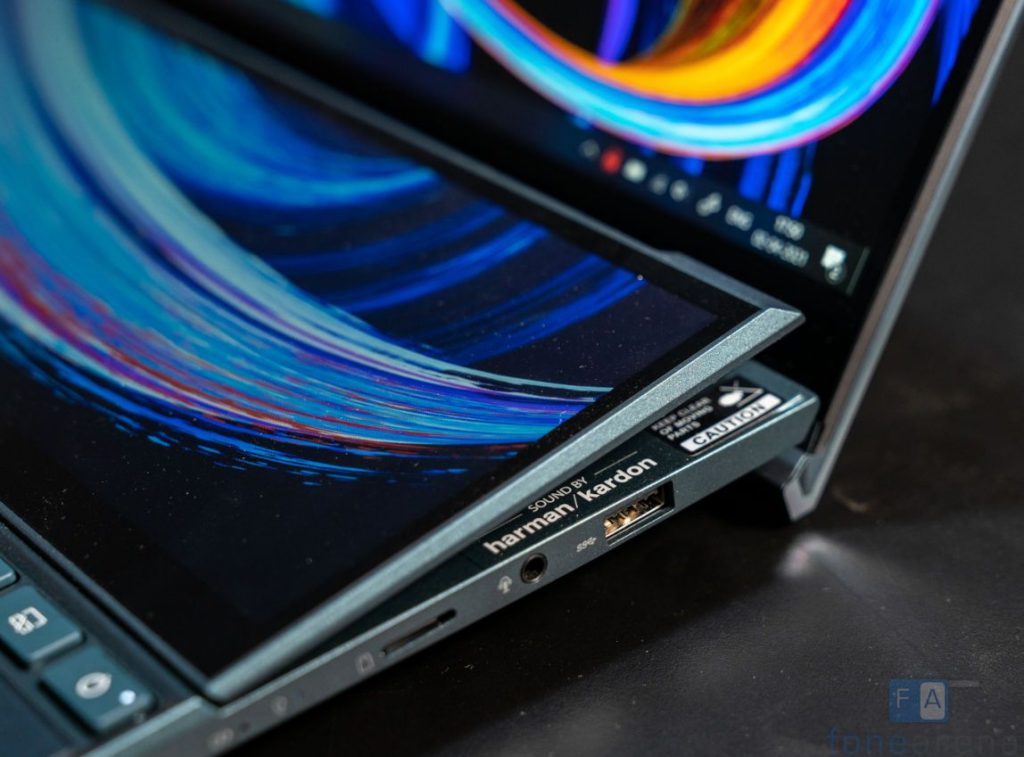 The hinge for the laptop is also impressive. The movement itself is really smooth and tension is great for one-finger opening. However, that isn't the interesting bit. When you open the lid of the ZenBook Duo 14, it also lifts the secondary display up to a 7° angle. This is the big difference from last year's ZenBook Duo 14, and it serves two main purposes. The first one is the extra cooling it can provide with the fan intakes that are present below the secondary display. The second purpose is that the secondary display is placed at a more comfortable angle to the user, which makes the display actually useful when compared to the previous generation.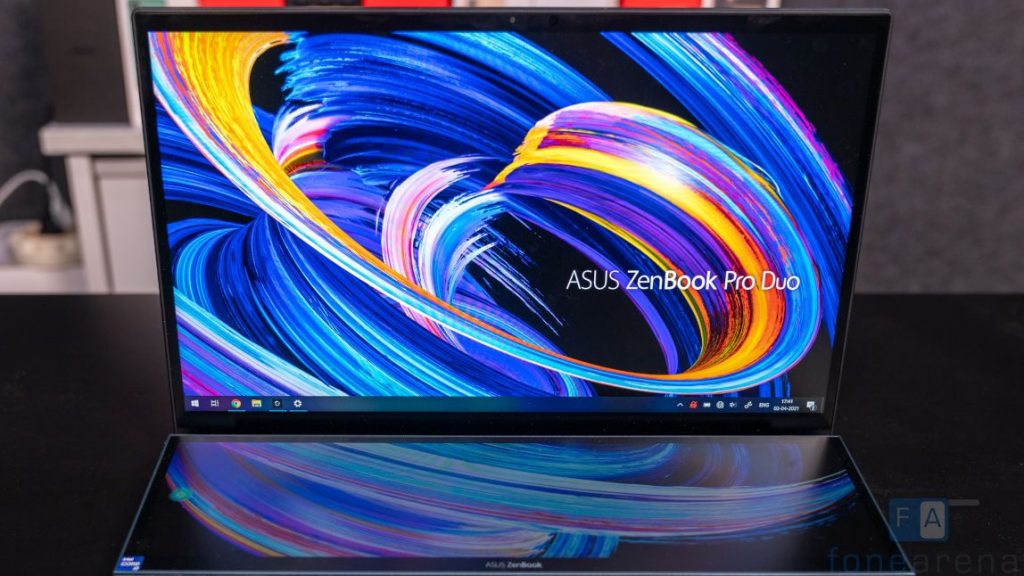 The main display on the ZenBook Duo 14 is great. ASUS has been doing an excellent job with their laptop displays lately, and the ZenBook Duo 14 is no exception. The primary display is a 14-inch LED-backlit LCD screen with a resolution of 1920 x 1080, and it has a screen-to-body ratio of 93%. Peak brightness of the panel is 400 nits, which I personally feel could be better for a laptop at this price range. The colour gamut is rated at 100% sRGB and the panel is PANTONE validated for its colour accuracy, which is awesome. Viewing angles were good, and overall I was happy with the display.
In the top bezel, there are IR cameras for Windows Hello, which works as expected. I hope Windows Hello becomes standard for all computers.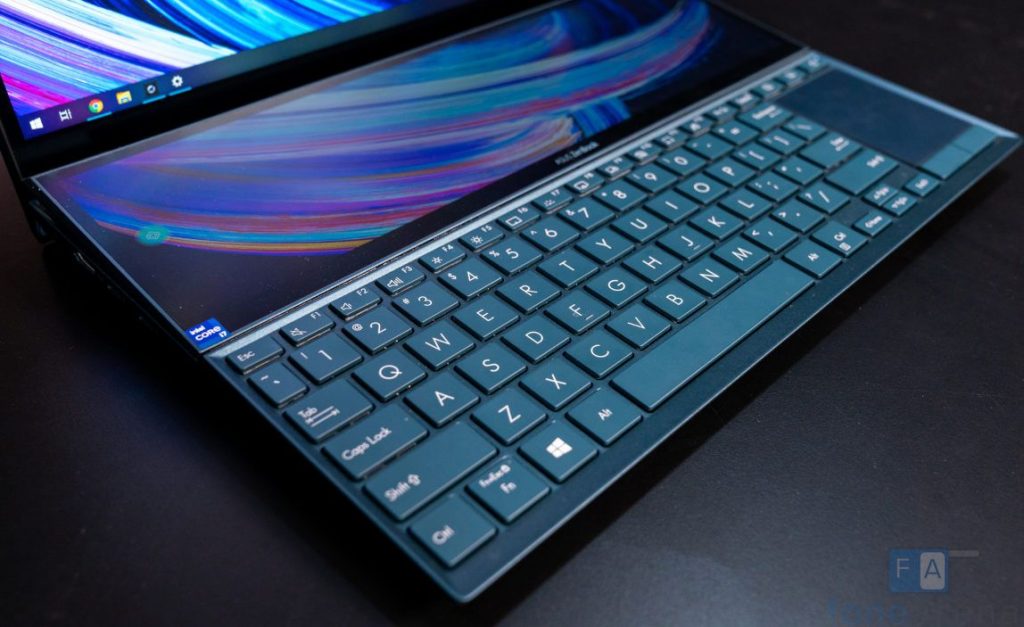 This laptop's party trick is its secondary display, which is far more useful this time around. Besides the obvious hardware change of making it tilt towards the user, ASUS has made a number of improvements to the software experience too with their ScreenPad Plus software. There are a lot of useful features such as the ability to quickly snap windows to the second screen, creating custom groups of apps that can quickly be launched with a shortcut, shortcuts to quickly swap windows between the main screen and the secondary screen and more.
When compared to the first generation, it looks like ASUS has put in some real thought to the software. A cool feature with the ScreenPad is the ability to convert the screen into a trackpad. The actual trackpad for the laptop is quite small, so it can be useful to have the entire second display as a trackpad.
For Adobe users, especially for Lightroom, Photoshop and Premiere Pro users, ASUS has a special feature that adds dials on the second display for common controls. ASUS will also let you create a custom layout of dials and shortcuts for these apps, which is rather neat.
Performance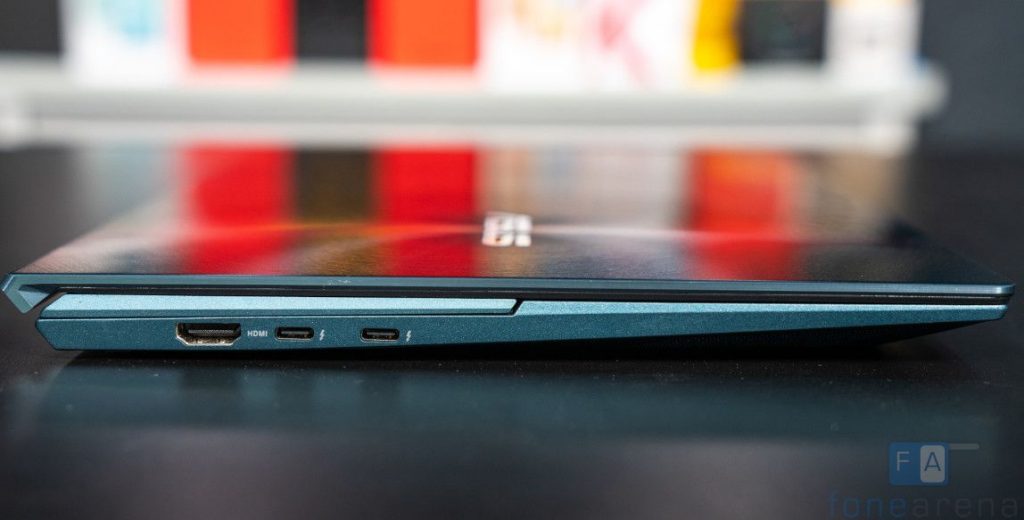 ASUS offers multiple options for configuring the ZenBook Duo 14, either an 11th Gen Intel Core i5-1135G7 or Core i7-1165G7, paired with either Intel Iris XE graphics or an NVIDIA GeForce MX450 2GB discrete GPU. Our model has the Core i7 CPU and the NVIDIA MX450 GPU, along with 16GB of 4266 MHz LPDDR4X RAM and a 1TB of M.2 NVME PCIe 3.0 SSD. 
For its purpose and target demographic, the ZenBook Duo 14 is alright with its performance. The 11th Gen Core i7-1165G7 is a 4-core, 8-thread CPU which is great for everyday tasks and moderately powerful for heavier tasks like photo editing and video editing. When stressing the CPU with synthetic loads, it does stay above base clock and maintains higher clock speeds for quite a while. During a 10-min throttling test on Cinebench, I did not notice any significant throttling, which suggests good cooling and thermal performance.
Having a discrete GPU is great for graphically-accelerated tasks like video editing and the NVIDIA GeForce MX450 GPU fulfills that role well. It isn't very powerful by most standards, but is much better than the integrated Intel Iris XE GPU option, and it enables some light gaming capabilities if you wish to do so.
During extended loads, the fans kick in, and the noise does become noticeable, but it was never annoyingly loud. For a laptop that is as thin as the ZenBook Duo 14, I was quite happy with the thermal performance.
Here are some benchmarks for the laptop: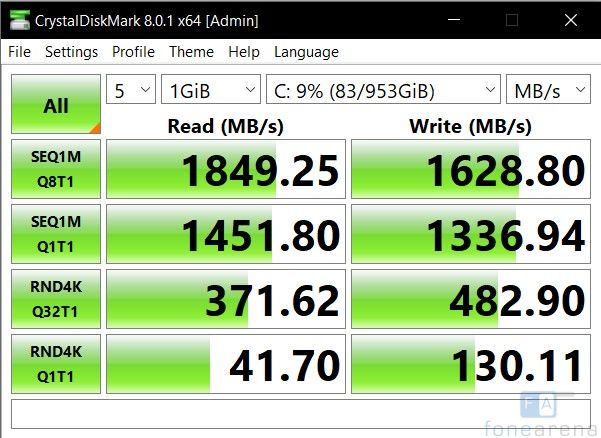 Keyboard, Trackpad and Pen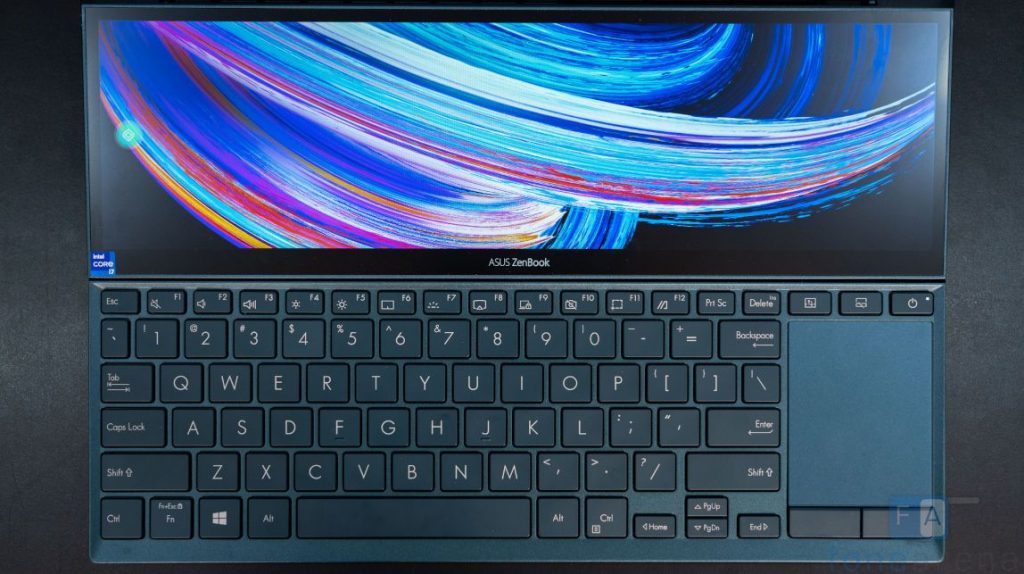 This is one of the weak points for the ZenBook Duo 14, mostly due to the position of the keyboard and mouse. To make space for the second display, the keyboard had to be pushed down and the trackpad had to be pushed to the keyboard's right. The keys themselves feel good, with a nice snappy mechanism, and the backlighting is clear and bright. However with how your hands need to be positioned to type, it is very awkward.
Using the trackpad is also an awkward experience, not only with its position, but also because of how small it is. Luckily, if you really need a mousepad, you can always convert the secondary display into an extended trackpad temporarily.
Another mode of input that is supported by the laptop is a pen, which, I'm happy to note, is included with the laptop. It is reasonably responsive and supports a good amount of pressure sensitivity levels. ASUS also includes a nice laptop cover to carry it around, and it includes a place to store the pen.
Ports and Connectivity 
The ZenBook Duo 14 has a healthy selection of ports including a USB 4/Thunderbolt Type-C port that also supports Power Delivery and DisplayPort, 1 USB 3.2 Gen 2 Type-A, 1 HDMI, a 3.5mm headphone combo jack and a MicroSD card reader.  
Regarding wireless connectivity, the laptop supports the superfast Wi-Fi 6 standard, which is great if you have a router that also supports Wi-Fi 6. And of course, it comes with Bluetooth 5.0 support.
Battery 
ASUS has outfitted the ZenBook Duo 14 with a 70Wh cell that they claim will give 17 hours of battery life. During my review, I got about 8 hours of normal use with both the displays on at 60% brightness, which isn't bad at all for a laptop with two displays. In PCMark 10's Battery test, we got a score of 6 hours and 34 mins.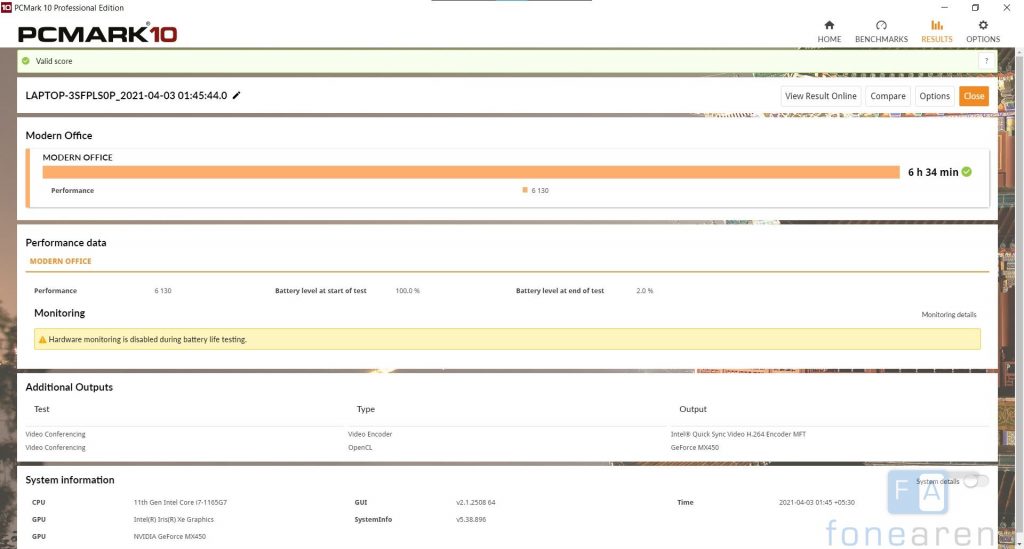 If you run heavier tasks such as photo editing, naturally the battery life will drop, but otherwise the ZenBook Duo 14 has a good battery life. Another feature of the laptop is the ability to turn off the second display to extend the battery life by an hour or two, which is neat. 
Conclusion
The ZenBook Duo 14 is by no means a conventional laptop. The dual displays make it quite unique in the laptop space, not just with its design, but also because of the value it offers to creators and digital artists. ASUS has put in a lot of thought on how to effectively use the second display, and they have made a number of improvements over the previous generation of the same laptop, both in software and hardware.
The hardware, including the build quality, displays and chassis design, is excellent. The software is also thoughtful and offers quite a bit of customization. Battery life is good, and it has a nice selection of ports. The only experience I disliked during my review was the keyboard and trackpad. This would be a dealbreaker for people who need to type a lot, unless they carry an external keyboard and mouse. For the target demographic, that is creators, the ZenBook Duo 14 is definitely worth checking out and has my recommendation.
It is available from Amazon and Flipkart online as well as starting at Rs. 99,990 and goes up to Rs. 1,49,000. The model we have reviewed costs Rs. 1,34,990.