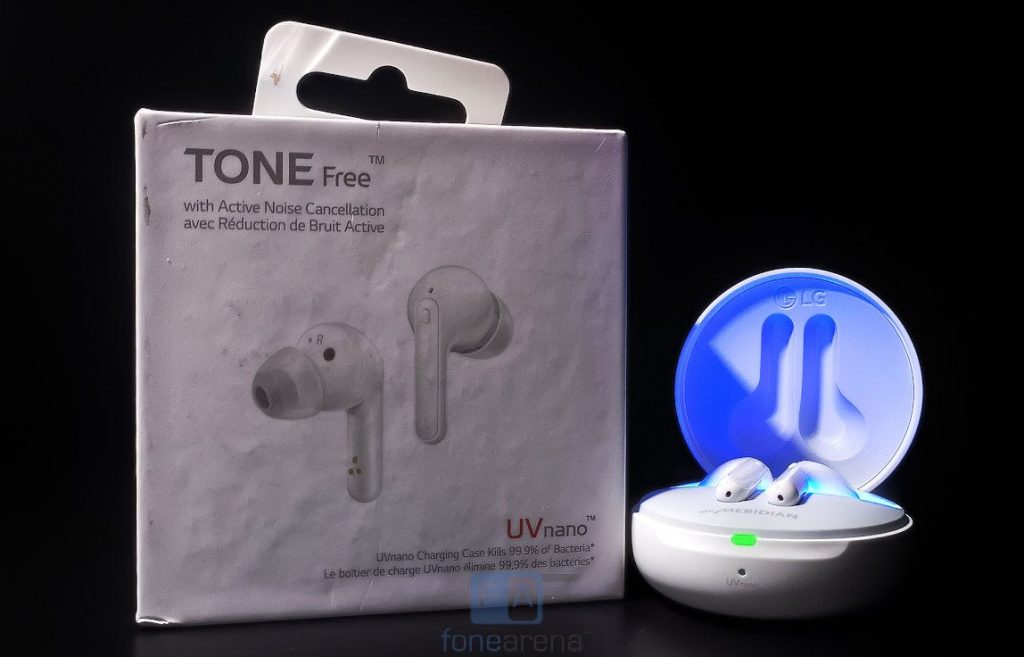 LG launched Tone Free FN7 and FN6, the company's new true wireless earphones in India last month, months after they were introduced in the Korea and other markets. The earbuds feature IPX4 splash-resistant body, Active Noise Cancellation and also comes with a UVnano charging case. Does it live up to the expectations? Let us dive into the review to find out.
Box contents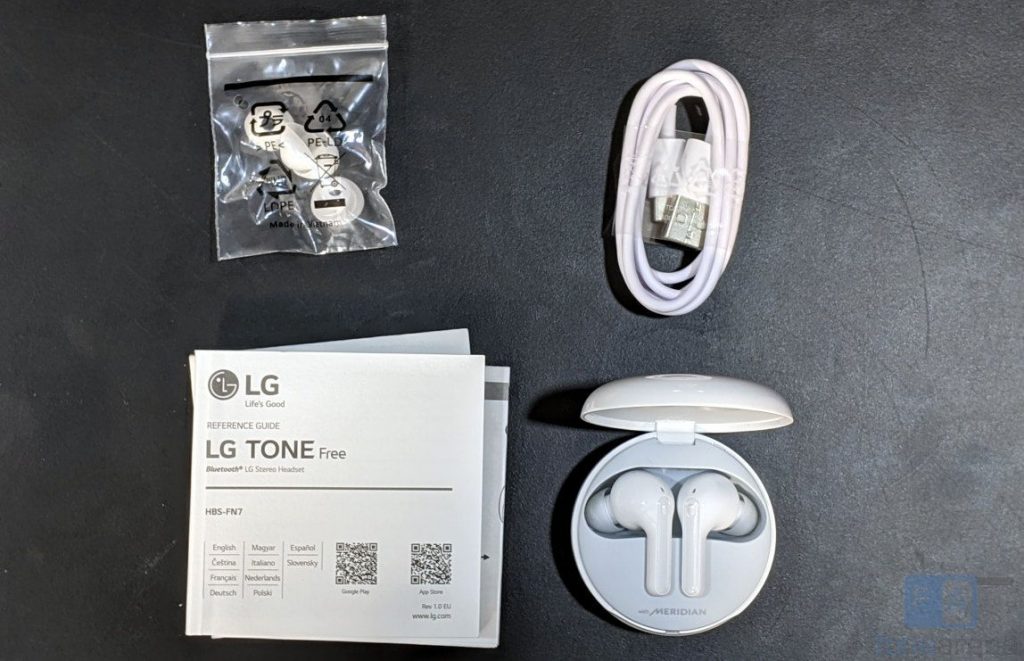 Tone Free FN7 in Modern White colour
USB Type-C Cable
Ear tips in Small and Large sizes
User manual
Design and Build Quality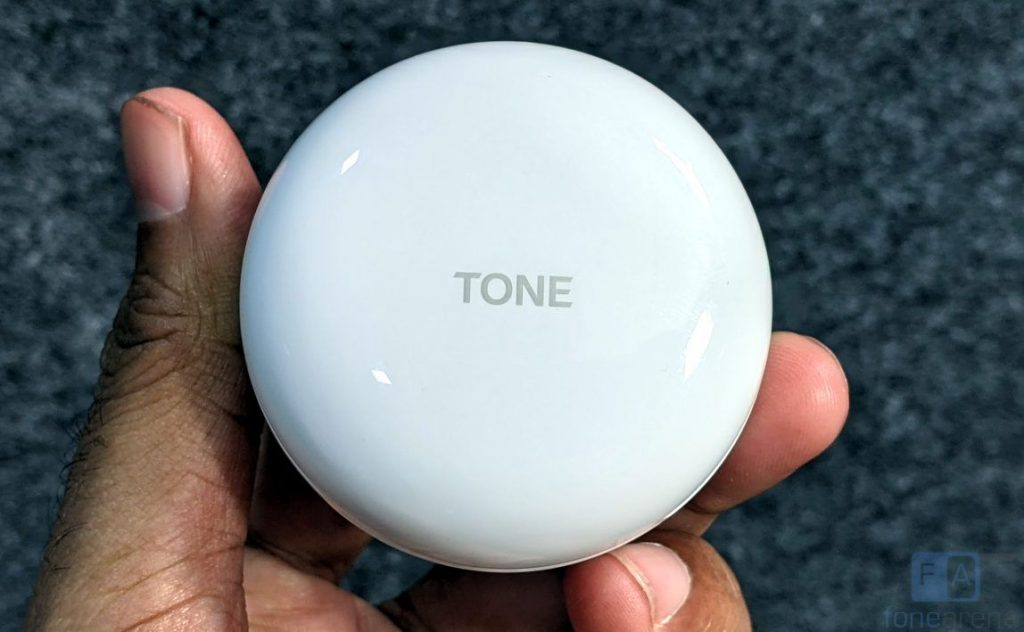 Starting with the design, the headset comes in a round charging case that fits in your pocket. You can see the TONE branding on the front. The case is shiny and attracts fingerprints. It also gets dirty easily since it is in white colour, so I would prefer the Black colour. The charging case measures 54.5 x 54.5 x 27.5mm and weighs just 39 grams.
There is a function key on the left side. You can see the status light on the front. There is a small indicator along with UVnano.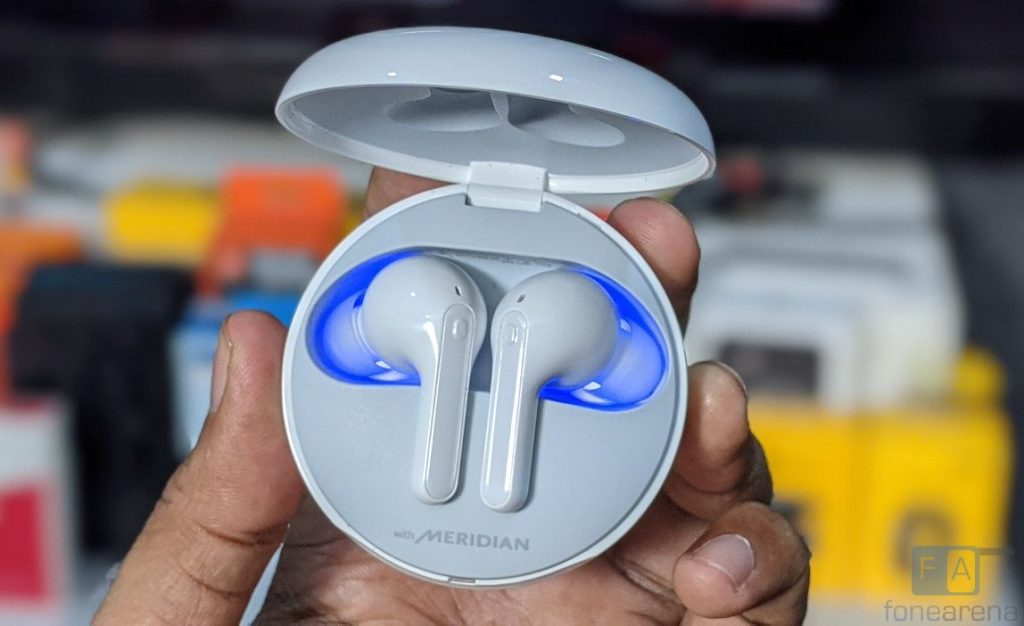 The UVnano charging case uses ultraviolet light to eliminate 99.9 percent of E. coli and S. aureus bacteria on the earbuds' inner mesh when stored in the case, according to the company. This works only when the case is connected to a charger, and it takes 10 minutes to perform the action. This is a good feature, but there is no way to test how good it has sanitized.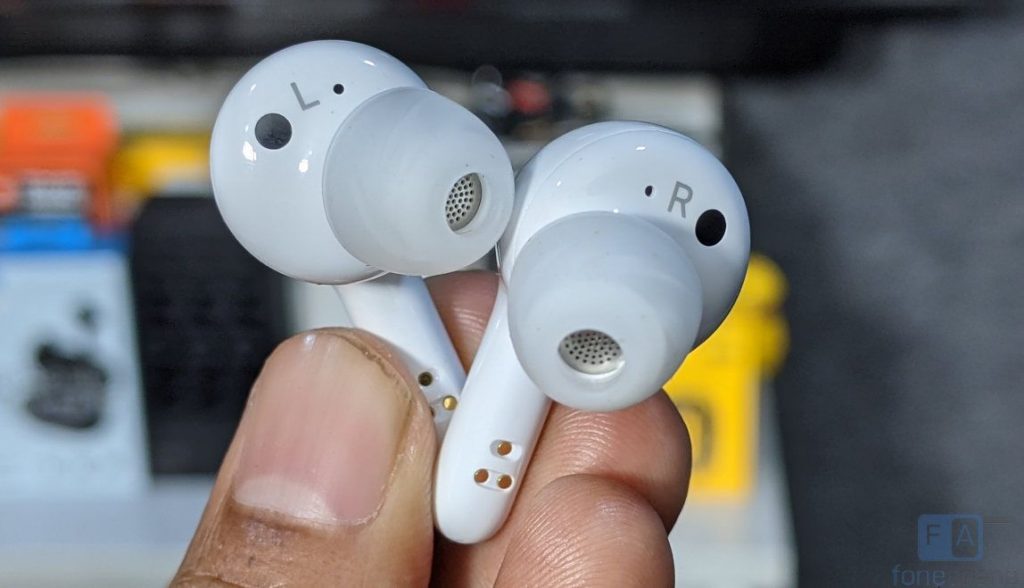 The headset has a plastic finish that is shiny which is prone to small scratches. The earbuds measure 16.2 x 32.7 x 26.8mm and weigh about 5.6 grams, which is light. The earbuds feature an in-ear design and also come with medium-sized ear tips pre-installed. You can change to bundled Large or Small sized ear tips if you wish. You can see the inner noise-cancelling microphones near the Left (L) and Right (R) letters and there is an Optical Sensor for Wear Detection so that it can automatically pause the audio when you remove it from your ears and play when you put it back.  You can also see the contacts for charging in the stem.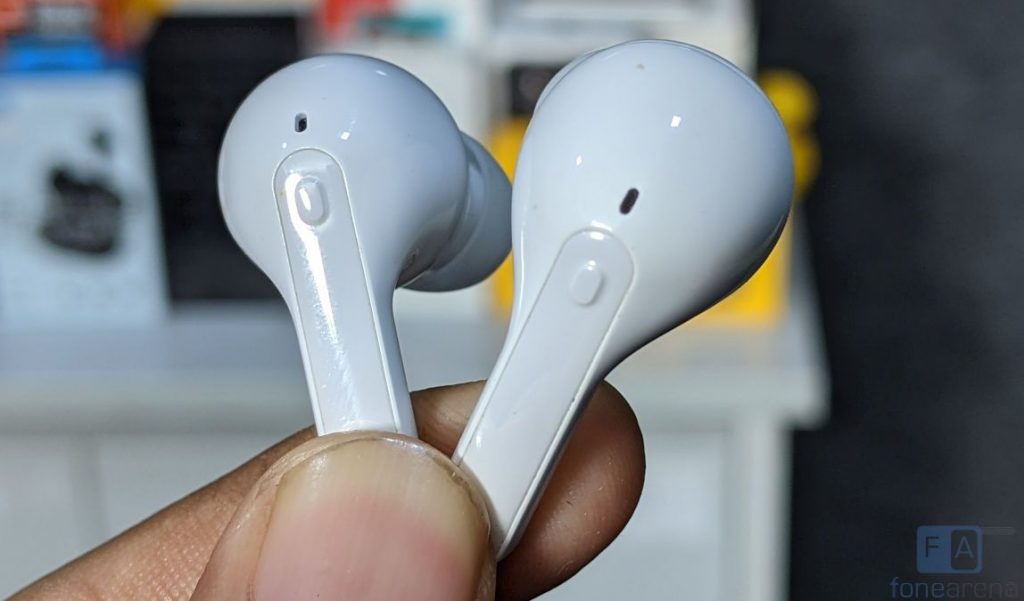 On the other side you can find the Noise reduction and Echo Cancelling microphone. Below that there is a touch-sensitive area on the outer surface, to control play/pause, open Google Assistant and attend or disconnect calls. The lower microphone that is present on the bottom is used for calls. Overall the headset offers a good build quality and fits your ears perfectly so that they don't fall off your ears easily even when running or cycling. The earphones also have IPX4 splash resistant ratings so that it can withstand splashes or light rain.
Connectivity, Pairing, and Controls
The LG Tone Free FN7 supports Bluetooth 5.0 with AAC code support, and the connection range is around 10 meters, which is common in most headsets. The pairing process is very easy, simply press and hold the function button on the case for 3 to 5 seconds until the blue battery status light blinks, this means that the headset is now ready to be paired to a device. Now open the Bluetooth settings on the phone, and it shows up as LG HBS-FN7, and you can connect to it. As soon as the connection is established, the blinking LED should go off. You can take the earbuds out of the case and start using. Since it has Google Fast Pairing support, it immediately connects to the phone when you open the case.
We tested it on the Mi 10T Pro and Mi 10i and never faced any pairing related issue. Since the phone pairs with the case and not the headset, you will need the case if you want to reconnect it. The touch controls are easy to access and are very sensitive to touch.
Function
Left earphone (L)
Right earphone (R)
Answer call. Play / Pause Music
Touch Once
End call / Volume Control
Touch Twice
Play the next song
Touch Three Times
Long Press
Ambient Sound / Noise Cancelling
You can customize the single touch, double touch and triple touch controls from the settings in the LG Tone Free app on Android / iOS. However, you can't control for receiving or ending the phone call and ambient sound / noise-cancelling using tap and hold.
The app also lets you enable notifications for a particular app so that it will read out SMS, MMS and notification from Social Networking Sites. There is also an option to choose the speech rate between Fast, Normal and Slow. The feature is good if you want to listen to notifications that are read in a robot voice. The app also lets you find the earbuds if you have lost them by making a chirping sound if it's in the range. The TONE Free LAB has a Connection Priority Mode that lets you listen with minimal sound interruption in your wireless interference environment. However, it warns that there might be a sound delay. The company pushes out frequent updates to the headset via the app.
Audio Quality,  Call Performance and Noise Cancellation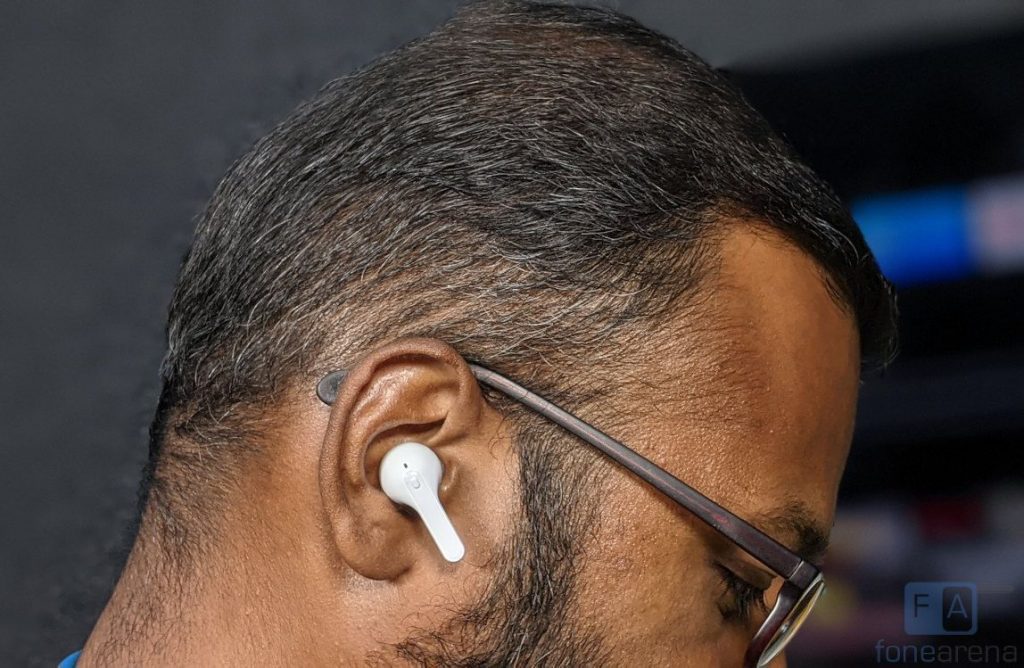 The LG Tone Free FN7 pack a 6mm custom-built driver unit with 10dBm maximum output power and is tuned in collaboration with Meridian Audio that use Headphone Spatial Processing (HSP). The audio quality is good and the HSP offers a realistic soundstage and also delivers vocals with pristine clarity, but the volume might feel less for some.
In the app you can switch between Immersive, Natural, Bass and Treble. If you want to listen to audiobooks or podcasts, if is better to switch to Bass mode, which is better. It only has AAC and doesn't have AptX or aptX Adaptive codec. It also doesn't have a separate low-latency mode, so when gaming there is a slight latency in the audio, so this headset is now the best choice for gaming enthusiasts.
The earbuds offer a decent amount of noise isolation, and triple microphones help when it comes to voice clarity during calls, which is good, and the earphones also reduces the background noise to a certain extent that helps in a crowded or noisy environment.
Regarding the Noise cancellation, the Active Noise Cancellation (ANC) blocks the ambient sound that helps in most cases. You can feel the difference when you are listening to some audio. However, you can't compare the level of noise cancellation level to Sony WF-1000XM3 or Apple AirPods Pro. This also has 'Listen to Ambient Sound' (LAS) mode that allows you to listen to ambient sound so that you can recognize the surrounding situation and any potential risks. This is a useful feature that every headset should have.
Battery Life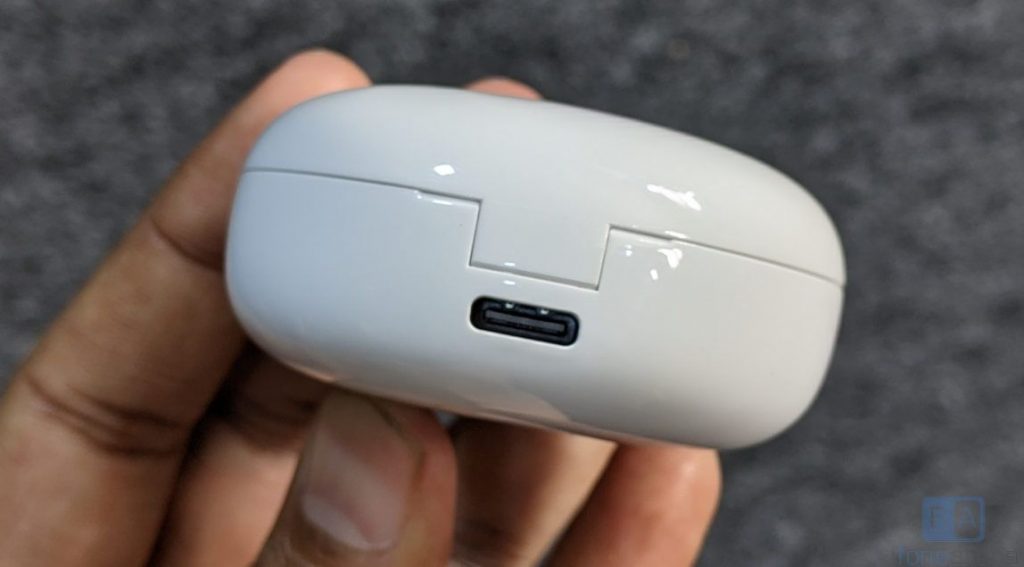 The earphones pack 55mAh  battery that promises about 7 hours of standalone battery life and 5 hours with ANC enabled.  During my run with AAC and noise cancellation enabled, I got about 4 and half hours with about 70% volume, so it is decent. It has fast charging support so 5 minutes of charging offers 1 hour of playback without ANC. Full charge takes about an hour.
With the 390mAh charging case, it promises up to 21 hours of total battery life without ANC and 15 hours of total battery life with ANC. I got about 16 hours with mixed use which is decent. The green light in the case indicates that the remaining battery is >80%, the yellow light represents it is 20 to 80%, and it glows in red if it's below 20%. You can also see the charge left in the case in the TONE FREE app when the earbuds are placed in the case. Charging the case fully from 0% takes about an hour. The charging case also offers wireless charging, so you can simply drop your earbuds onto a charging pad.
Conclusion
Overall, the LG TONE FREE FN7 offers good audio quality with decent noise cancellation, has a compact design, offers a good calling experience and good battery life. Wish it had a low latency mode for the gaming enthusiasts. It was launched at Rs. 29,990 which is high for the features it offers, but it is on sale for Rs. 19,990 on  Flipkart, and it is on sale on Amazon.in for Rs. 16,862. However, there is Sony WF-1000XM3 that offers better noise cancellation even though it has a large charging case. For iPhone users there is Apple AirPods Pro.
Pros
Good audio quality and call quality
Strong Bluetooth connectivity
Decent ANC with Ambient mode
Lot of customizations with LG Tone Free app
Good battery life with fast charging
Cons
Glossy case is prone to scratches
No low latency mode or aptX Adaptive
Slightly priced on the higher side