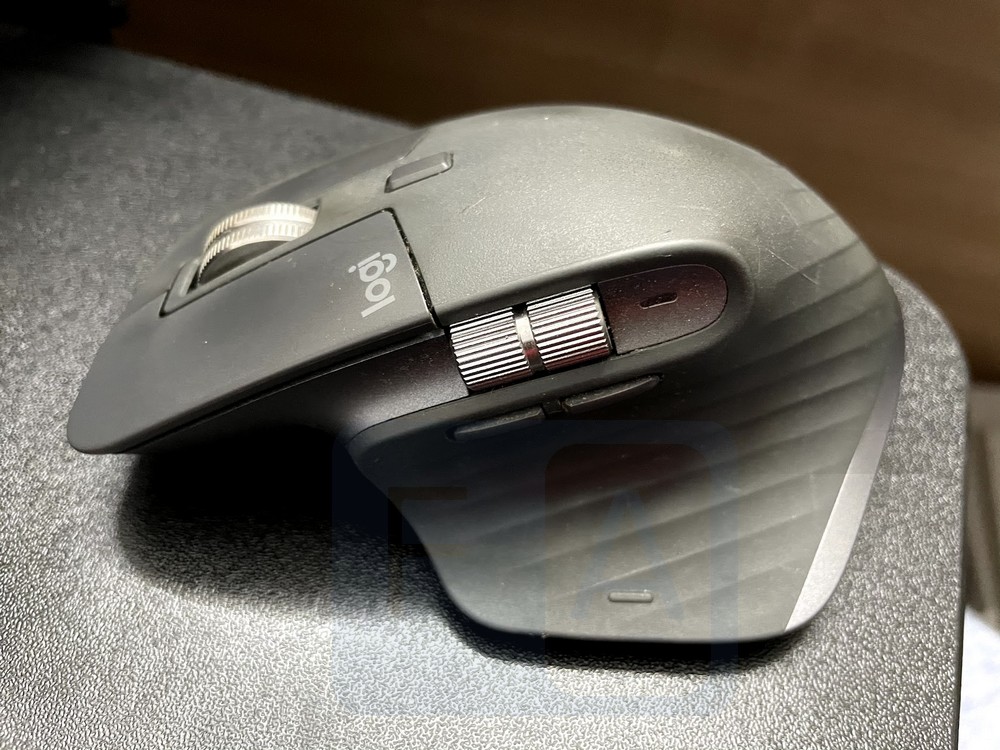 Having a good mouse for your computer can improve your productivity. Over the years, I have wasted countless hours with bad mice and have come to realize that we often tend to overlook the need for a good mouse. The Logitech Mx Master 3 is a premium offering targeted at advanced users and looks promising on paper. How does it fare in terms of real world performance? Is it worth the premium price? Let's find out in this review.
Specifications
124.0×84.3x51mm
141 g
Laser Darkfield sensor
200 – 4000 DPI
500 mAh battery
2.4 GHz RF / Bluetooth
Buttons :  Left/Right, Back/Forward, App-Switch, Wheel mode-shift, Middle click
Scroll wheel and Thumbwheel
Compatible with Windows, macOS and Linux
Box Contents
MX Master 3
USB-A to USB-C cable
Unifying Receiver
Manuals
Design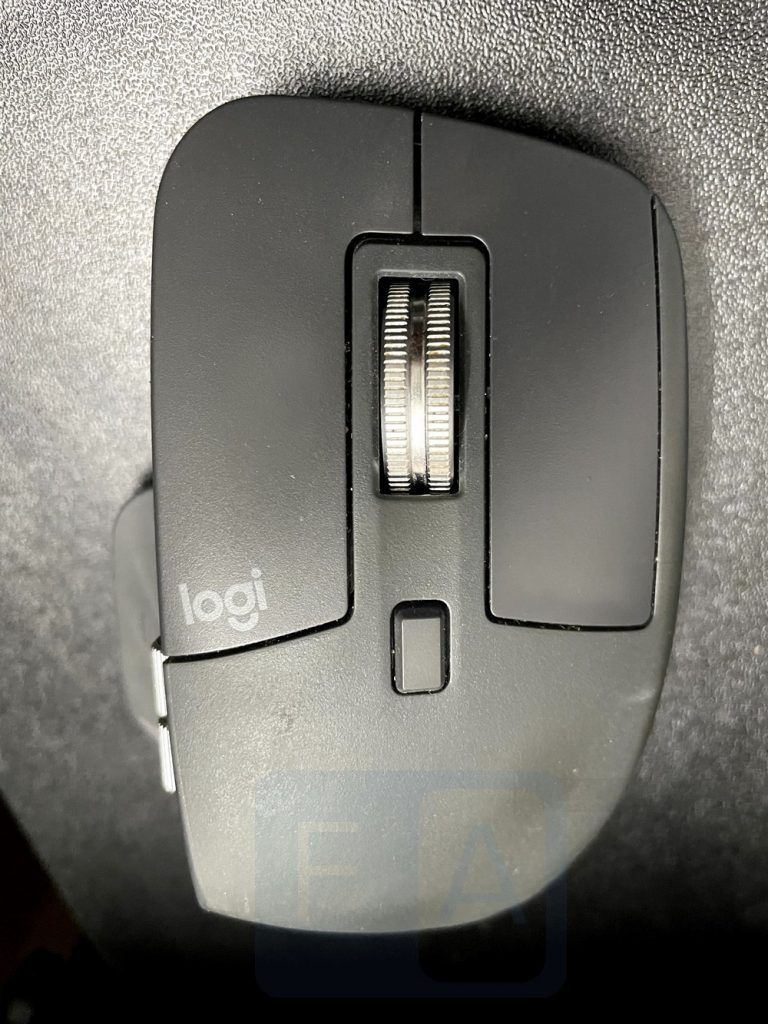 The mouse offers a comfortable grip, and you don't feel any strain on your fingers or thumb. It is slightly bulky and not the most portable mouse. On the top you have the left and right buttons, the iconic scroll wheel  which also doubles up as a middle button and a scroll-mode toggle button all of which can be customized using the Logitech Options app. Logitech has literally reinvented the wheel with the improved MagSpeed Wheel or scroll wheel.
On the left you have the gesture button, horizontal scroll wheel and 2 more buttons which can be used for navigating forward and backward. While I like the location and positioning of most buttons, the gesture button feels misplaced and most users won't even figure out it exists.
On the bottom of the device, you have the power button and device toggle switch. You also have the sensor in the middle. We tried the mouse on several surfaces including wood, glass, plastic and  fabric, and it worked fine.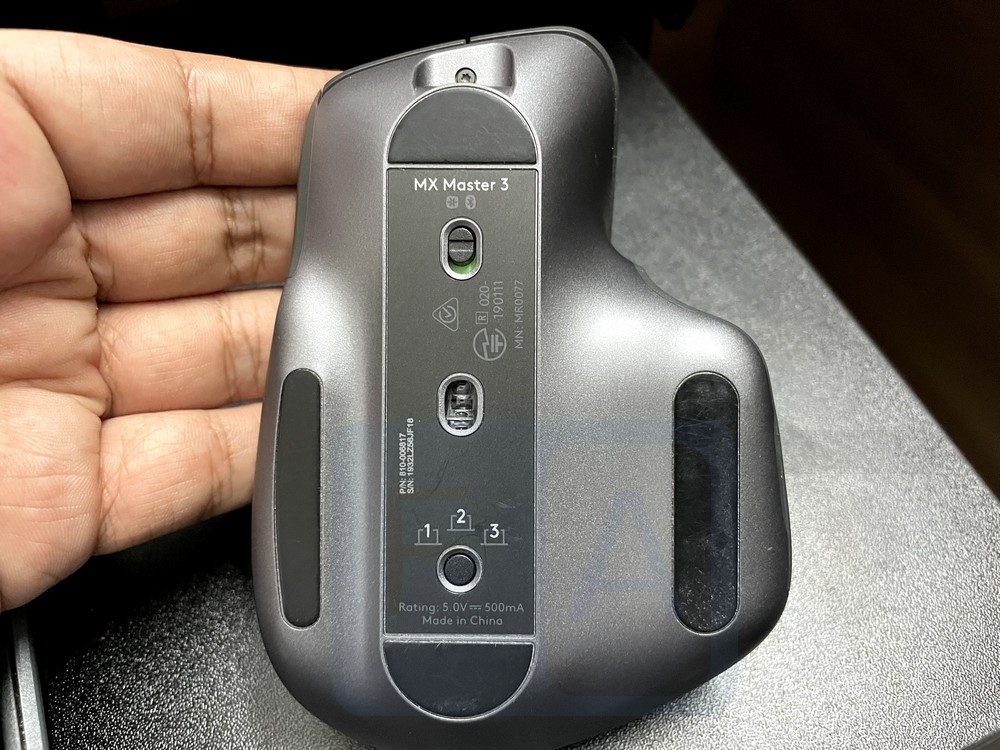 The materials used although comfortable to the touch does attract some dust. Logitech does advice cleaning with a damp cloth after powering off the device. In Logitech devices in the past, you could store the receiver inside the mouse itself. After having lost a few receivers, it is sad that there is no safe way to store the accompanying receiver which is very easy to lose.
Software and Customization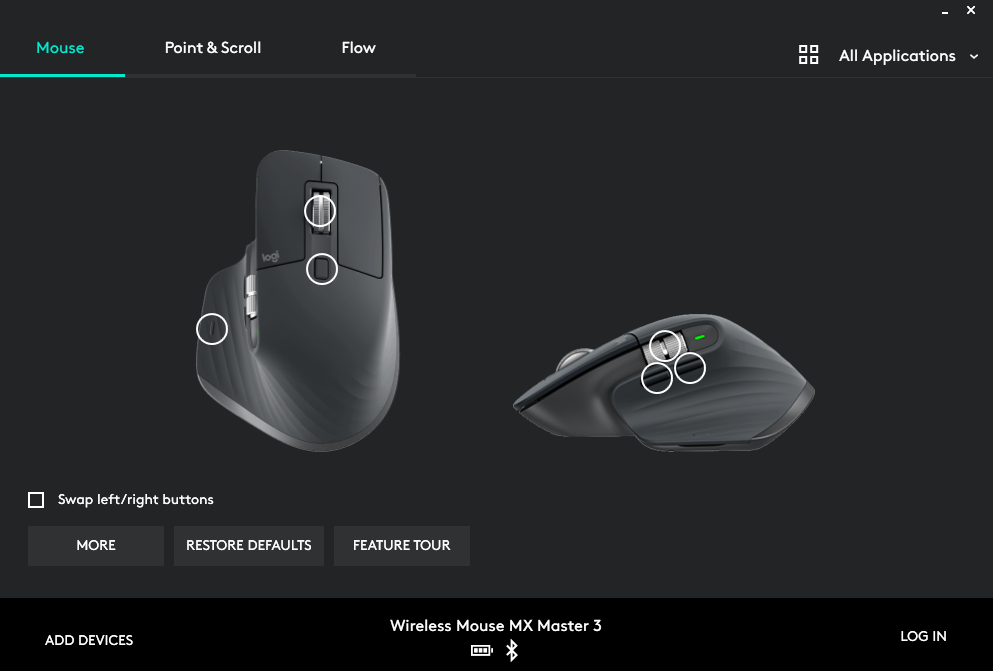 The Logitech Options app lets you customize the mouse and tweak the settings according to your preferences. For example : I changed the mouse wheel button to change mute my system audio as I don't plan to use the mouse settings that often. Most of the other default assignments work very well.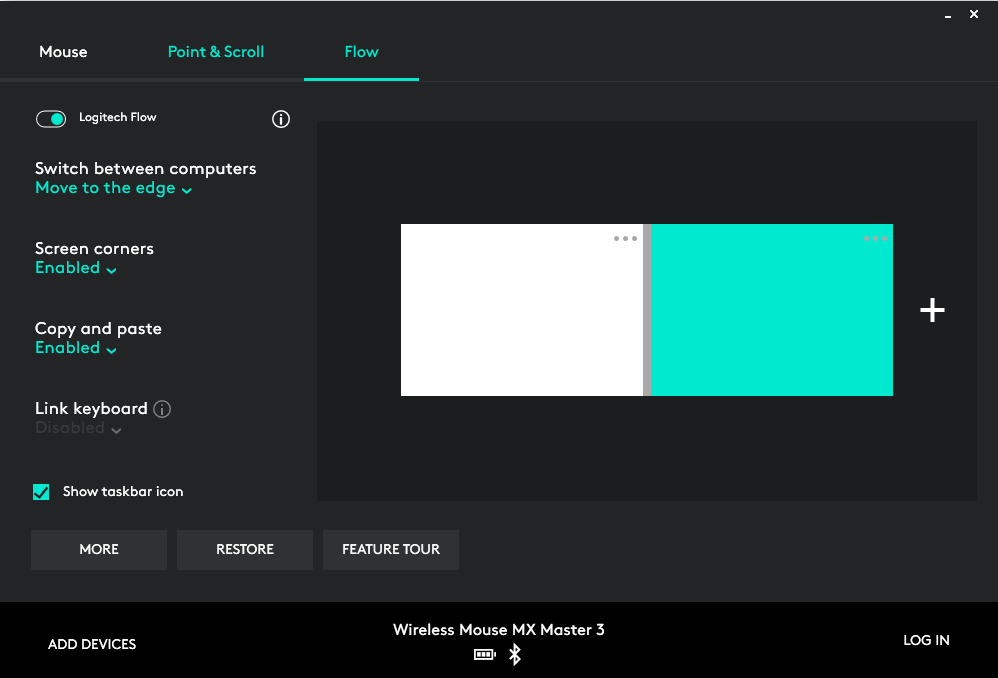 Logitech Flow is neat new feature which lets you use the same mouse across devices and even across Windows/macOS.  You can also copy files between these devices seamlessly. The devices just need to be on the same network and you need to have the latest version of Logitech Options installed. I tried it between 2 Windows PCs on the same network, and it was amazing to copy files and text between these machines without having to use any other third-party apps.
Flow wasn't as smooth as some other options like Barrier, Synergy, but I hope Logitech expands in this area. Despite its shortcomings Flow is very useful if you are working with more than one device.
Battery Life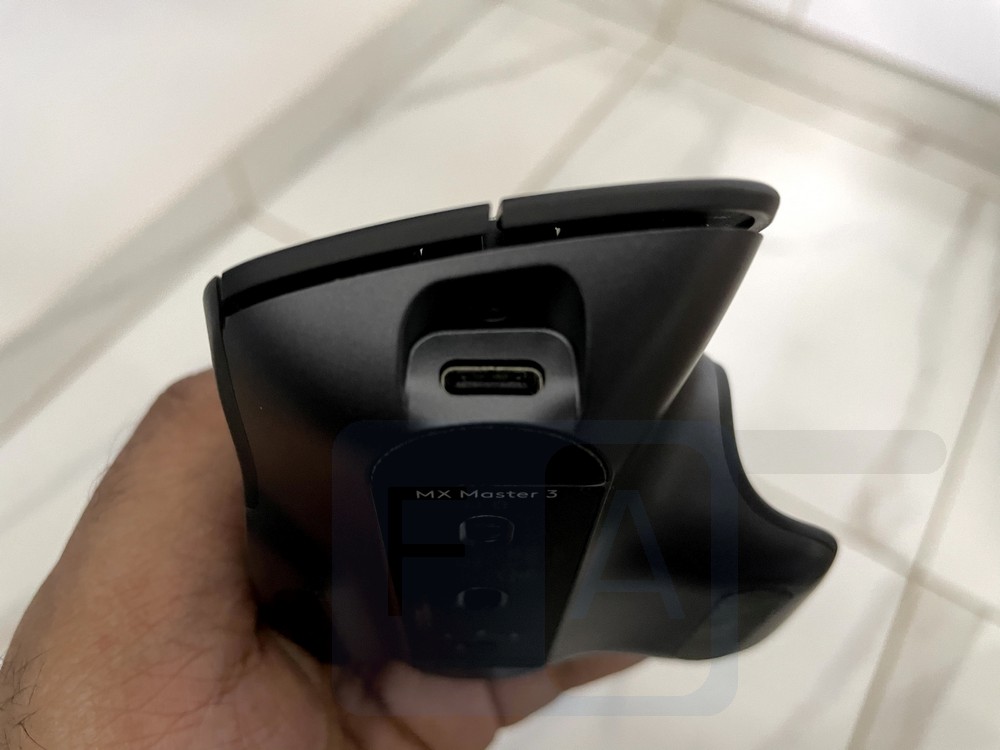 The reason I used to stick to a wired mouse is that charging wireless peripherals / swapping batteries used to be a pain. With newer tech, battery life has gotten better and thanks to USB-C charging, charging the MX Master 3 is simple. Logitech claims 70 days of battery life on a single charge, but our mouse ran out of charge sooner than that. Charging for 1 minute will give you 3 hours of runtime which is noteworthy. If you turn-off the mouse using the power button when not in use, you might get better battery life.
Conclusion
After using the MX Master 3 for a few months, it is by far the best mouse in the market for advanced users. I have used other products from the MX Master line as well as the MX Anywhere line up. The MX master 3  is certainly more refined than its predecessors. It is surely not recommended for gamers as there are better options in the market if gaming is your primary use case.
Even after long house of usage the MX Master 3 does cause any discomfort. Despite the steep pricing the MX Master 3 feels worth the money due to the feature set, if you are an avid multitasker or looking to get more productive.
It is available from Amazon.in, Flipkart and other online and offline stores priced at Rs. 9,495.
Pros
Great ergonomics and comfort
Good smooth performance
Can connect to Multiple devices
Bluetooth/ RF
Good battery life
Cons
Pricey
No storage for USB receiver
Not great for gaming