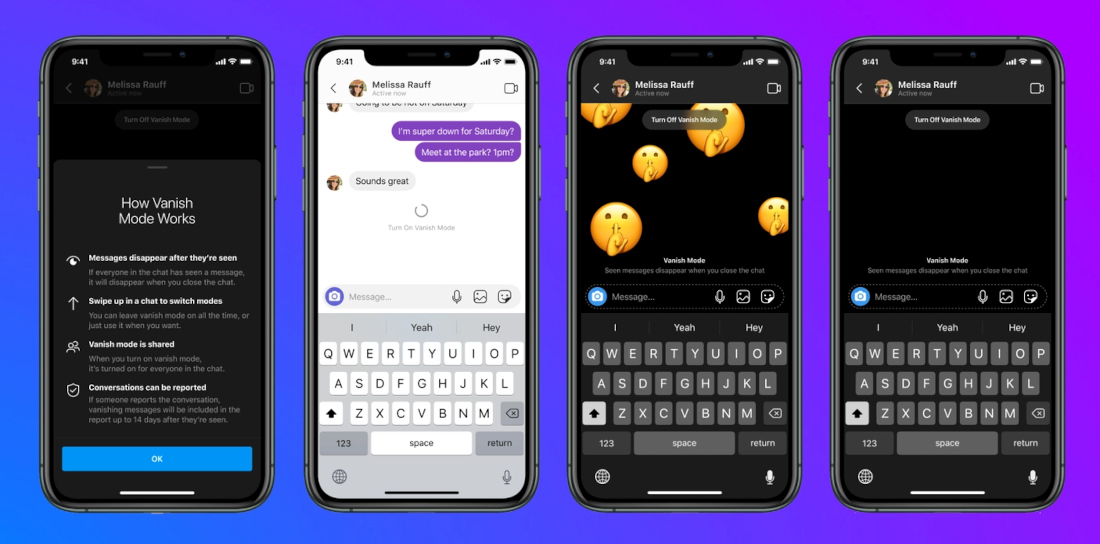 Lately Facebook has been focusing on bring some version of sending temporary messages feature in their various instant messaging services. Just last week, they added a feature called Disappearing Messages to WhatsApp and now they have announced a Vanish Mode for the Facebook Messenger, which will also come to Instagram soon. This is already available in Snapchat.
Vanish Mode works differently when compared to Disappearing Messenger. In Messenger, when the feature is turned on, sent messages will be shown to the receiver when the chat is opened and then deleted once the receiver leaves the chat. In contrast, WhatsApp's Disappearing Messages will keep messages in a chat for 7 days before deleting it.
Entering Vanish mode is very easy — simply swipe up in an existing chat thread and Vanish Mode is activated. To deactivate it, swipe up again. For security, Vanish Mode will have to be opted-in by both participants in the chat and if a screenshot of the chat is taken, the sender will be notified.
Vanish Mode on Facebook Messenger is rolling out starting today to users in the US and a few other countries. Vanish Mode on Instagram will come soon.