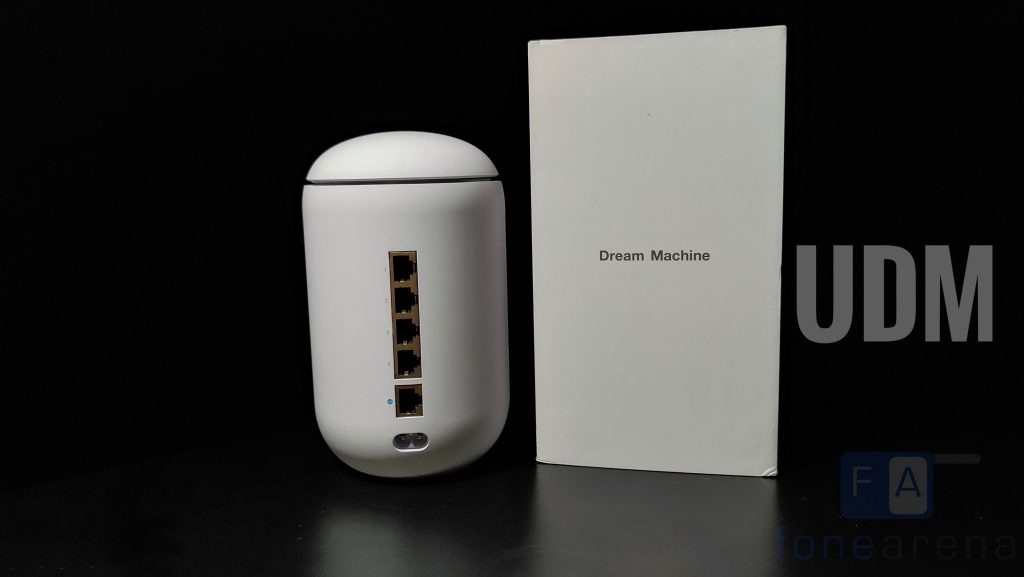 Choosing a good router/networking device for your home or office is important and several factors including the size of your home/office, number of clients, etc, needs to be taken into consideration. In a typical small office/home office, one would be using different networking devices like router, switch, security gateway, etc. To reduce the clutter and make things easier, Ubiquiti Networks, a California-based company that is known for its networking devices launched its Ubiquiti Dream Machine (UDM) a couple of months back on its India store. It is an all-in-one networking device — High‐Performance Dual-Band 802.11ac 4×4 Wave 2 AP, Managed 4-Port Gigabit Switch, Advanced Security Gateway with Intrusion Detection System/Intrusion Prevention System and Deep Packet Inspection. I've been using the device for quite some time, and here's the review of the UniFi Dream Machine from Ubiquiti.
Table of contents
Specifications
| | |
| --- | --- |
| Networking Interfaces | 4x LAN 10/100/1000 RJ45 Ports                     1x WAN 10/100/1000 RJ45 Port |
| Buttons | Reset |
| IDS/IPS Throughput | 850 Mbps |
| Processor | 1.7GHz Quad-Core based on ARM Cortex-A57 architecture |
| RAM | 2GB |
| Flash Storage | 16GB |
| Maximum Power Consumption | 26W |
| Beamforming | Yes |
| Tx Power – 2.4GHz, 5GHz | 23 dBm, 26dBm |
| Antenna | 1x Dual-Band, Quad-Polarity Antenna |
| Wi-Fi Standards | 802.11 a/b/g/n/ac/ac-wave2 |
| Wireless Security | WEP, WPA-PSK, WPA-Enterprise (WPA/WPA2, TKIP/AES), 802.11w/PMF |
Design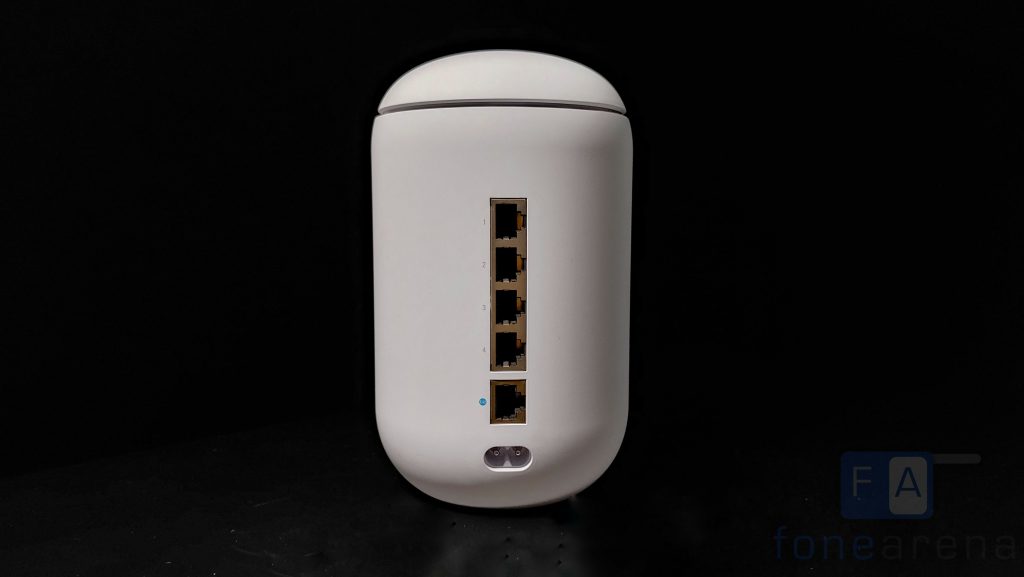 The UniFi Dream Machine doesn't look like your normal networking equipment, rather is quite different with a cylindrical shape that is largely similar to that of smart speakers. There's a circular LED light indicator on the top portion of a two-part cylindrical-shaped Dream Machine and it can be controlled from the UniFi dashboard. Right below the LED indicator, you will find the Managed 4-port Gigabit Switch, 1 x Gigabit WAN port, and the AC power port. The entire body has a matte finish to it that doesn't attract fingerprints and on the bottom, you will find a single Reset button, vents to dissipate the heat, and to make sure the Dream Machine sits firmly on a surface, there are rubber pads on the bottom as well.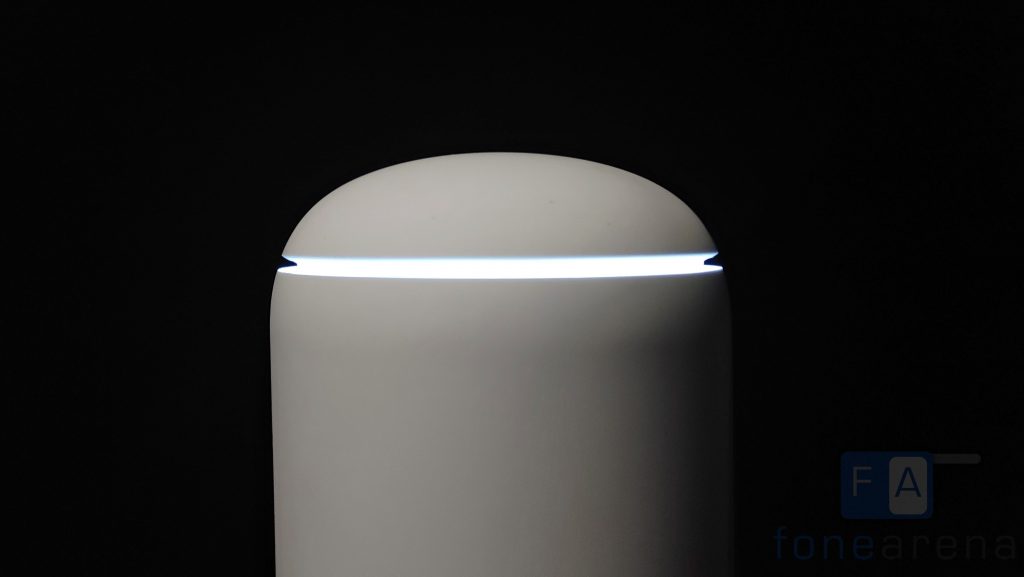 The white and blue LED color accent looks amazing and the design is definitely eye-catching. This could have easily doubled up as a smart speaker if it had a microphone. That said, it does have a speaker. In fact, at first glance, many would mistake it as a speaker rather than a networking device.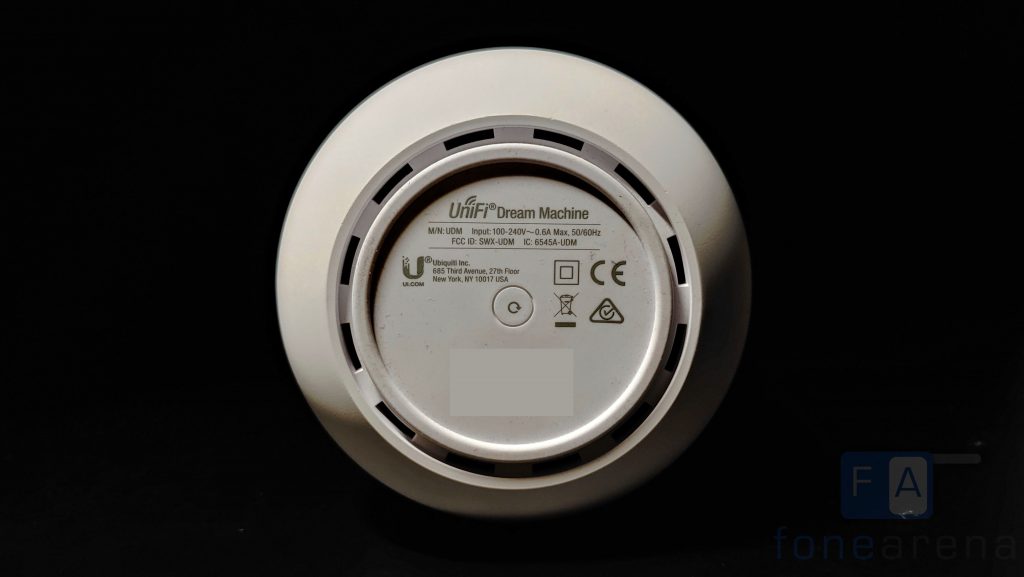 Further, there are no detachable antennas like conventional networking devices and the company has gone with a minimalist design for the Dream Machine. Neatly done, Ubiquiti! On the whole, I like the minimalistic design of the Dream Machine and is definitely one of the highlights of the machine.
Configuration
Configuring the UniFi Dream Machine is a fairly simple process. You can set it up either through the UniFi Network app which is available both on Android and iOS or through a web browser.
Mobile App
Turn on Bluetooth on your smartphone/compatible device
Enable Wi-Fi on your mobile device and connect to UDM Setup <XXXX>. Here XXXX is the last four characters of the device's MAC address found on the bottom of the Dream Machine
Follow the on-screen instructions of the UniFi Network app
In order to manage the Dream Machine, you will require a Ubiquiti account and prior to setting up the device, creating an account is recommended, if you don't have one already.
Browser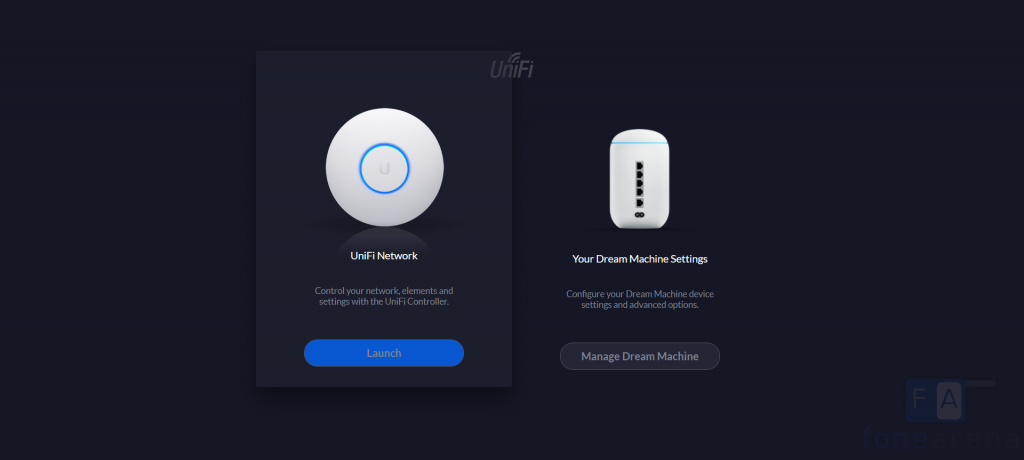 The UniFi Dream Machine can also be configured from setup.ui.com wherein the setup wizard guides users with the steps to successfully set up the device. It is recommended to set up the Dream Machine by connecting it to the LAN port of a computer. You will require a Ubiquiti account and prior to setting up the device, creating an account is recommended, if you don't have one already.
Hardware
The UniFi Dream Machine is powered by a quad-core processor clocked at 1.7GHz paired with 2GB RAM and 16GB onboard flash storage. The maximum power consumption is 26W. There are a plethora of features on the UniFi Dream Machine and is indeed a dream machine for network enthusiasts and networking nerds. For starters, the UniFi Dream Machine is an all-in-one device with Managed 4-port Gigabit switch, Dual Band 802.11ac 4×4 Wave 2 Access Point, and Security Gateway. Let us dive into the features of these one by one.
Access Point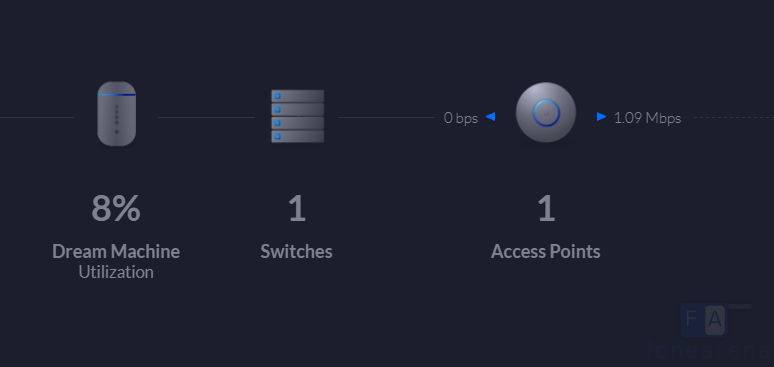 The UniFi Dream Machine features a high-performance quad-polarity antenna with 3 dBi gain on the 2.4GHz band, 4.5 dBi gain on the 5GHz band and with a transmit power of 23dBm on the 2.4GHz band, and 26dBm on the 5GHz band. It supports 802.11ac Wave-2 WiFi standard and host of wireless security such as WEP, WPA-PSK, WPA-Enterprise (WPA/WPA2, TKIP/AES), and 802.11w/PMF.
Switch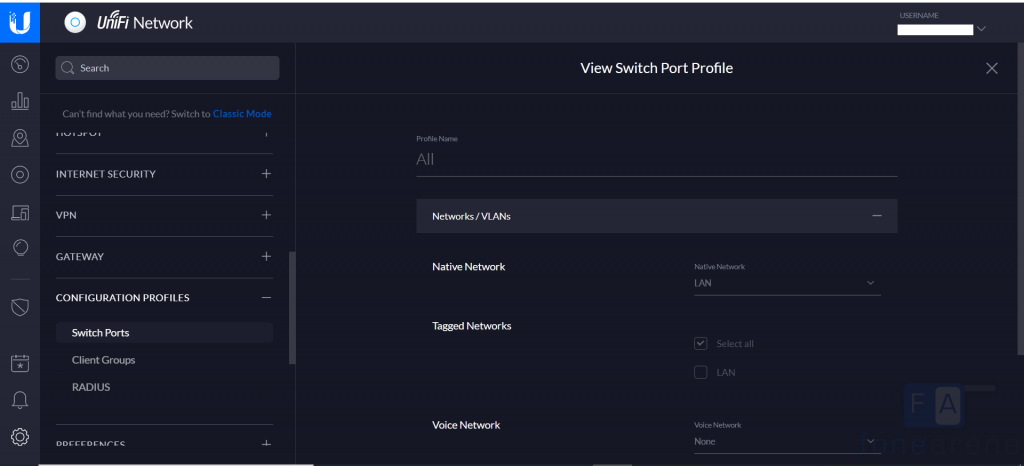 It has 4x up to 1000Mbps LAN ports (10/100/1000) and 1x up to 1000Mbps WAN port (10/100/1000). It is also a managed 4-port Gigabit switch which allows you to easily add network storage or wired client devices. There is support for VLAN (Virtual LAN) as well wherein they are located on a number of different LAN segments, but are configured to communicate as if they were attached to the same physical wire.
Security Gateway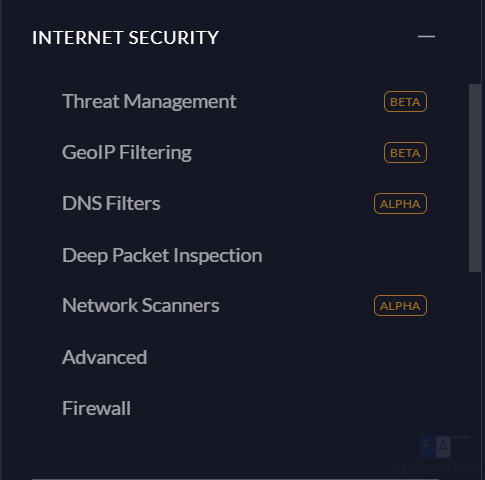 The UniFi Dream Machines comes with an integrated gateway with Intrusion Prevention System (IPS) and Intrusion Detection System (IDS), and Deep Packet Inspection (DPS). It also has Integrated Cloud Key that can provision UniFi devices, map out networks, and manage system traffic.
Software
WiFi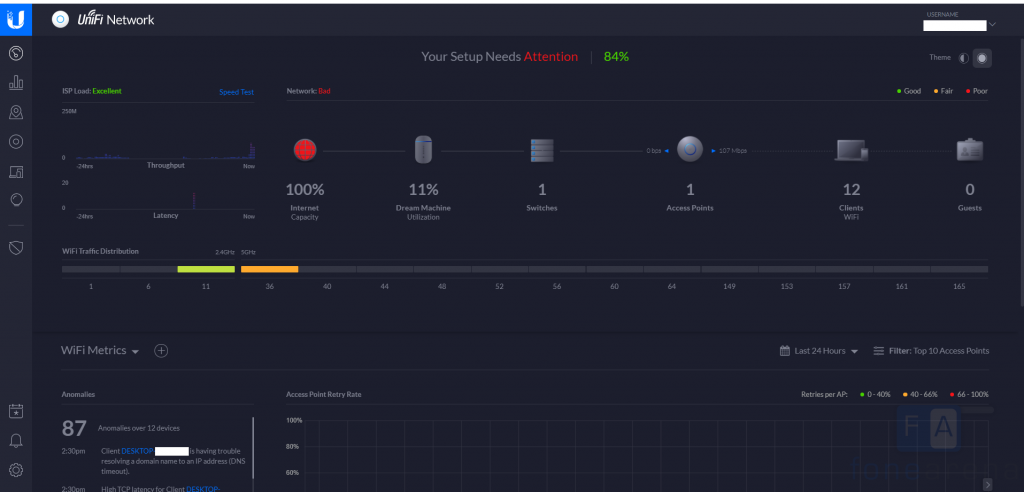 On the software front, the UniFi Network dashboard has a plethora of options to explore. The home screen displays your ISP Load, Network health in 3 different colors – Good (indicated by green color), Fair (indicated by yellow color), Poor (indicated by red color). The visual representation of the network health includes the Internet capacity, Utilisation of the Dream Machine, Number of connected Switches, Access Points, Wi-Fi Clients, and Guest users. Hovering the cursor on the image of Switches/Access Points/WiFi Clients/Guest Users displays a tiny box with limited information and a double click on these images displays detail information of the same.
Further, on the home screen, you can view the Wi-Fi Traffic Distribution on the 2.4GHz and 5GHz band, Metrics that include Anomalies, charts of Access Point Retry Rate, Airtime, Dropped Packets, Association Failures, and you can also view Existing/New/Disconnected Clients. You can also enter the Download and Upload speed manually on the WAN Settings page and enable periodic speed test as well. There is an option to enable 'Smart Queues', but during my testing, I turned it off as it significantly affected my download and upload speeds.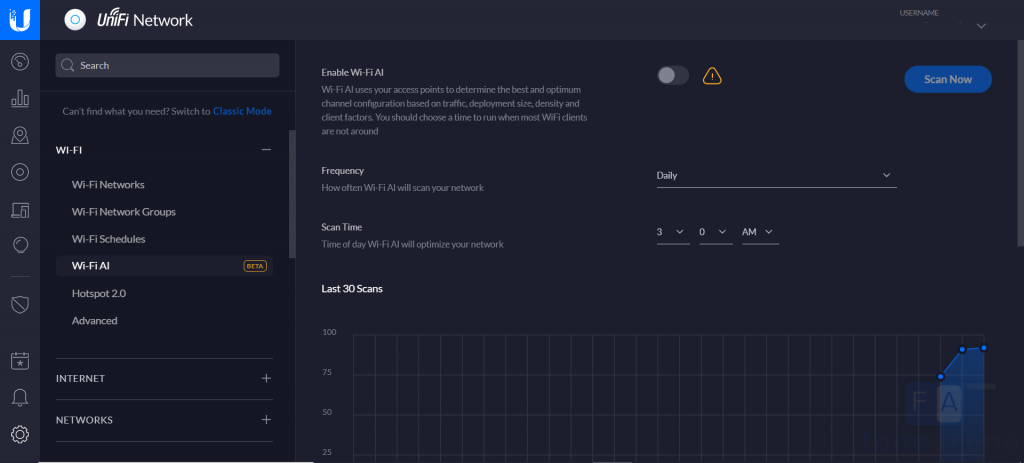 Coming to the Wi-Fi Settings, again, there are a plethora of settings. You can view your Wi-Fi network, disable or duplicate the network, create Wi-Fi Network Groups, Schedule a service outage, Enable Uplink Connectivity Monitor to check if the Access Points have a valid connection. Further, there's also a 'Wi-Fi AI' feature in Beta that determines the optimum channel based on traffic, density, and other factors. You can choose the scanning frequency, time and view the optimisation logs as well. The Advanced Settings allow you to exclude 2.4GHz and 5GHz channels from scanning as well.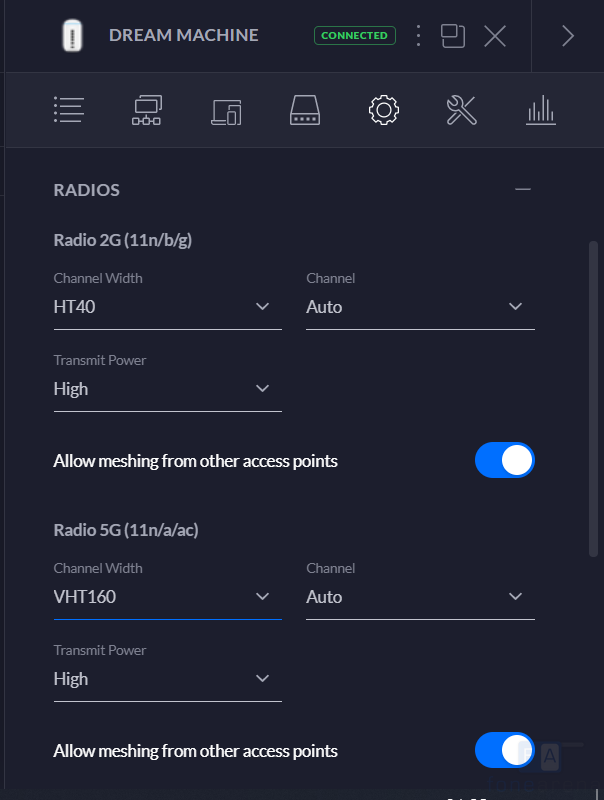 Apart from this, the usual SSID, Security settings, Radio configuration that includes Channel Number, Width, Transmit Power are present as well. On the 5GHz band, the transmission power can go as high as up to 160 MHz (VHT 160) and supported devices can take advantage of the same. Further, there is support for Guest Policies, Fast Roaming, Multicast Enhancement, Unscheduled Automatic Power Save Delivery. The Advanced Settings allow you to make high-performance clients connect to 5GHz band only, Combine 2.4GHz/5GHz SSID and you can also enable/disable MAC Filter, Multicast and Broadcast Filtering, RADIUS MAC Authentication, manage 802.11 rate and beacon controls.
Hotspot
Like Wi-Fi access present in hotels, you can also set up a Welcome Page with a custom Welcome Text and also make it possible for guests to access the Internet after accepting the terms of service. Further, there are multiple Authentication Mode including Simple Password, External Portal Server, Facebook Wi-Fi, Hotspot, and you can choose to not set up an authentication as well.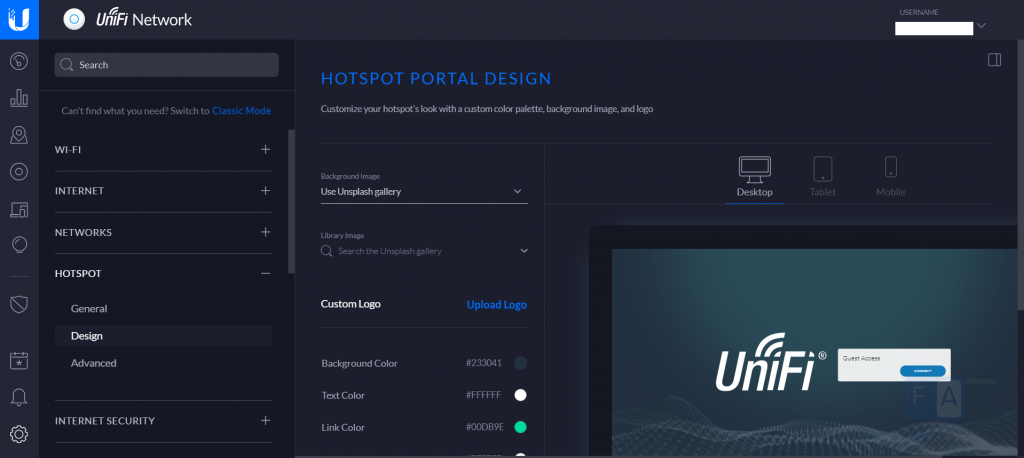 In the Advanced Settings, you can set the Landing Page, setup Session Expiration, Access Control, Portal Customisation, and more.
Security
The highlight of the UniFi Dream Machine is the Security features that it offers. Under Threat Management, you can either choose Intrusion Detection System (IDS) where you will receive alerts when threats or malicious activity is detected or Intrusion Prevention System (IPS) that will automatically block threats and malicious activity on the network. There are different System Sensitivity Levels that you can choose from or if you don't want to select the Levels given by Ubiquiti, you can also choose Custom threat detection settings.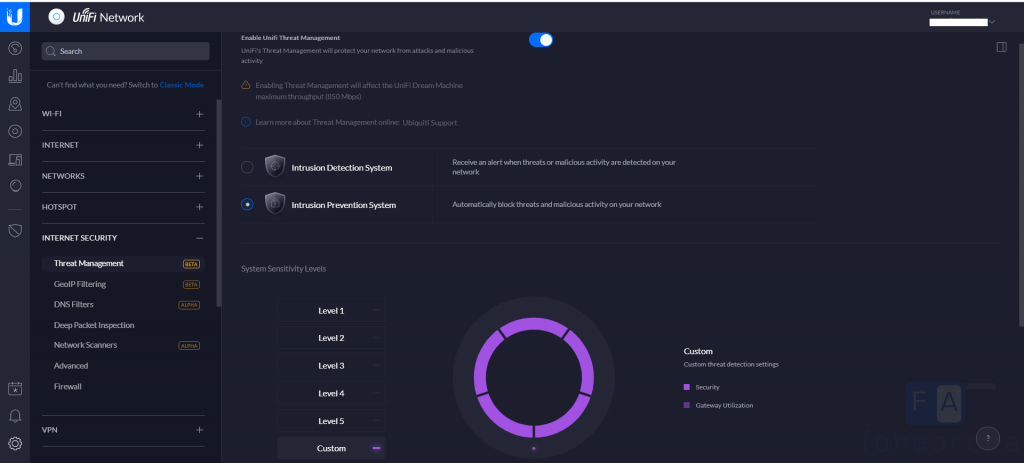 Level 1: Minimum threat detection settings with the smallest effect on performance
Level 2: Threat detection settings that prioritize performance over protection
Level 3: Threat detection settings that strike a balance between performance and protection
Level 4: Threat detection settings that prioritize protection over performance
Level 5: Maximum threat detection settings with the largest effect on performance
Other features include Virus and Malware Protection, P2P Protection, Hacking Protection, Bad Reputation Protection, and Internet Traffic Protection
Apart from this, there are various other options including GeoIP Filtering, DNS Filters, Deep Packet Inspection, Network Scanners, Firewall settings, and more.
Deep Packet Inspection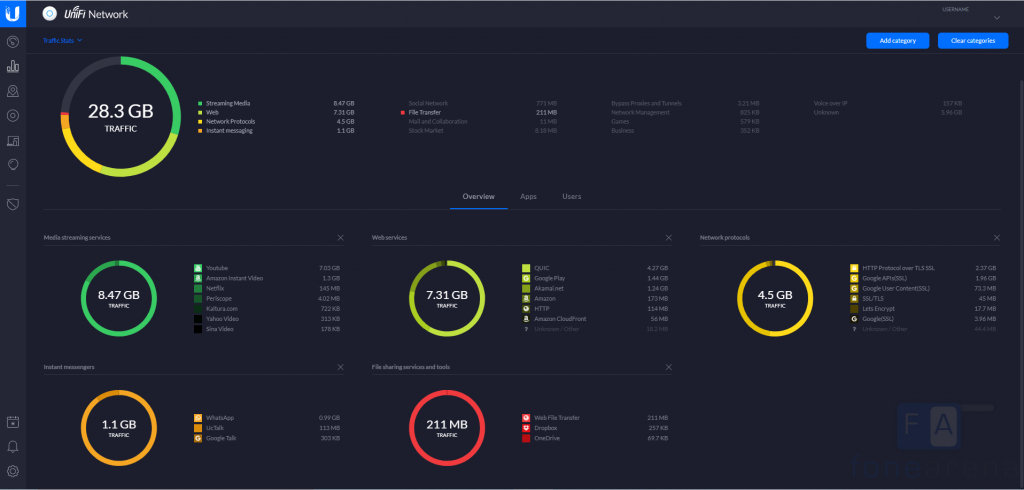 One of my favourite features of the UniFi Dream Machine is Deep Packet Inspection (DPS). On the Dashboard, you can view stats of Network Protocols, Web Services, Social Networks, Instant Messengers, Media Streaming Services, etc. Further, you can view the traffic stats of individual apps and clients as well. The bar chart neatly displays the Up Packets/Bytes, Down Packets/Bytes of the Network Protocols, Web Services, Social Networks, Instant Messengers, etc.
Apart from this, you can also view the System stats, Switch stats, Speed Test stats, and Debugging metrics. The Performance stats displays a graph of User Counts vs Date, Usage %, Traffic, Packets, Dropped, Errors, Memory Utilisation, etc. Expanding the individual apps shows the usage of that app on the devices connected on the network. For instance, you can view the Traffic stats of Twitter app-connected across multiple clients on the network.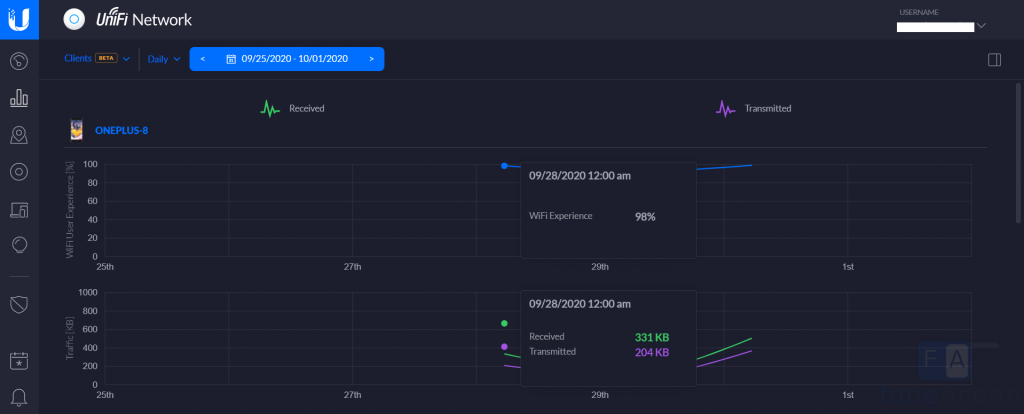 Furthermore, you can also view the Historical data of individual clients that includes Wi-Fi User Experience, Traffic, Wi-Fi Transmit Attempts, Packets, Retries, etc. If you want to observe traffic from a particular category, there is an 'Add traffic category to observe' where you can add categories from Business, Games, Stock Market, and more.
Performance
Coming to the Wi-Fi performance, I did not face any issues with speed drops or disconnection. The connection was stable all the time and the range was quite good as well. I tested the Dream Machine on a 200Mbps connection, and it easily covered a 2BHK house without a huge drop in speeds. I got the rated speeds from my ISP (ACT Fibernet) i.e., 200Mbps Down and 200Mbps Up when sitting close to the Dream Machine and the speeds dropped to around 170Mbps when moved a few feet away from the Dream Machine.
Even with 100% Internet Capacity and over 12 clients connected, the Dream Machine did not slow down and the connection was solid. There was no significant drop in the internet speed and I did not face any sorts of buffering as such during video streaming. As for the thermals, there was no abnormal heating and the temperature reached a max of 37.8 degree Celsius when more than 12 clients were connected. As the Dream Machine also offers threat management, it is capable of running the Intrusion Detection System/Intrusion Prevention System at over 850 Mbps which is indeed good compared to the competition.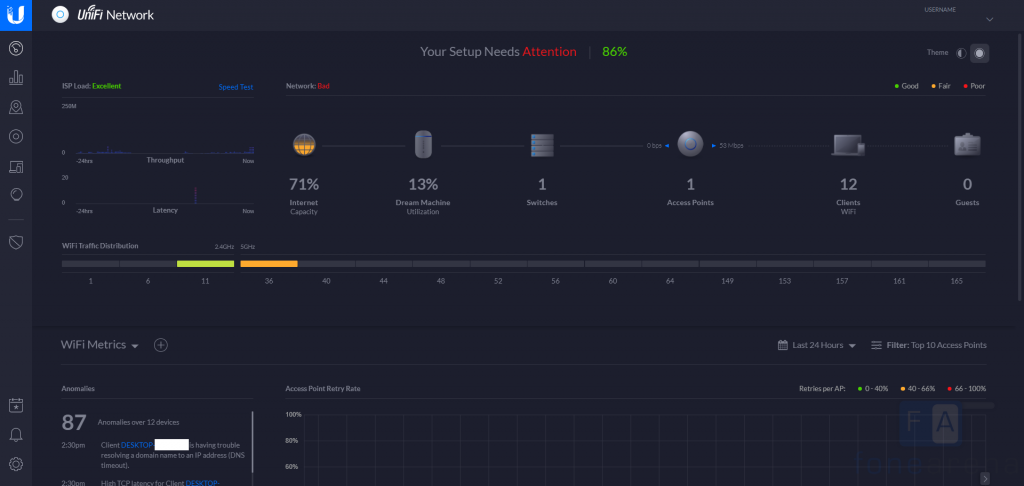 Similarly, as a managed switch, the Dream Machine performed great as well. You can view per-port insights and set the link speed manually to either 1Gbps FDX/100Mbps FDX/100Mbps HDX/10Mbps FDX/10Mbps HDX or set it to Autonegotiation. When it comes to the Settings, you can of course create a new switch port profile and choose to do not modify PoE or select between 24V Passive, PoE/PoE+, Passthrough options. You can also explore the advance settings that Ubiquiti offers right from the UniFi Network page.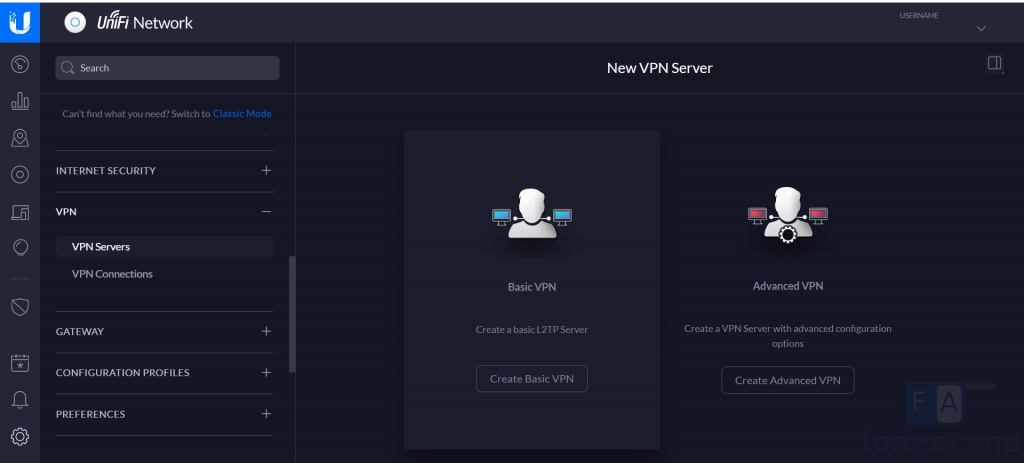 Apart from this, you also get the option to set up VPN Connection and VPN Servers. For the VPN Connection, you can use the Dream Machine as a VPN Client to connect your network to another and for the VPN Server, you can choose between a Basic L2TP Server or create Advanced VPN.
Moving on, the 'Alerts' section allows you to receive alerts/log events of Access Points, Gateway, Switch, Client, and Administrator. You can also set up Remote Access on the Dream Machine and you create backups automatically and restore from backup. Enabling backup to cloud feature is present on the dashboard, but the feature is not rolled out yet and has a 'Coming Soon' badge.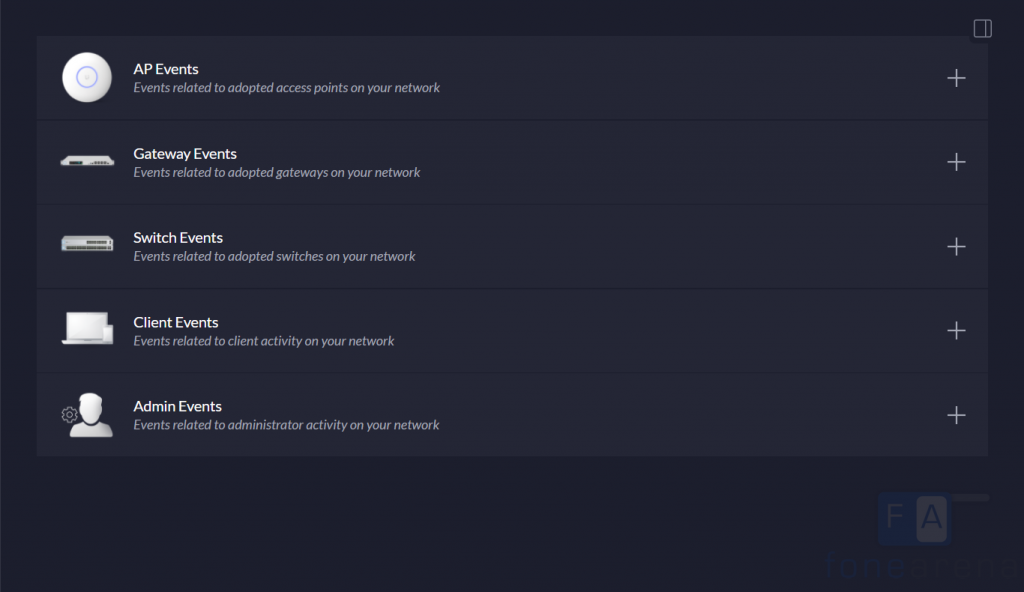 All these features are just a tip of the iceberg as there are a plethora of options on UniFi Network. You can explore and modify based on your preference.
Pricing and availability
The UniFi Dream Machine retails at Rs. 31,626 on Ubiquiti India Store and is priced slightly higher at Rs. 39,500 on Amazon.in.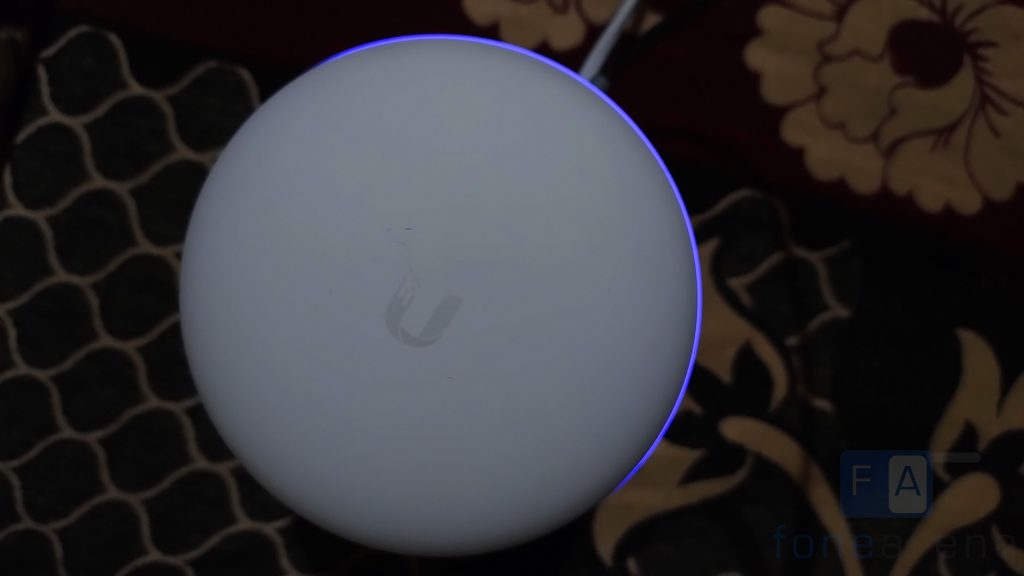 Conclusion
The UniFi Dream Machine is more than just a router as it combines an Access Point, Switch, and Security Gateway in a single form factor. It delivers great performance overall and is an ideal networking device for small office/home office and is definitely a great start point as well. While it provides the convenience and reduces the clutter, at the end of the day like most of all-in-ones, it is a single point of failure. Also, I wish it had support for Wi-Fi 6, considering the price point and the competition in this price segment. That said, on the whole, the UniFi Dream Machine is indeed a Dream Machine for small businesses and networking nerds.