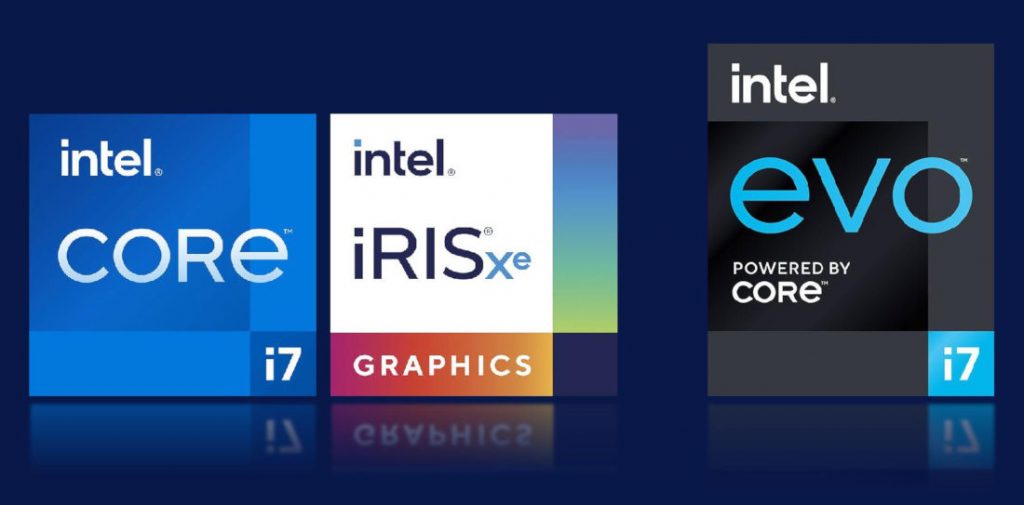 Intel just announced its 11th Gen Intel Core 'Tiger Lake' processors with Intel Iris Xe graphics for thin-and-light laptops. It uses Intel's new SuperFin process technology, optimize power efficiency with leading performance and responsiveness while running at significantly higher frequencies of up to 4.8GHz.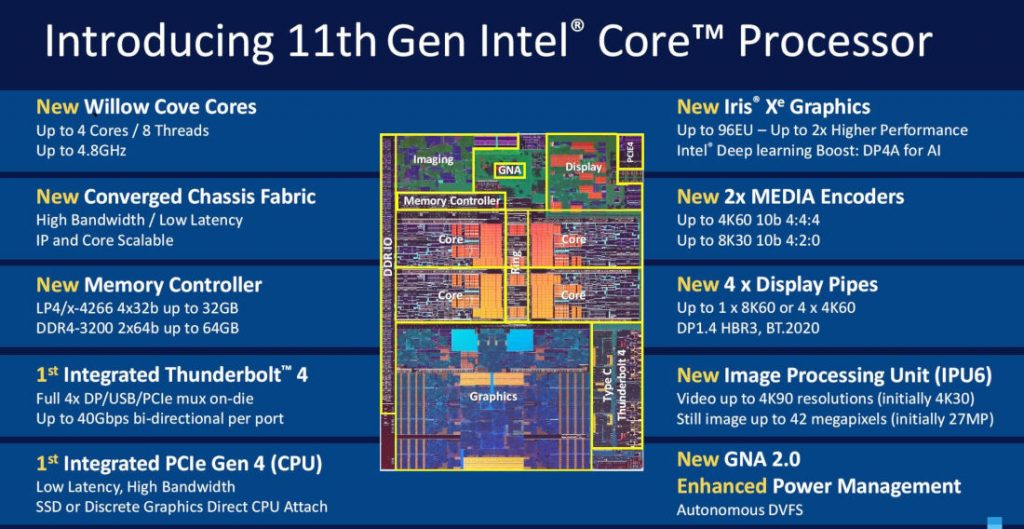 Highlights of 11th Gen Intel Core Processors
More immersive and personal AI-enhanced experiences, including enhanced audio with CPU offload for background noise suppression via Intel Gaussian and Neural Accelerator 2.0 (Intel GNA)
AI-accelerated background blur and video super-resolution, the latest video decode and integrated Intel Wi-Fi 6 (Gig+)
Up to 2.7x faster real-world photo editing and up to 2x faster real-world video editing versus competitive products, in addition to support for 8K HDR displays and up to four simultaneous 4K HDR displays.
More than 20% faster office productivity versus competitive products
Integrated Thunderbolt 4 capabilities for up to four ports for connecting to a universe of peripherals and single-cable access to fast-charging, external monitors and extended storage.
The first mobile client SoC with CPU-attached PCIe Gen 4 interface and with up to four lanes.
First in the industry with hardware-supported Dolby Vision
Up to 2x game performance over the previous generation to play Borderlands 3, Far Cry New Dawn, Hitman 2 and other popular game titles for the first time at 1080p on Intel's integrated Iris Xe graphics that outperform 90% of the discrete graphics paired in this segment and offer up to 96 execution units (EU) and up to 16MB of L3 cache.
Improved system-level power by approximately 20% versus the previous generation, translating to more than an hour of additional video streaming on battery
Support for the high-performance AV1 CODEC that enables power-efficient support for 4K, even in constrained bandwidth environments.
The first with image processing solution enabling vision sensing and adaptive dimming.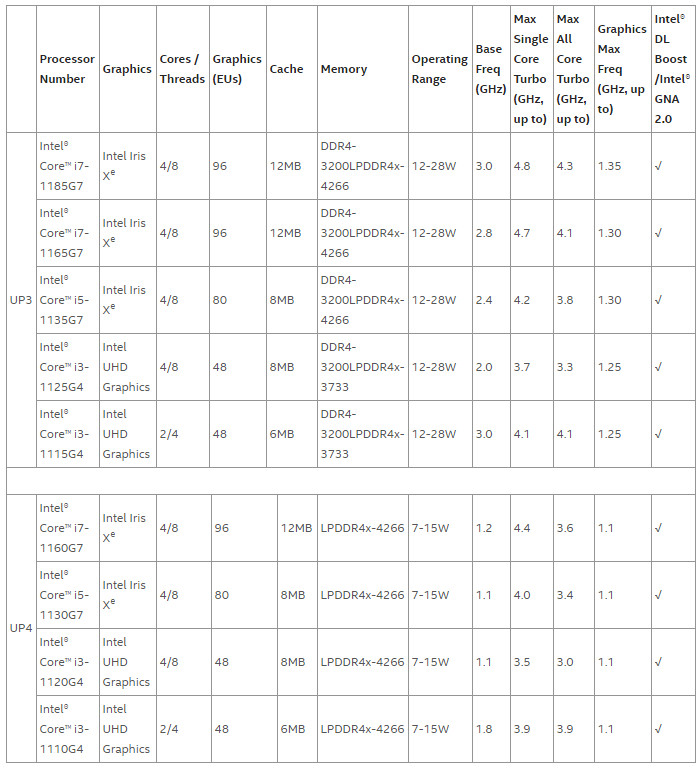 It comes in nine processor configurations offering scalable performance across the 7- to 28-watt thermal envelope and up to 4.8 GHz turbo frequency.
More than 150 designs based on 11th Gen Intel Core processors are expected from partners including Acer, Asus, Dell, Dynabook, HP, Lenovo, LG, MSI, Razer, Samsung and others in the coming weeks.
Intel EVO Platform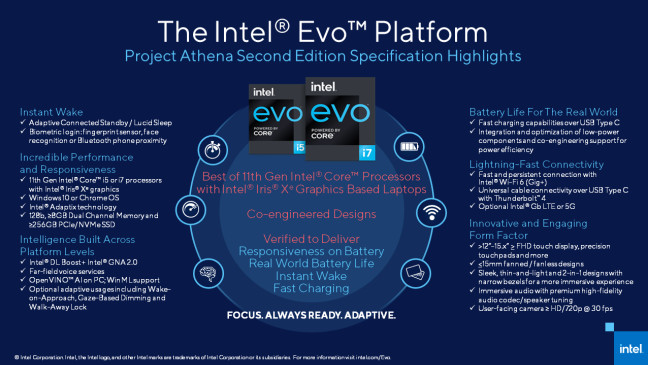 Intel also introduced the Intel Evo platform brand for laptop designs verified to the second edition specification and KEIs of the Project Athena innovation program. All Intel Evo platform designs are powered by 11th Gen Intel Core i7 or i5 processors with Intel Iris Xe graphics, feature best-in-class wireless and wired connectvity with Thunderbolt 4 and Intel Wi-Fi 6 (Gig+), and deliver exceptional audio and display to make each experience premium.
The Intel Evo platforms are co-engineered and designed to help remove lag, distractions and dependency on battery chargers – ensuring exceptional experiences from anywhere. All designs on the Intel Evo platform are verified against the following KEI targets:
Consistent responsiveness on battery
Wake from sleep in less than 1 second
9 or more hours of real-world battery life on laptops with full HD display.
4 or more hours of battery life in a 30-minute charge on laptops with full HD display.

Verified designs will feature the Intel Evo badge to help consumers identify the best laptops for getting things done. More than 20 verified designs are expected this year, including Acer Swift 5, Asus Zenbook Flip S, Lenovo
Yoga 9i and Samsung Galaxy Book Flex 5G.