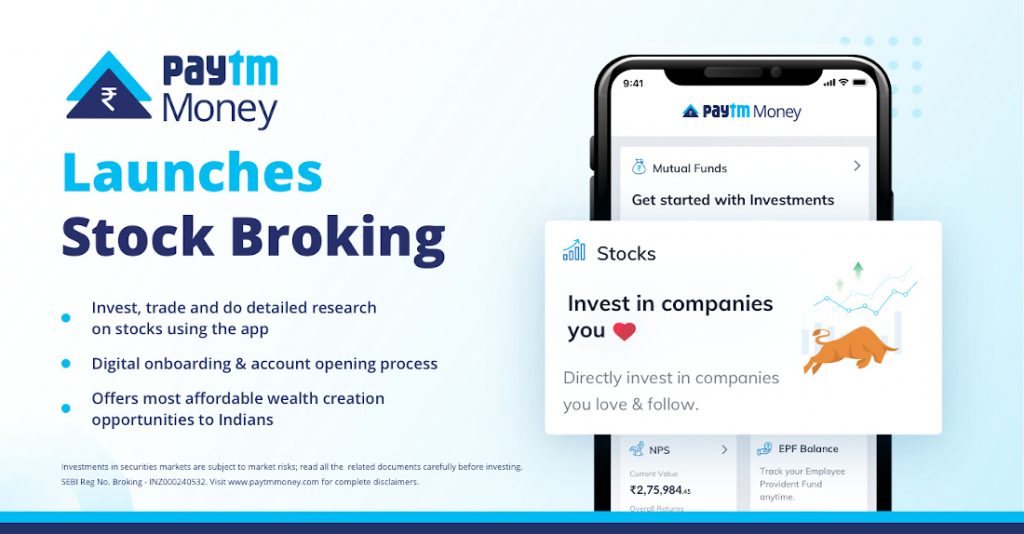 Paytm Money, a subsidiary of One97 Communications, is expanding their online investment & wealth management platform with the launch of Stock Trading. The service is currently tested with Cash (free) and intraday trading (as low as Rs.10) introduced in beta mode, with more options expected to be added later.
Paytm Money provides an easy way to users who wish to invest in the equity markets. The app offers many stock market-focussed features for users like price alerts for as many as 50 stocks and notifications for when the price is reached. An investor can create and customise multiple watchlists to track real-time price changes for up to 50 stocks.
Stock investing can be automated by setting buy orders on a weekly/monthly basis and the built-in brokerage calculator will help an investor the best time to sell stocks profitably. Paytm Money promises to keep investors' personal data safe with bank-level security.
Stock Trading will be offered as an early access feature to a select set of Android & Web users, and soon will be offered to everyone including iOS users in a few weeks.
Commenting on the launch, Varun Sridhar, CEO of Paytm Money said:
With the addition of equities, Paytm Money seeks to drive financial inclusion among investors by removing information gaps and facilitating stock penetration in the country. For this, the app would provide in-depth financial & historical price data for every listed company to enable investors to research the stock market on their own. This promotes simple, convenient, and quick investing, as well as informed decision making by the user. We remain committed to making Paytm Money a comprehensive wealth management platform for every Indian.