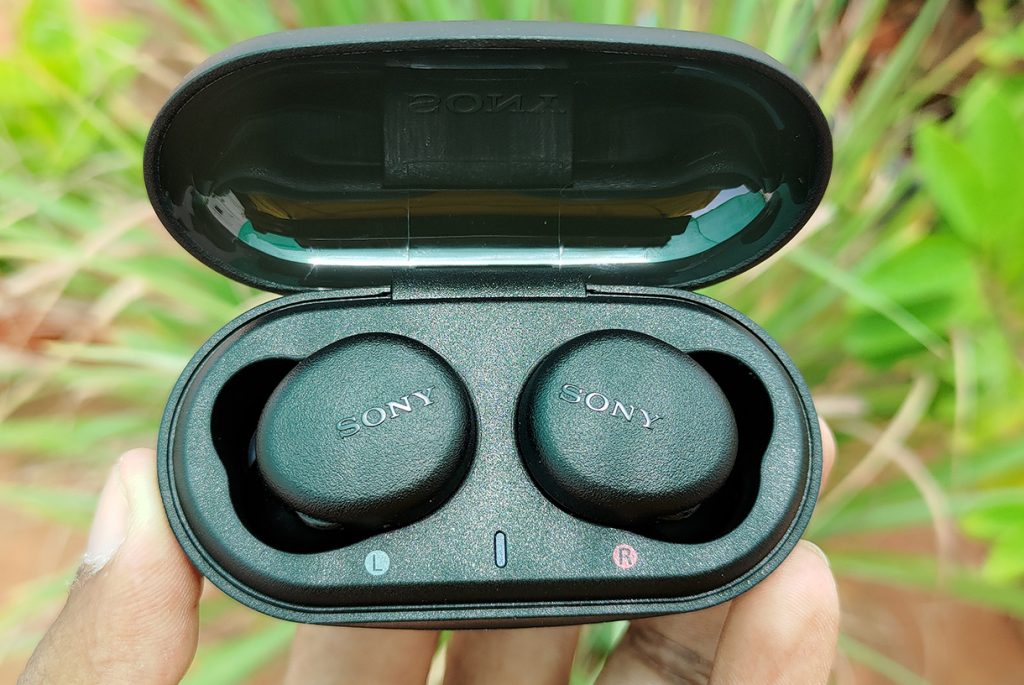 Sony, the great Japanese electronics giant wants a piece of the new True Wireless economy. Armed with a legacy of delivering on promises and a good dose of "EXTRA BASS" splattered all over the box and inside the headset, the WF-XB700 aims to compete against the Samsung Galaxy Buds, which rightly dominates the premium segment. Beyond bass, there is great battery life rated at 9+9 hours and IPX4+1 certified water and dust resistance. I've been using this product for over a week now and I can say this for sure, Sony has delivered on the promises once again but as always, some conditions apply. The main question is, with so many Wireless Stereo Headsets in this world, could this be right one for you? Let's find out in the review.
Box Contents

Headphones (Made in Vietnam) with spare Hybrid silicon rubber earbuds
Charging case (Made in Vietnam)
USB Type C Cable (Made in China)
The device comes in multiple colors, and we got the black one. If you want to know a quick look at the specifications of the product, click here.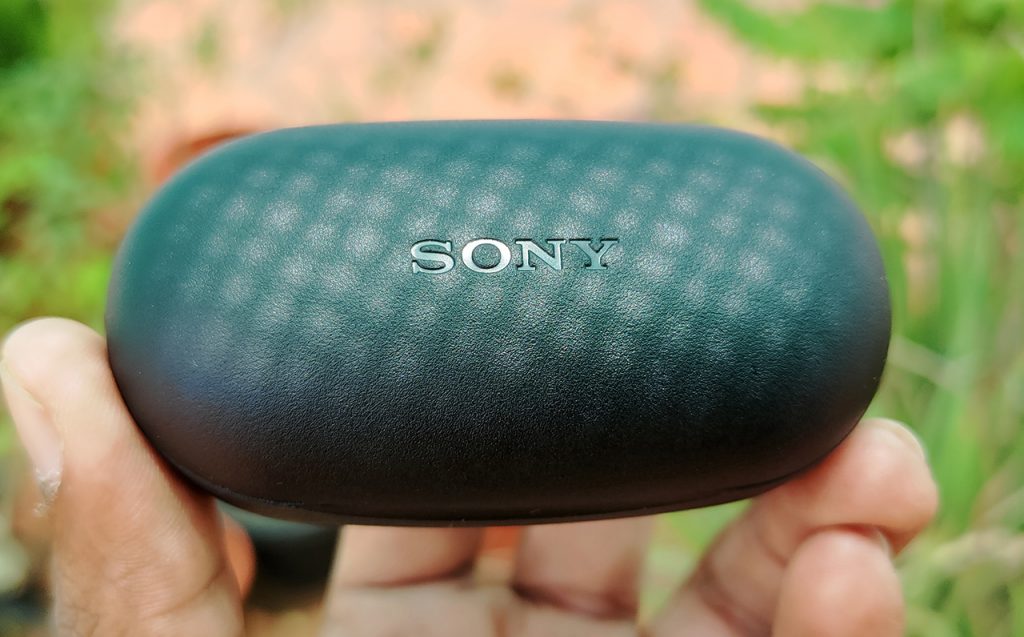 The Design and Wearability
Like many other TWS headsets, you can except a similar package, but there are some key differences to note here. Due to the nature of this particular headset placed in the "XB" ExtraBass series, the chamber for producing that bass is big so it occupies a larger area outside your ears. For example, while most other earbuds can sit flush in your ear so you can use them even while wearing full face cover helmets. That wouldn't be possible with the WF-XB700, as it protrudes enough to stop you from feeling comfortable while wearing a helmet.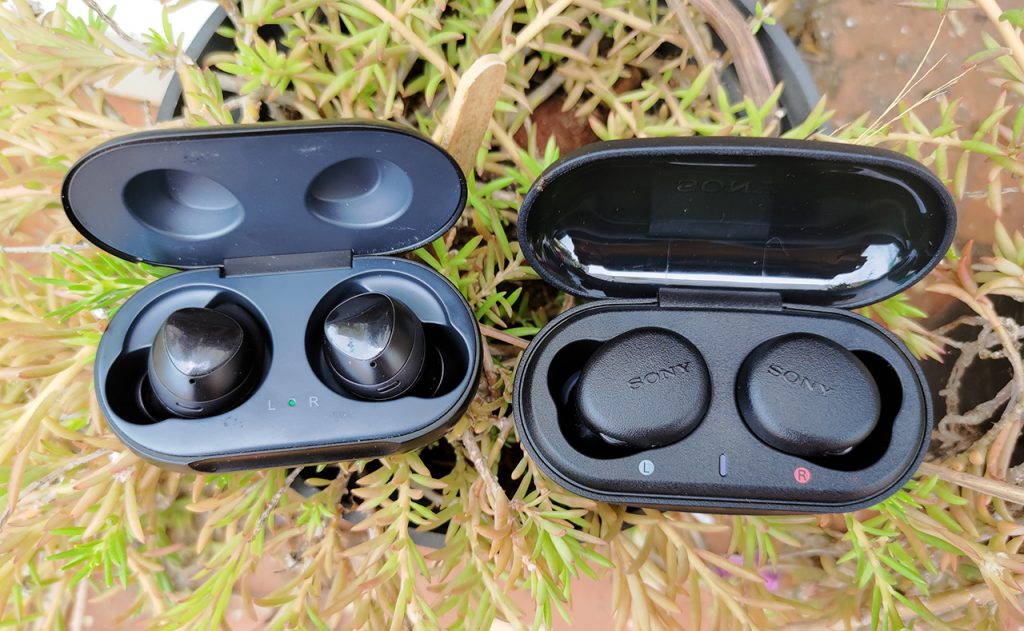 When it comes to materials used, the buds are entirely in plastic, but with a textured matte finish, which feels very grippy and solid at the same time. Even after rough use, you will not be able to make scratches on this one. It's also not easier to lose thanks to not only the texture of the material, but the great magnets on the battery charging case, which uses the same matte-finish material. The charging case is quite big, mainly because the earbuds themselves are big.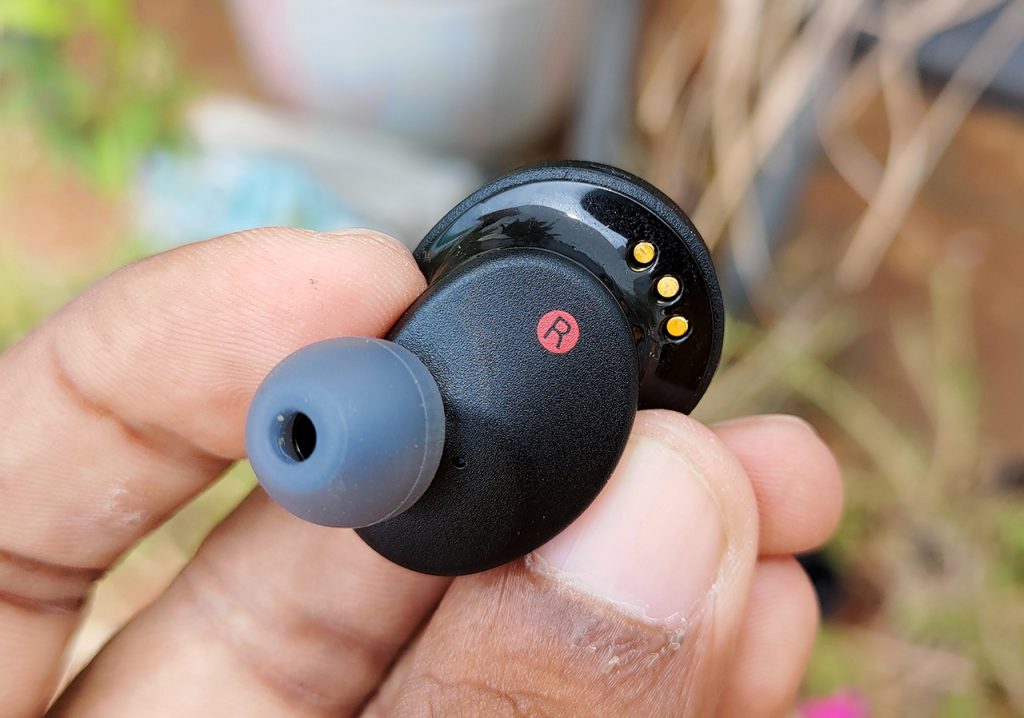 Yes, that will be something you'll always notice, the earbuds being bigger than any other model of TWS headsets you find in the market. Honestly, I have used a fair number of headsets and some of them come really close to the Sony XB, but this is truly the biggest I have used, so there are some things you can come to expect. Wearability beyond a couple of hours or three takes a hit. It's not the best when it comes to comfort since the weight of the buds spills out of the ears. For me, a continuous wear of 3 hours was possible but even then, I had to take a couple of breaks in between to let some air in.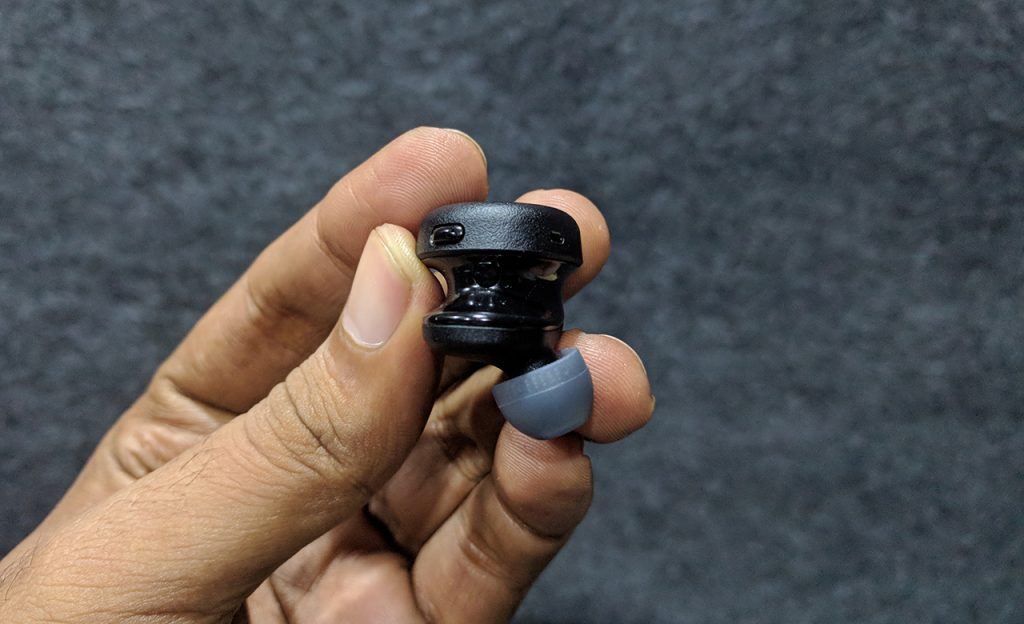 This is how you wear it – put the earbuds into your ear and turn it anti-clockwise and it locks in. I must say, at the start it does feel comfortable largely thanks to the lesser overall weight. The user interface is really simple too. Hold down the physical button for 7s on any one of the ear buds, preferably the left which acts as the main unit, and it starts to go into the pairing mode. Taking the buds out of the case is a necessary prerequisite for doing this. Play/Pause, Call/Cut actions are handled by the same lone button. Looks wise, you have a singular blue/red LED on both the buds and one on the case as well.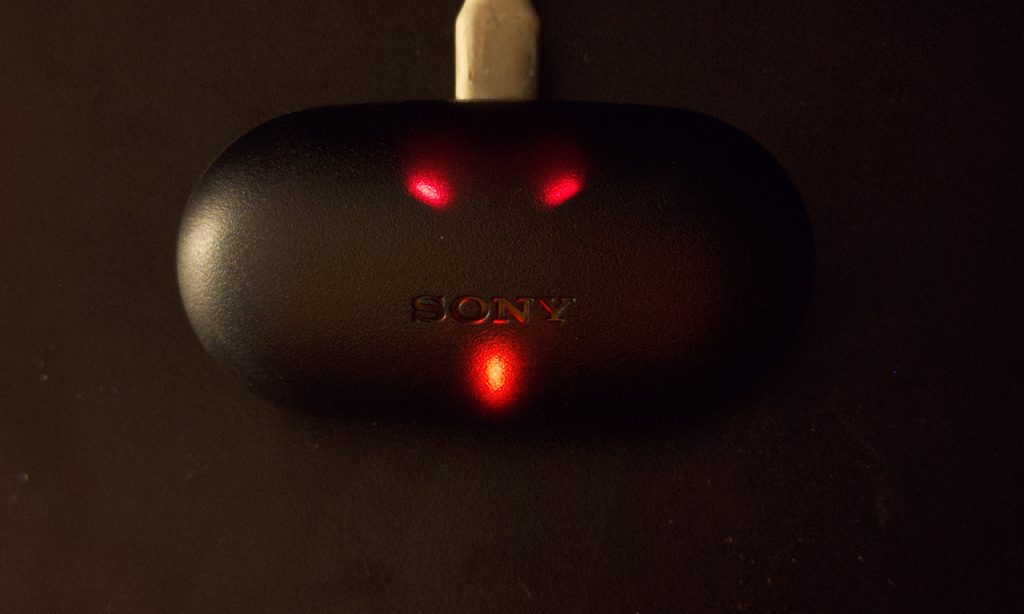 Since the case has a deceptively transparent cover on the top, the light glows through while charging, making the whole thing look unique and cool, if you're into aesthetics. Ok, let's talk about the experiential stuff now.
Audio Experience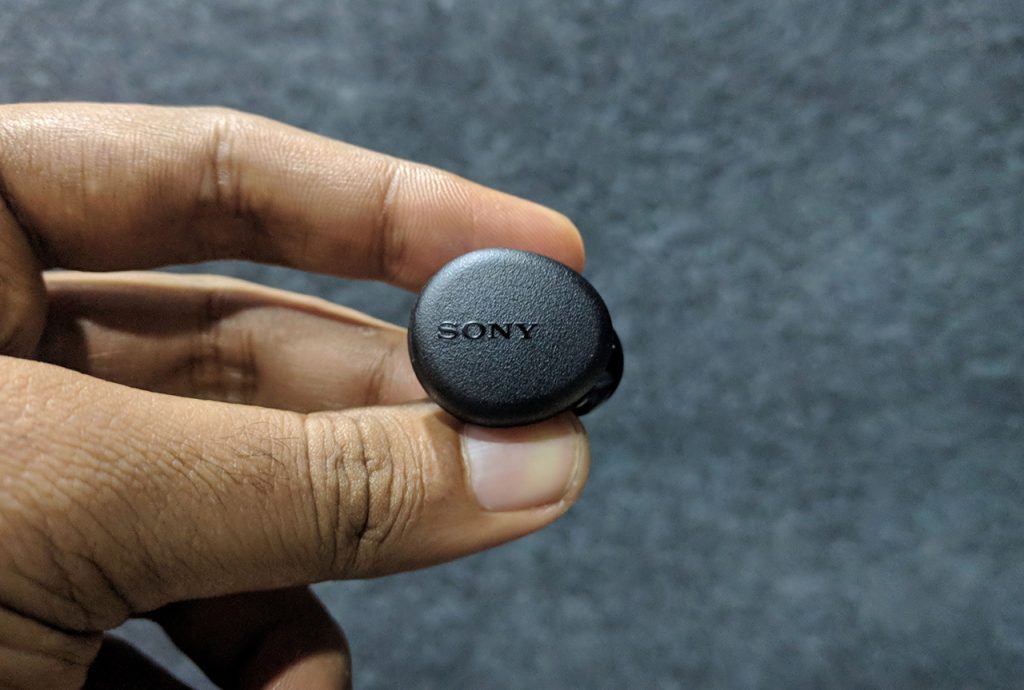 Sony, as I had expected, truly delivered on its promises when it comes to audio quality. ExtraBass is real, and I must say, fascinating that TWS headsets have come to this point where wired headsets can be comfortably replaced. Yes, the technology is still not that affordable for this kind of audio quality but if you are a person who listens to a lot of music, especially with bass, the XB700 is a stunning performer, without wires. Maybe it is EDM, PsyTrance, HipHop or any genre of music really, the Sony WF-XB700 delivers a clear thumping bass which separates it from all the other TWS headsets I have used, including the latest Galaxy Buds+.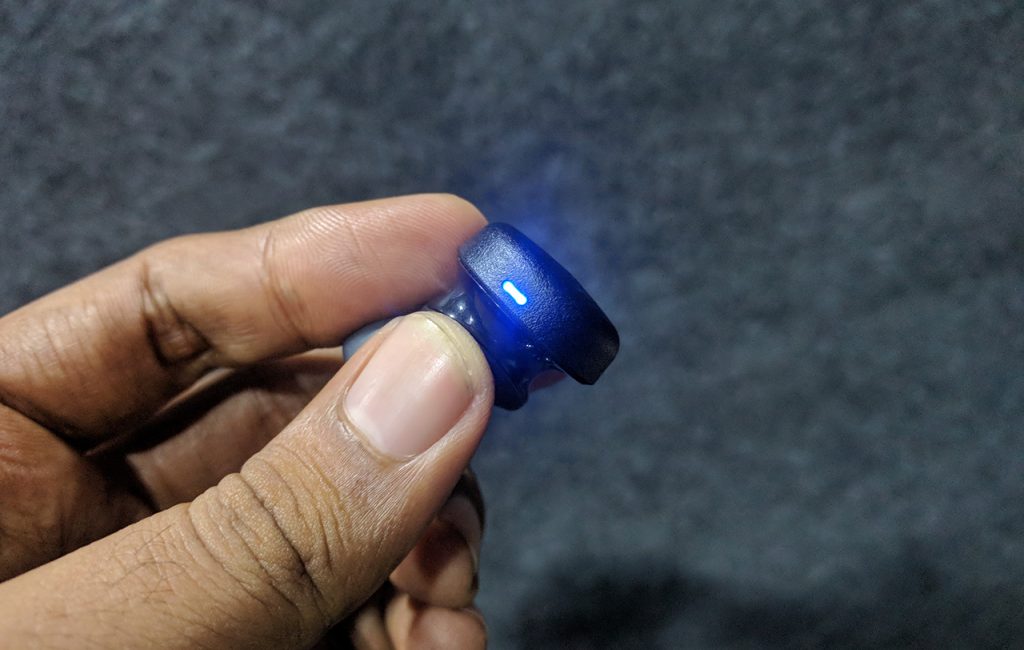 The "lows" are some of the best I have listened to in a TWS headset and takes a dominant portion of the sound signature, meanwhile the mids and highs also sound great, with maybe small complaints from audiophiles who might find a lack of definition in the mids and highs. I was really surprised by the bass performance, but not shocked because it's not new that Sony delivers on its promises. A punchy bass is definitely an "Extra" if you are looking at just a normal TWS experience but if you're into listening to music regularly for at least a couple of hours or more, the extra bass is truly worth it. In terms of calls, I didn't face any quality or connectivity issues.
Battery Life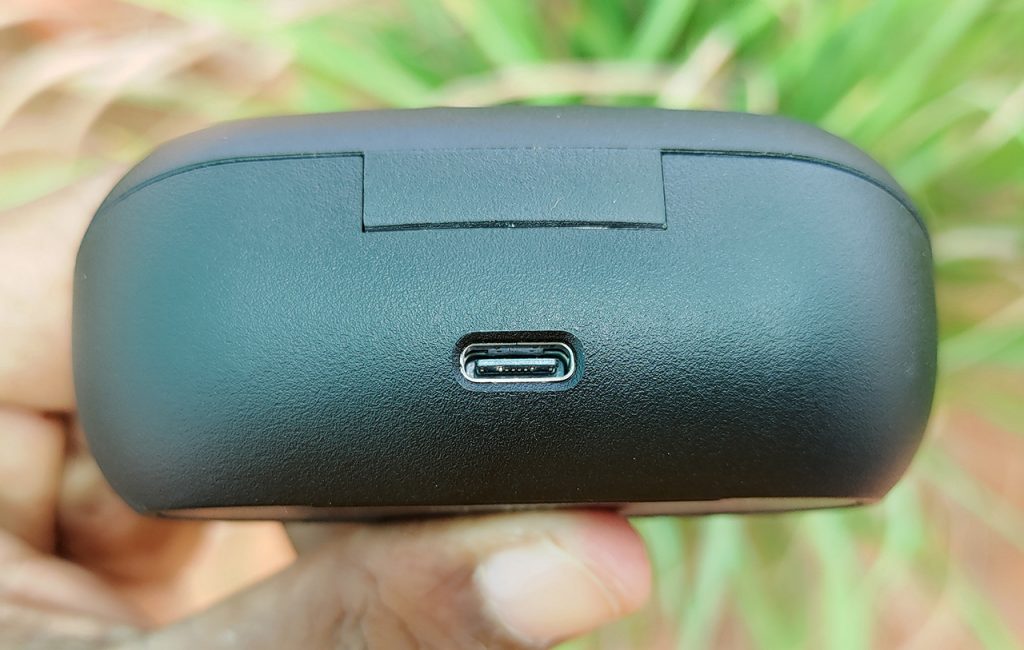 9+9 hours is the rated battery life on the XB700 and it's true in my experience. This is how my usage went. Daily, I used the XB700 for a couple of hours or sometimes more, connected with either my laptop or my phone. On the laptop, it was mostly videos and a little bit of music whereas on the phone it was mostly music, with a little bit of videos and calls. More than a week has passed and only now the in-built assistant voice tells me that the ear buds charge has dropped to 70%. Earlier, it just used to say "Battery fully charged, Bluetooth connected". Yes, every time you take the buds out of the case, the voice assist (not the Google Assistant) gets activated to let you know the status of the battery life and Bluetooth connection. So, after a week of moderate to heavy use (in lockdown conditions), 70% of total battery is left in buds (charging case battery is at 0%).
Conclusion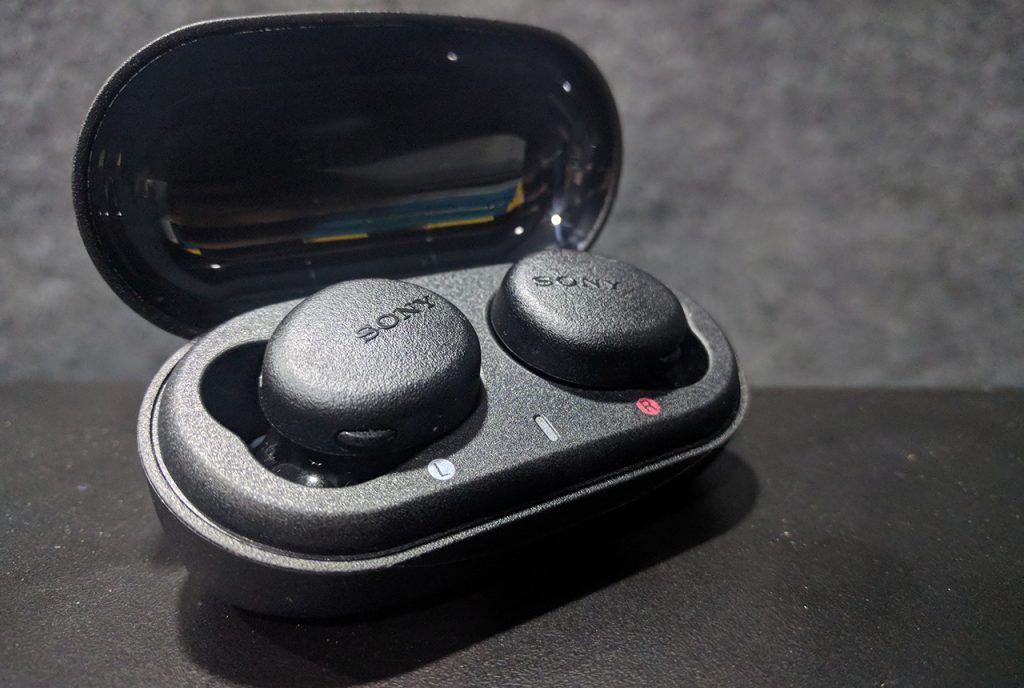 The Sony WF-XB700 is perfect for music lovers who prefer punchy bass tones in their music library. The finish is great for rugged use with great battery life being one of its strong points. While it may be cumbersome if you are looking for the most comfortable experience, I think it is well worth the trade off for the sound quality and battery life. So, again, buy this for the ExtraBass experience and go for other options if your requirements are size and comfort. I only wish Sony hyped this more for the sound quality because it definitely deserves it. Hope this review serves that purpose.
It was launched at Rs. 9900, but it is available on Amazon.in Rs. 7,990 during Prime Day sale.