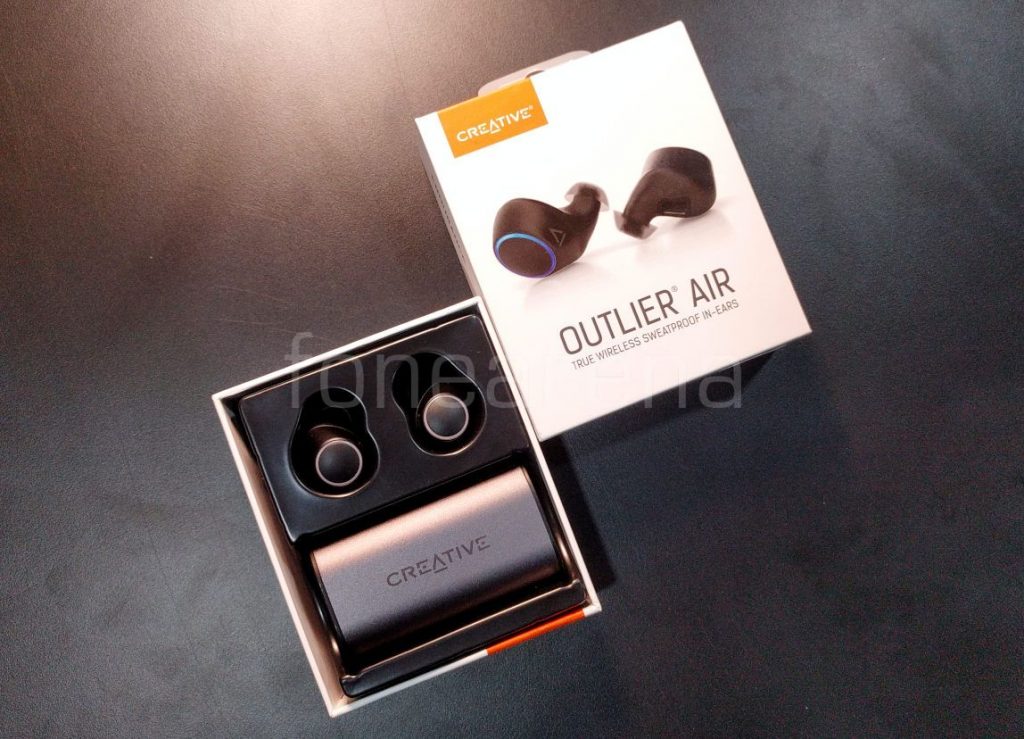 Creative, a Singapore-based digital entertainment product company known for its Sound Blaster sound cards launched its first TWS Outlier Air in India at Rs. 7,999. 
This TWS headphone boasts 30 hours of battery life, features a 5.6mm superior graphene driver diaphragm, and supports Bluetooth 5.0 with aptX and AAC audio. Notably, it has an IPX5 water-resistant certification as well.  Here's what we think about it.
Design – Refreshing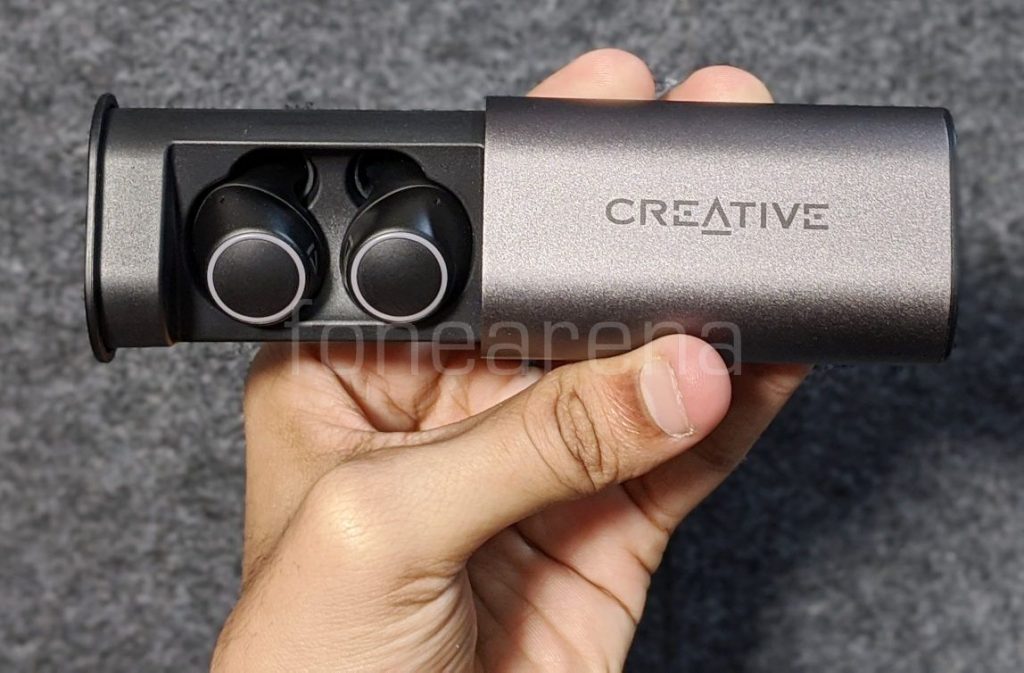 Talking about the design, both the case and earbuds are made out of plastic. The case is tall, rectangular, and looks like a small crayon box. Nonetheless, the case feels good in the hands. Unlike other TWS right in the market, the case needs to be pushed/slide-out from side to access the earbuds. It's a bit refreshing to see! 
Notably, the charging case is compact and lightweight, making it easy to carry around in the pocket or bag. The side panel houses four LEDs (battery status for each bud, case, and charging), and USB Type-C port.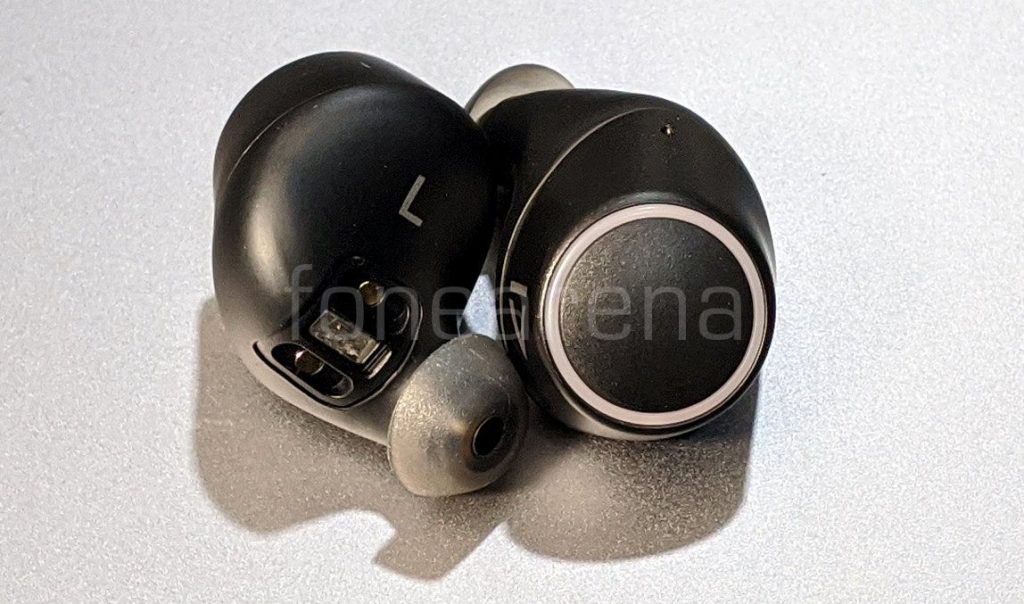 Moving inside, the earpiece is kind of big but lightweight. The in-ear fit is comfortable enough and secure. The outer layer of the earpiece has a circular status LED light (Blue and Red), which kind of looks cool. The alternating light blinks indicate they're ready to be paired. Keeping the buds in the case turns it off and automatically pairs again when removed. 
The earbuds are comfortable to wear, and independent of each other as well, which means you can go mono with it. Furthermore, there is a physical button that needs to be pressed to perform action instead of touch control. The buttons are on the stiffer side and at times we feel pressing the earpiece into our ears to play or pause the song. 
Holding right earpiece button – Increase volume

Holding left earpiece button – Decrease volume
Single press on either right or left earpiece – Play/Pause
Double press on the right earpiece – Next track
Double press on the left earpiece – Previous track
Double press on either right or left earpiece when no music played evokes a voice assistant.
The Outlier Air is IPX5 Certified, which means it can handle all the sweats and accidental splashes. 
Performance – Tuned more towards the bass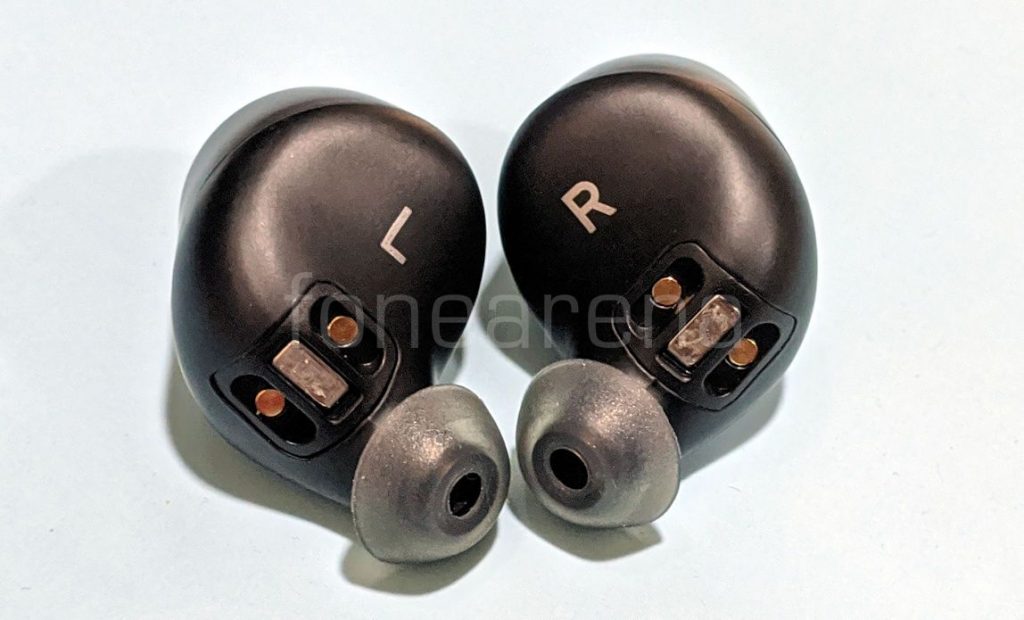 Each bud features a 5.6mm graphene driver to deliver the audio and supports SBC, AAC, aptX codecs over Bluetooth. This earbud is tuned more towards the bass, where at times, it overpowers mids and highs. It doesn't distort at maxed-out volume. 
Overall, the sound output is great and manages to keep everything in control for an enjoyable listening experience. The stereo separation is impressive, connectivity stayed solid throughout, and had no glitch. Even though the earbuds are tightly sealed, the ambient noises are heard especially in the noisy outdoor environments. 
Coming to the calls, each bud has its microphone, resulting in a clear voice filtering out background noise, but doesn't work well in a noisy environment. 
Battery – Impressive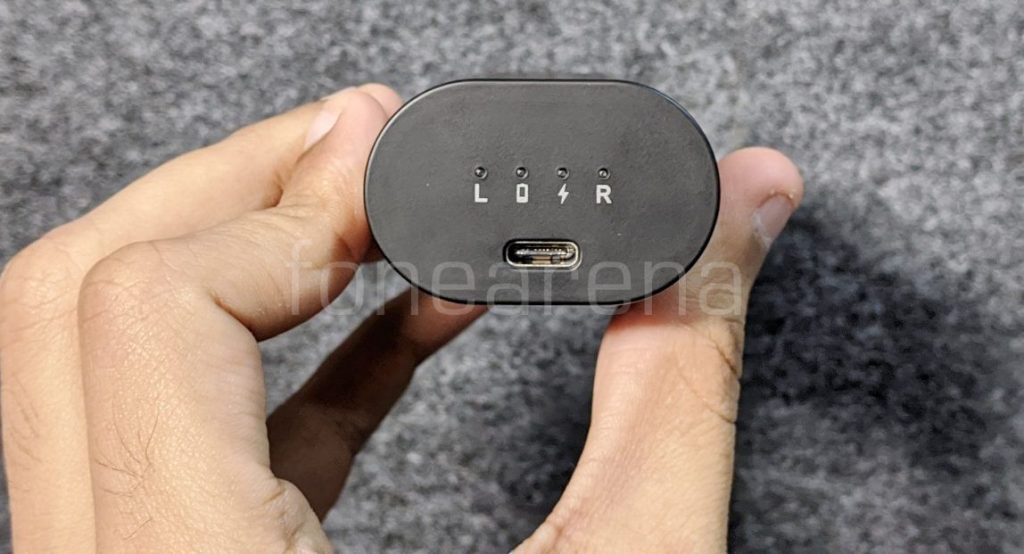 As per the company claims, the Outlier Air will last 10 hours on a single charge, while the charging case provides an additional 20 hours. This means you can enjoy 30 hours of uninterrupted audio. To be honest, we are impressed with the battery life, where we squeezed somewhere around 8 to 9 hours. Notably, the battery life depends upon the volume level we use generally. We kept it most around 60 to 80% indoors and 90 to 100% while running. The battery life is excellent by wireless standards.
Conclusion
Overall, the Creative Outlier Air is a decent option if you are looking for a TWS below the Rs. 10,000 segment. It has great sound clarity, impressive battery life, and a good build. However, there are other excellent options at a much lower price including OnePlus buds, Vivo Buds, and more. Creative Outlier Air is now available on Amazon India. To summarise, here are the pros and cons.
Pros
Refreshing design

Impressive battery life
Sound output (If you are a bass-head especially)
Cons