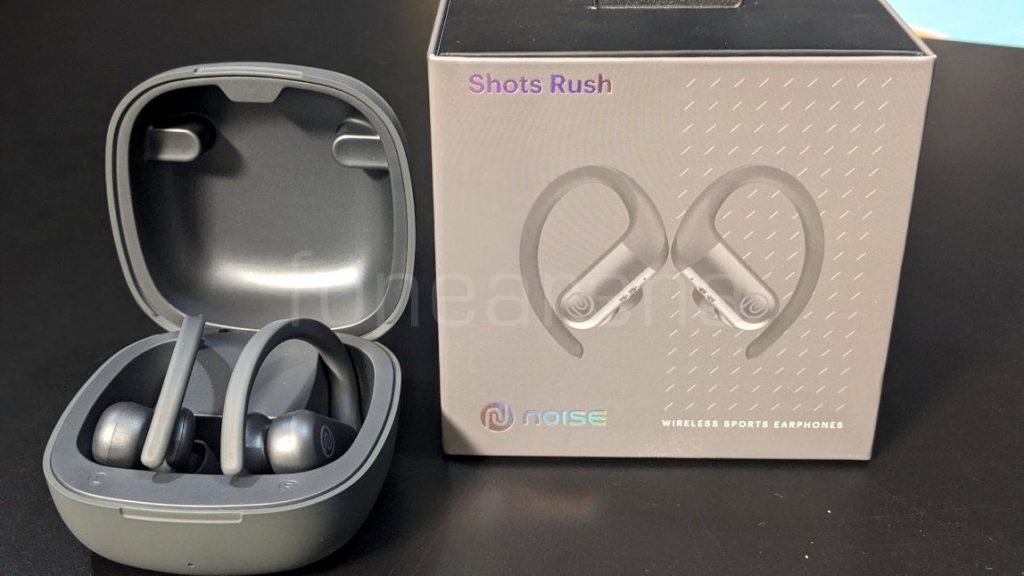 Noise launched the Shots Rush, the company's latest wireless sports earbuds last month. It features Bluetooth 5.0, has touch controls, gaming mode, built-in equalizer options, IPX5 water resistance and comes with ergonomic ear hooks. After using it for a couple of weeks, here is the review of Noise Shots Rush.
Box Contents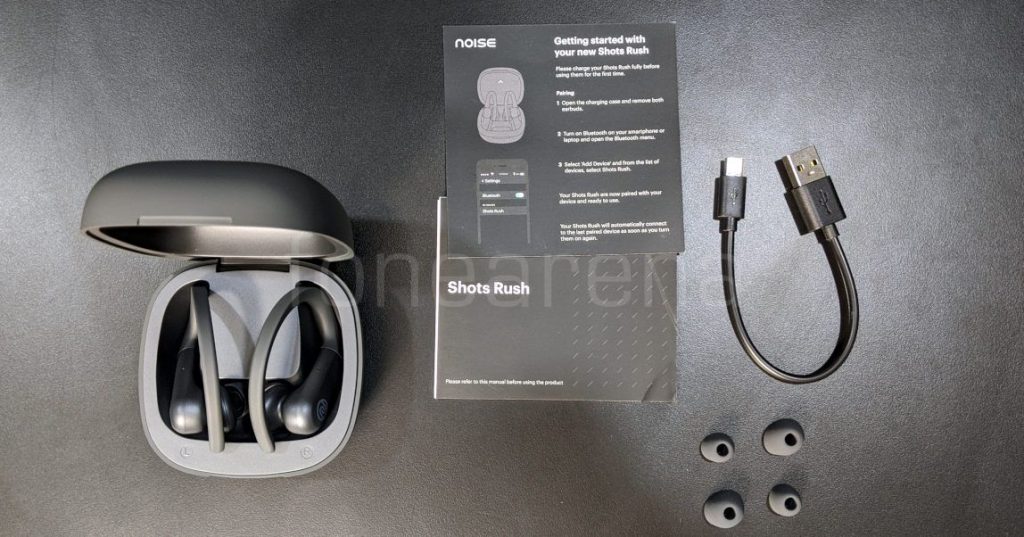 Noise Shots Rush in Charcoal Black color
Different set of ear tips (Small, Medium and Large)
Micro USB Cable
User manual
Design and Build Quality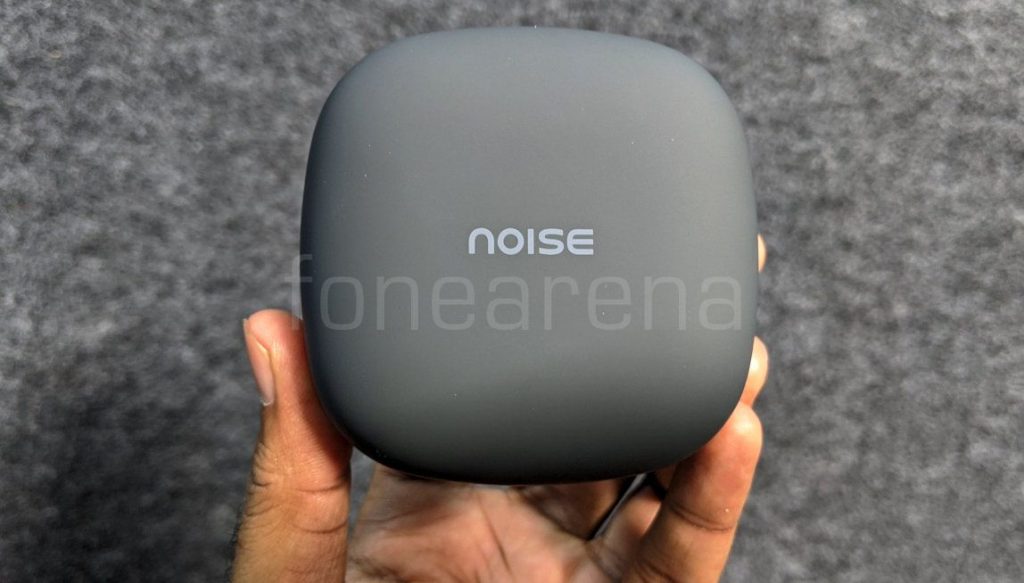 Starting with the design, the Noise Shots Groove comes in a large box to fit the large headset. Total weight of the case with the earbuds are about 77.6 grams, and the earbuds weigh about 8.8 grams, which is light for a sports headset that promises 6 hours of battery life.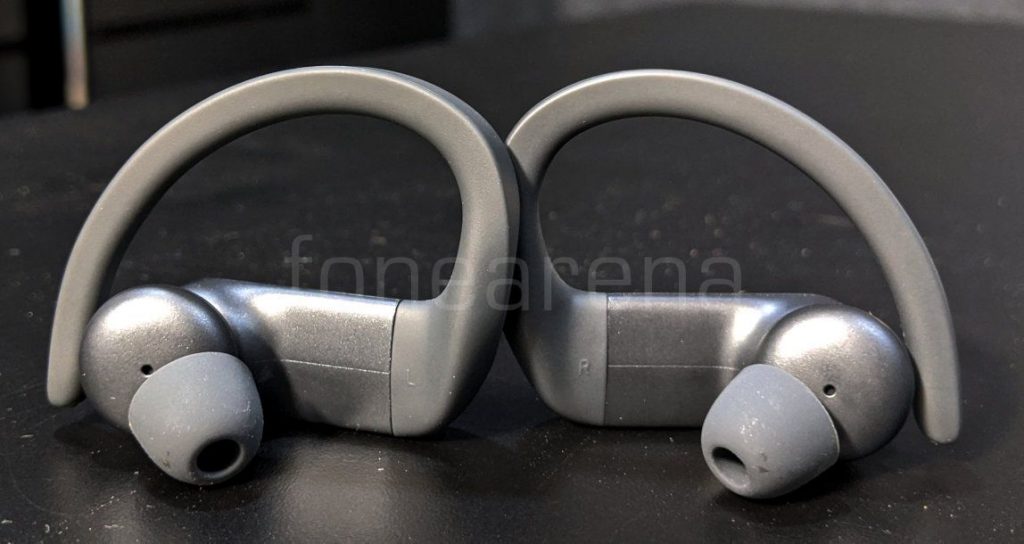 Even through the case is made of plastic, it offers a matte finish so it doesn't attract fingerprints or scratches easily, but it attracts dust easily since it is black. It is not a compact case, so you can't easily carry it in your pocket. The earbuds are made of plastic and the ear hooks have a matte finish. These have LED lights that glow in blue and red colors.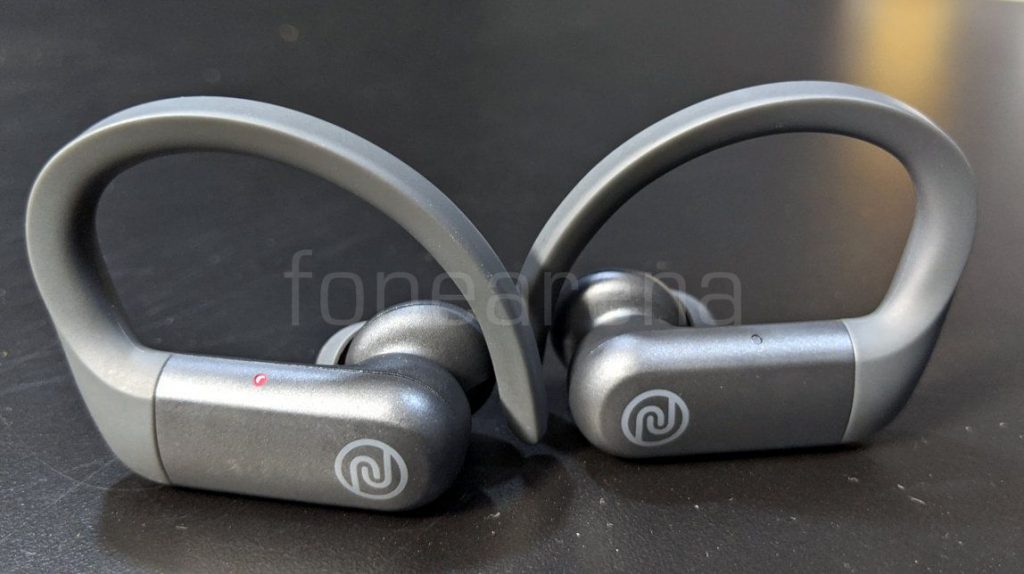 There are touch controls on both the earbuds that lets you play or pause music, go to previous or next song, launch voice assistant,  accept or reject calls and also control the volume. You can also turn on the gaming mode and switch to different equalizer settings (Pop, Rock, Classic) easily. Check them out below.
Function
Left earphone (L)
Right earphone (R)
Play/Pause
Tap once
Previous Song
Long press for 2 seconds
Next Song
Long press for 2 seconds
Volume+
Tap twice
Volume-
Tap twice
Answer / End call
Double Tap
Voice Assistant
Tap Thrice
Gaming mode
Tap Thrice
Equalizer
Tap Four times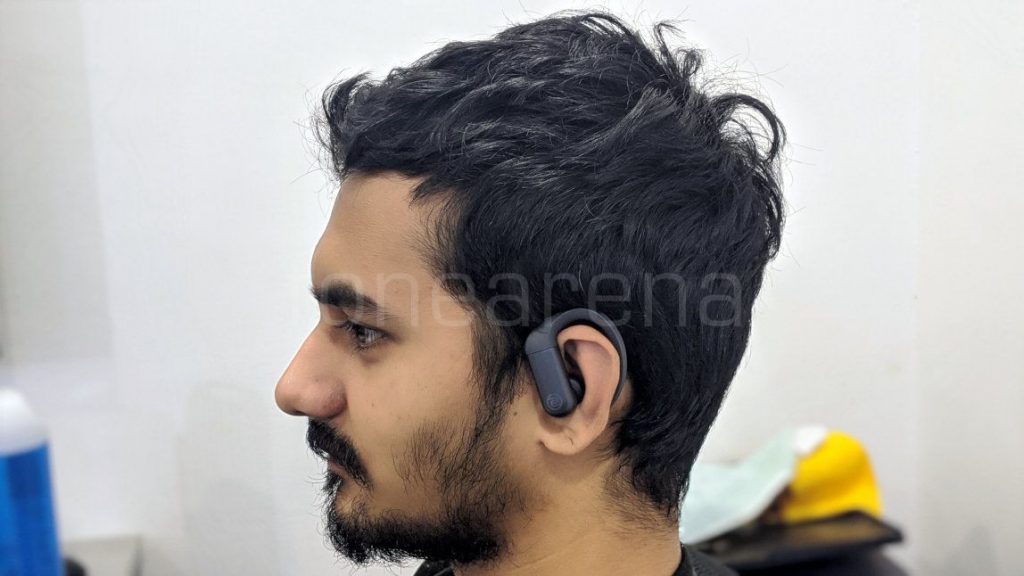 Since it has in-ear buds and come with ergonomic silicone ear-hooks that go behind the ear, these are secure and comfortable and doesn't fall off easily during strenuous workouts or long hours of running. I have been using this for my workouts and runs, including long runs, and these stay in your ears securely unless you remove them. You have to select the correct set of buds to suit your ears so that they are comfortable. Since it comes with IPX5 ratings, it can withstand sweat and light rain, but you can use it in the shower or go swimming wearing it.
Audio Quality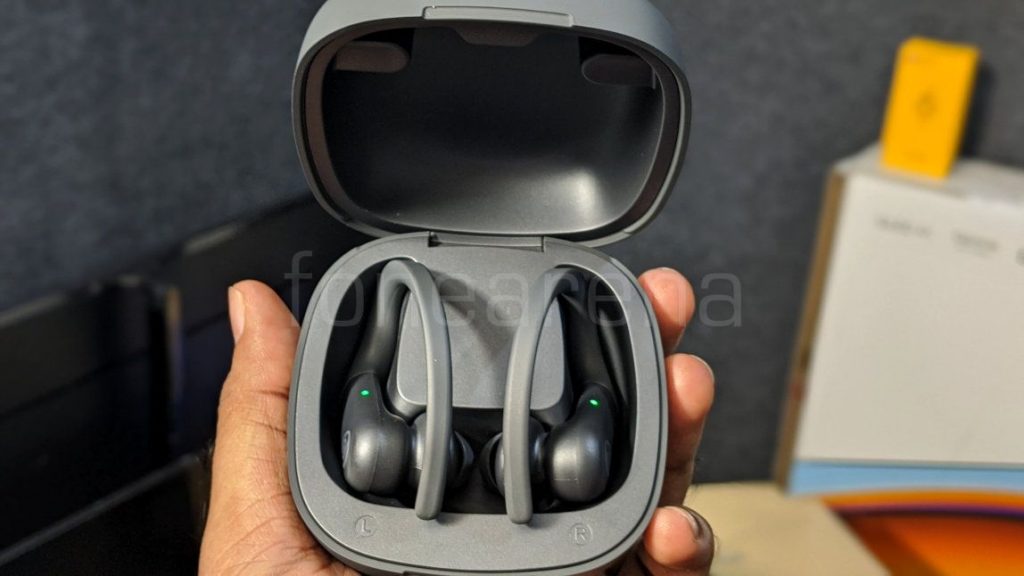 Coming to the audio quality, these earbuds offers fairly good audio quality for the price. Volume was good as well and the bass was decent, thanks to 12mm drivers. Volume of the headset is loud enough unless you are in a crowded environment. The earbuds offer good amount of passive noise isolation as well. It has support for high quality AAC audio codec, so once you enable this in the Bluetooth settings, audio quality is slightly better. Overall the audio quality is good in most conditions. We did not face any issues in connection or pairing.
It also has a low-latency gaming mode which is useful since it reduces the latency by up to 50%, and we could feel the difference. The company says that latency in the gaming mode is 65-83ms during internal testing. The company doesn't say if this achieved by a dedicated chip. It is also easy to enter the gaming mode by tapping the right earbud thrice. You get a gun shot sound to indicate that it is enabled, and when you exit there is a beeping sound.
There is also a built-in equalizer feature that lets you switch between pop, rock and classic depending on the music you listen to. This is a useful feature instead of changing it from the smartphone settings, and not all the phones let you set custom equalizer option with wireless headsets.  It is also easy to enable the equalizer option by tapping the right or left earbud four time. You get a voice prompt for pop music, rock and roll and classic music. You can switch between them, but there is no option to turn them off.
The headset has a tiny microphone which is decent in most cases, but  in crowded and noisy environment it struggles to pick up your voice clearly, which is common most budget Bluetooth headsets since they have tiny single microphone.
Connectivity, Pairing and AI assistant
The Bluetooth headset supports Bluetooth 5.0, so you can connect it to Android, iOS devices along with MP3 players with Bluetooth support. It pairs to your phone quickly when you remove them from the case, and the LED lights in the headset blinks blue and red. You have to pair the right earphones, and once you pair it, the left one automatically connects to it. After the left earphone connects, on the right earphone you hear 'pairing'  and the LED indication flashes. You just have to select the Shots Rush from the Bluetooth menu on the phone to pair the headphones. You hear a beep when it enters pairing mode and another beep when it connects successfully.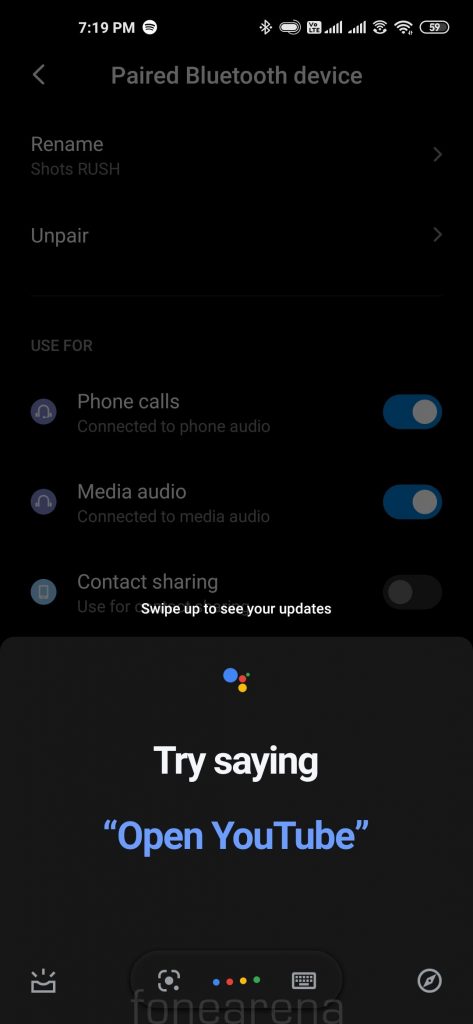 The headset doesn't have a companion app, but you can launch Siri on iOS and Google Assistant on Android devices when tap left earbuds thrice.
Battery Life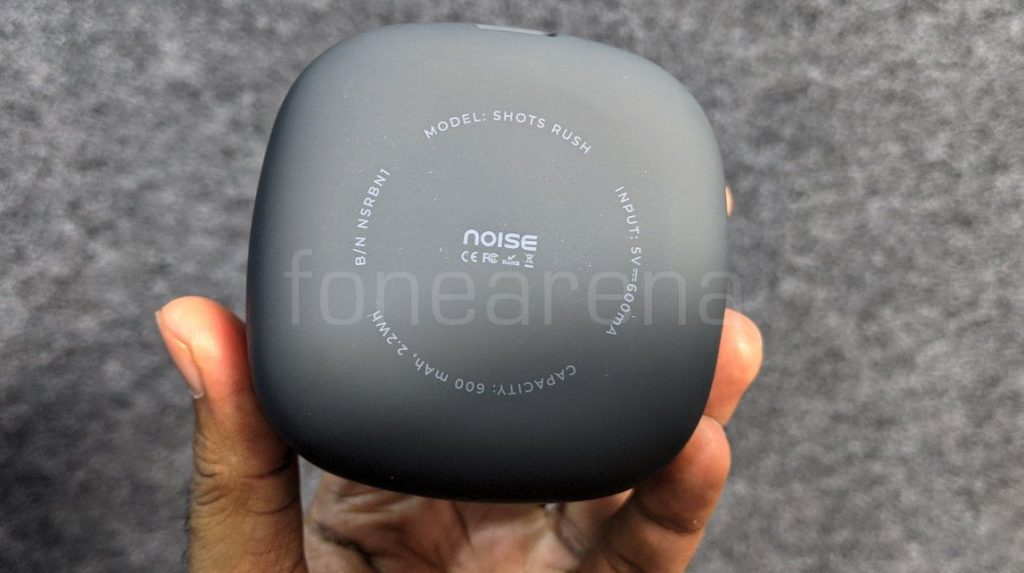 The company promises up to 6 hours of battery life on a single charge, and we managed to get over 5 hours of battery life on a single charge when listening in about 80% volume, which is good. The headset automatically turns off when it's not in use for about 5 minutes. It disconnects automatically when you place the headset in the carry case.
The case has 400mAh battery that promises 3 more charges or additional 18 hours of battery life, so you get a total 24 hours of battery life, which is good. If you have Android phones running Android 8.1 or later, you can see battery life of the Bluetooth headset. It gives audio prompts to charge the headset when the headset has low battery. Charging the headset takes about two hours and charging the case from 0 to 100% takes also about 2 hours using 5V-1A charger via micro USB port.  There is an LED indicator on the front that glows in red, green and blue colors to shows the battery life in the case.
| | |
| --- | --- |
| LED indicator on the charging case | Battery Percentage |
| Flashes Red | Below 30% |
| Flashes Green | 30 to 80% |
| Flashes Blue | Above 80% |
Conclusion
Priced at Rs. 3999, the Noise Shots Groove is a good sports Bluetooth headset with a decent audio quality, good battery life and features like low-latency gaming mode and built-in equalizer features. It is available from Flipkart, Amazon.in and gonoise.com.