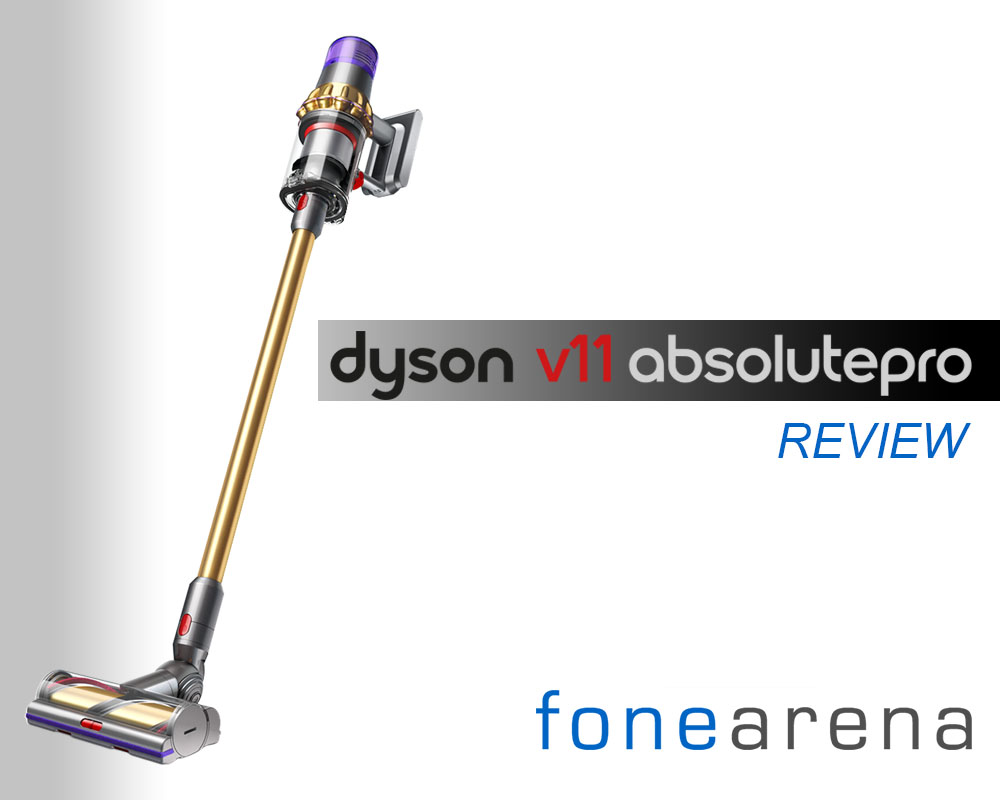 We all would have used a vacuum cleaner at some point in our lives, more so during the lock-down. Dyson sent us the Dyson V11 Absolute Pro Gold Cordless stick vacuum cleaner right in time and I have been using this gadget for a month for cleaning my home and here are my impressions in this review. As a precursor this gadget is a result of more than a decade of development at Dyson hence the V11 moniker for the Dyson digital motor which spins at up to 125,000 rpm. In this real world review, let me walk you through the highlights of this vacuum cleaner from Dyson.
Specs
185 Air Watts for suction power
V11 digital motor 125,000 rpm
Filtration system traps 99.97% particles as small as 0.3 microns
Bin volume  0.54l
LCD display
7 cell nickel-cobalt-aluminum battery
Run time of up to 60 minutes
Charging time 4.5 hours
Weight 2.97kg
Box Contents
Dyson V11 Absolute Pro (Gold) machine
Gold Torque Drive
Soft Roller Cleaner head
Wall Charger (which can be also fitted in the floor dock)
Quick-release crevice tool
Quick-release combination tool
Quick-release mini motorised tool
Quick-release mini soft dusting brush
Wand Storage clip
Quick-release Mattress Tool
Quick-release up-top adapter
Quick-release extension hose
Docking station
Floor Dock
Design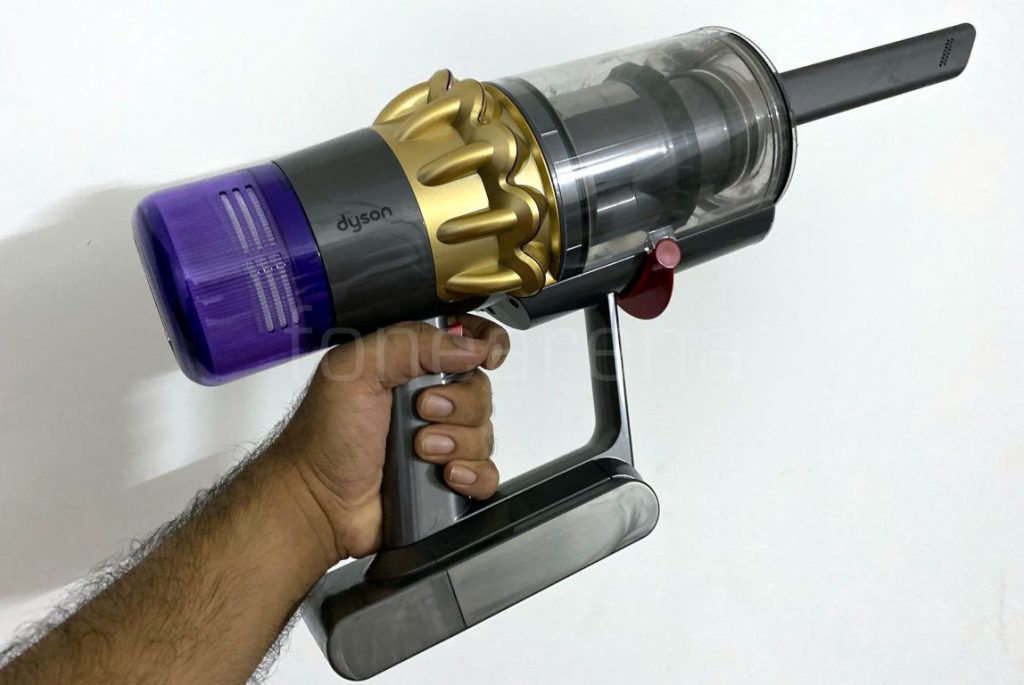 The basic handheld unit weighs only under 3kg which is about the weight of most 15-inch laptops. This might sound a bit heavy for one handed operation but the handle is comfortable to hold and  the weight is evenly distributed.
The heart of the machine is the Dyson V11 Digital Motor with a triple diffuser and spins at 125,000 rpm. This has 40% more suction power than the previous generation V10.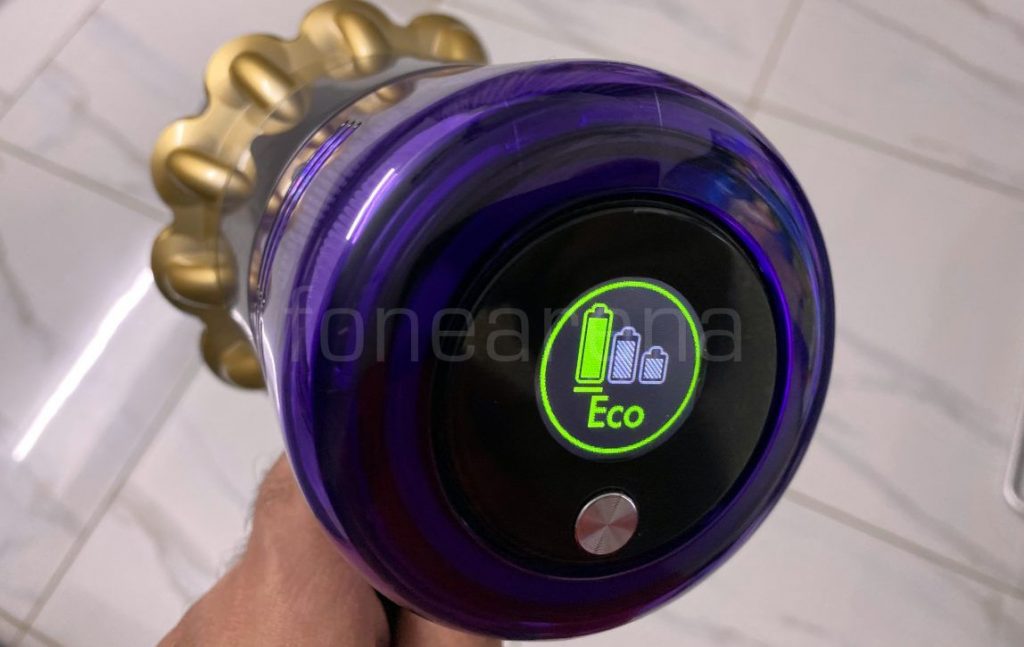 There is an LCD screen at the back which services as an indicator for the various modes, time remaining, shows alerts due to any blockages and instructional videos.
On the inside is a 3600mAh 91Wh battery powering the machine made out of a special Nickel-Cobalt-Aluminum combination.
A vacuum cleaner is usually an eyesore, and we tend to hide it in our cupboards or store rooms and keep it from public view. But with the Dyson V11, you can happily leave it in your living room and need not worry about the appearance. The floor dock is neat and lets you dock the machine when not in use and charge it and also store an extension tube.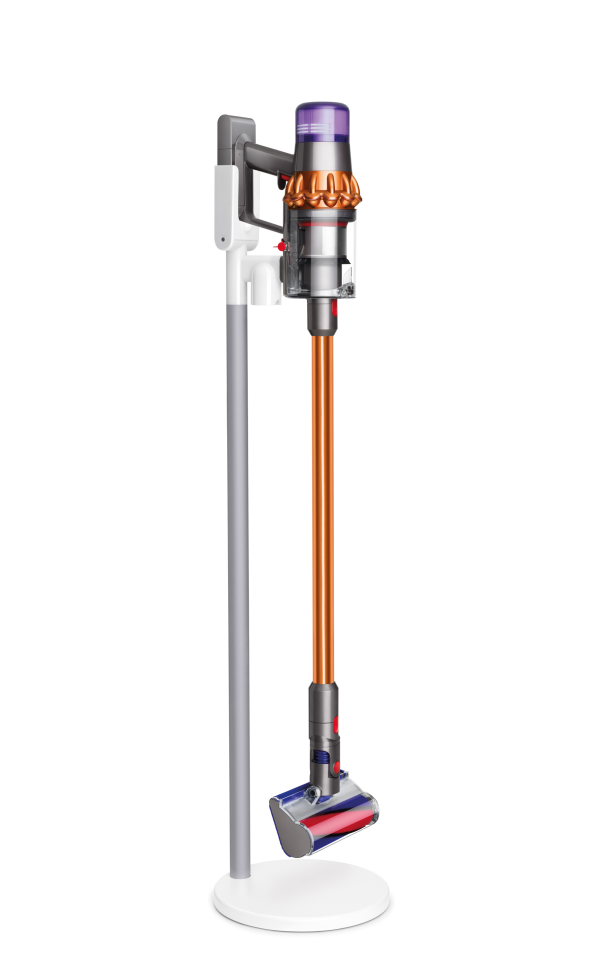 Day to Day usage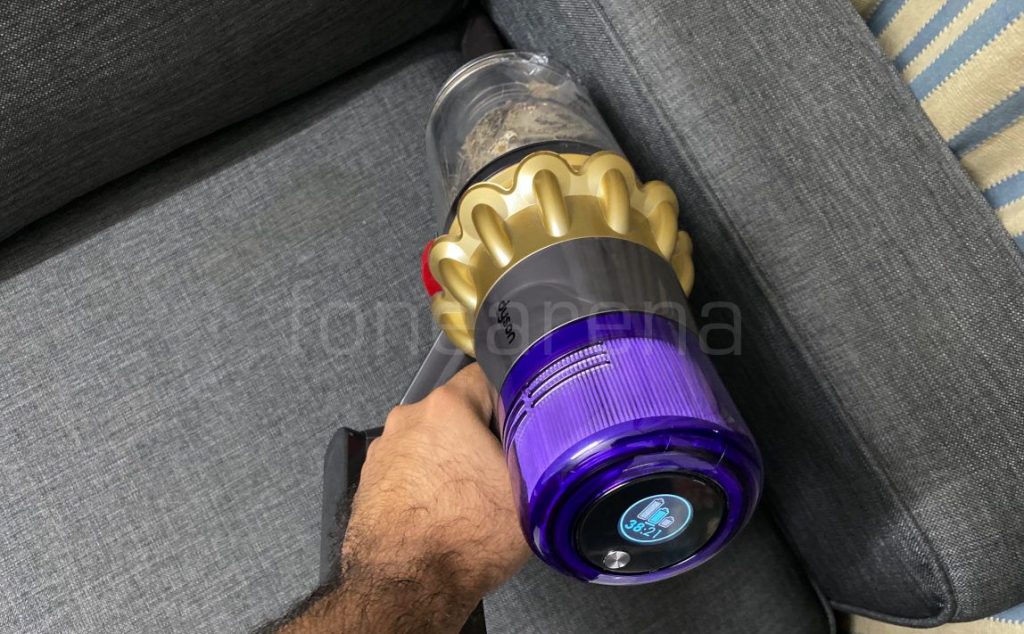 I used the vacuum cleaner to clean several surfaces such as floors, desks, sofa, curtains, mattress, ceilings, car seats, electrical and electronic appliances and the machine did a great job overall in cleaning the surface. The secret to effective cleaning is selecting the right attachment for the job. One thing I have to point out is that the Dyson V11 Pro is a completely Dry vacuum and can't be used to clean wet surfaces or interact with water. The attachments and filter are washable though but need to be completely dried before being used again.
Here are a list of the attachments with the usage alongside according to Dyson.
Attachments and Application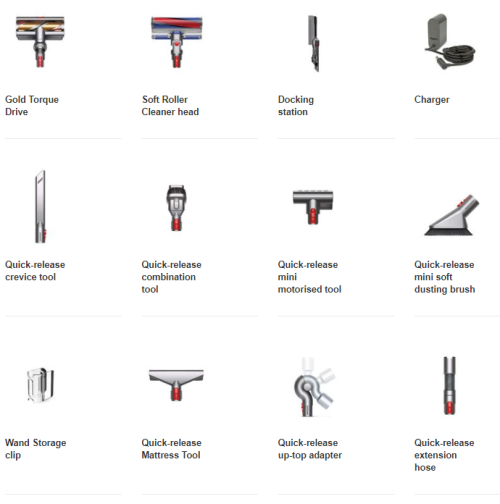 | | |
| --- | --- |
| High Torque cleaner head | Deep clean carpets. Extends run time on hard floors |
| Soft roller cleaner head  | Hard Floors – marble, wood, granite, ceramic vitrified tiles, long-pile carpets and rugs |
| Combination tool | Skirtings, AC vents, Cobwebs, Tubelights, False ceilings and fans, surfaces |
| Crevice tool  | Ceiling corners, gaps in sofas, car seats, cabins and boot |
| Mini motorised tool | Removes dirt, hair from upholstery – sofa , mattress, seat covers, car seats, per hair |
| Mini soft dusting brush  | Laptops, glass tables and delicate surfaces |
| Mattress Tool | Mattress, Sofa, Curtains |
| Up-top adapter | Twists into different positions and angles for high-reach cleaning like fans |
| Extension hose | Reach confined spaces and awkward areas |
I had thought my home was mostly clean and was shocked at the amount of dust the machine was able to recover from things around me which is a wake up call for me to clean more often.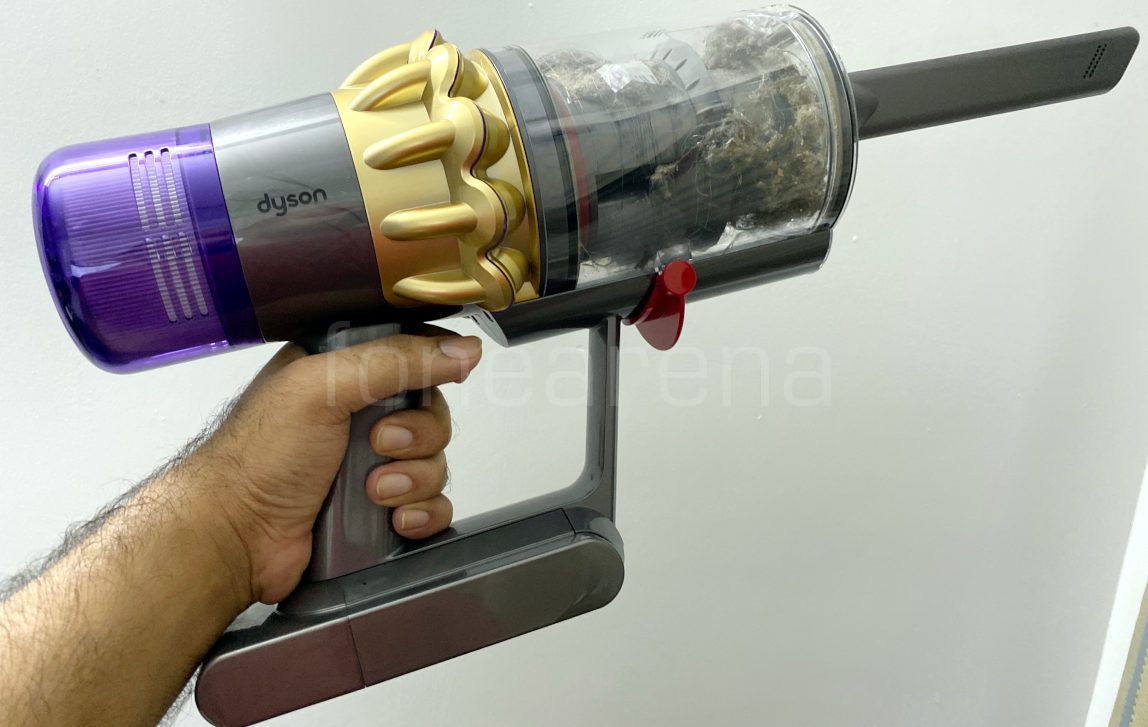 Emptying the bin involves a "point and shoot" mechanism which means you mostly don't have to get your hands dirty while getting rid of all the dust. You just need to remove any attachment and press the lever facing the bin and the lid opens up forcing the contents out. Even the filter at the back of the machine is cleanable.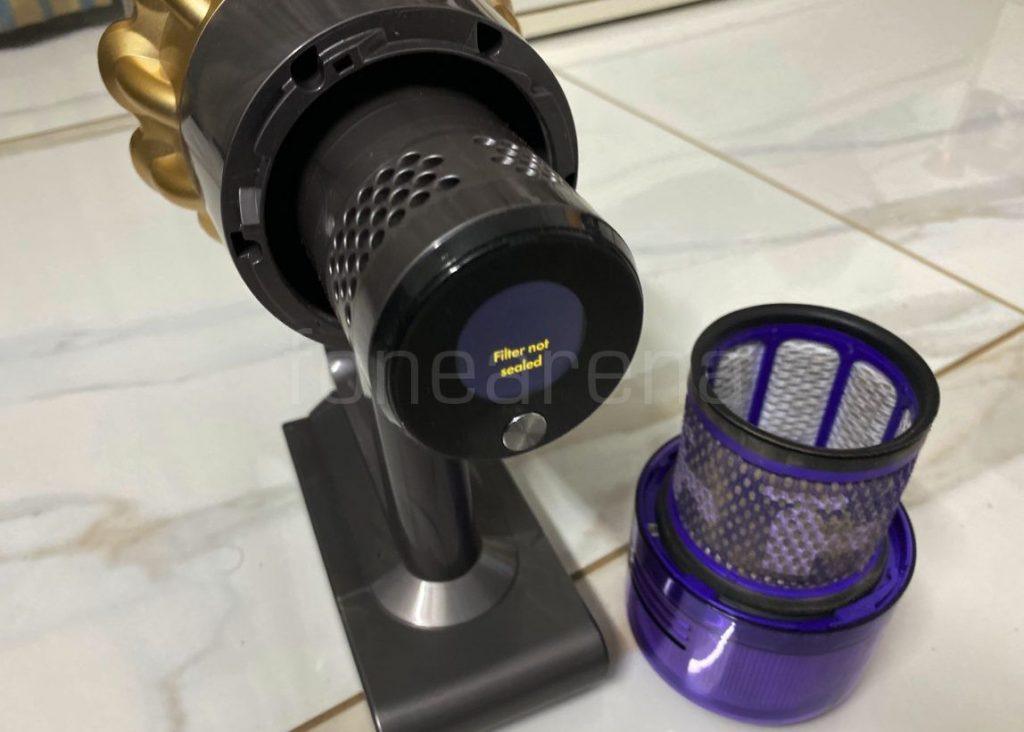 The battery lasts about an hour with toggling between the Eco and Auto modes. With the Boost mode however it lasts much shorter due to higher rotation speed of the motor which might be required once in a while for some tough surfaces.  The LCD display is pretty useful to indicate the remaining time available before the machine needs to be charged. A complete charge takes a good 4.5 hours but if you are using the charger with the dock setup, you can just leave it docked for a bit and the battery gets charged partially. You don't a need a full charge for operating the unit but advisable if you plan to do a lot of cleaning.
Home Demo

With most consumers stuck at their homes and shops closed, Dyson is giving in-home demos of its products though video calls to both customers and prospective buyers. I got a demo about the vacuum cleaner and got some of my doubts cleared about the attachments in the call. The executive on the other side was very professional and the demo was neat and well planned.
Conclusion
Despite the expensive price tag (Rs.59,990) , the Dyson V11 Absolute Pro is by far the best vacuum cleaner I have ever used. I don't think I have experienced this level of excitement for using a domestic appliance that too a vacuum cleaner. Cleaning is usually a painful messy affair especially with clunky corded vacuums, and we tend to procrastinate the whole process. With the V11 Pro, I have been cleaning more often than I usually do and every time I pick the machine I turn into a dust hunter. May be if Apple made a vacuum cleaner it would certainly be like the V11 Pro.
To make up for the price tag, the company is offering a 12-24 month EMI option and also a 1 month no questions asked return policy (on Dyson.in and company stores)  which speaks a lot about the confidence of the company in the product.
To sum it up the Dyson V11 Absolute Pro is the best cordless vacuum cleaner you can buy in India right now. You can get Dyson Vacuum cleaners from Amazon.in and Flipkart online as well as offline stores.
Pros 
Portability / Compactness
Stylish and Clean design
Versatile attachments provided
Swapping attachments and even cleaning is seamless
Makes cleaning a fun affair versus traditional vacuums
Hygienic bin empty mechanism
Quieter than other machines in the market
Cons 
Expensive
The trigger button gets pressed at times when handling the machine
Battery lasts only an hour but charging dock does make up for it