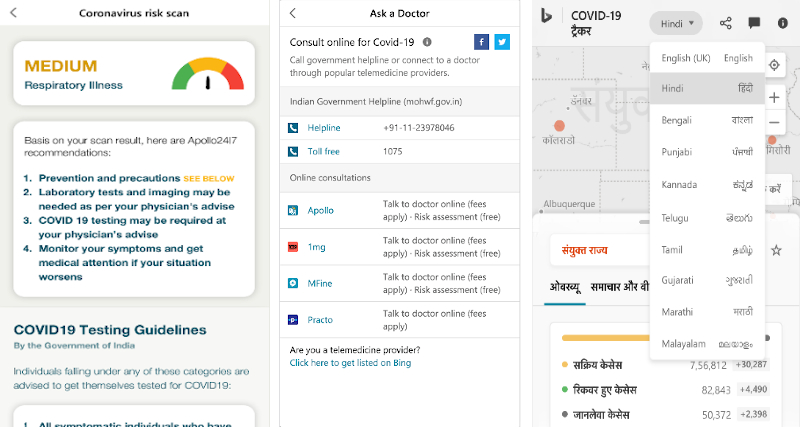 It is Microsoft's turn now to release their COVID-19 tracker, which has been integrated via its search engine, Bing. The Bing COVID-19 tracker has a few new features that will be helpful for Indian users like an Apollo Hospitals bot for self-assessment and a hub for telemedicine support from reputed healthcare organizations.
Unlike Google's and Apple's COVID-19 tracking tool, Microsoft's Bing COVID-19 tracker is designed to be a one stop place for all COVID-19 related information for its users. There is information available about the COVID-19 infections across the globe and India at a hyperlocal level, that is, information like infection numbers, recoveries and fatalities.
Similar to the self-assessment tool found on the Government released app, Aarogya Setu, Microsoft has partnered with Apollo hospitals to develop a bot that can help users with conducting a self-assessment. It is based on the guidelines released by WHO and the MoHFW, Government of India and will be available in 4 languages.
Microsoft has also created a telemedicine support hub that will offer online consultations with leading healthcare service providers in India like Apollo Hospitals, Practo, 1mg, Mfine, etc.
The Bing COVID-19 tracker is available in 9 Indian languages, namely Hindi, Bengali, Punjabi, Tamil, Telugu, Gujarati, Marathi, Malayalam, and Kannada and to access the tracker,click here.