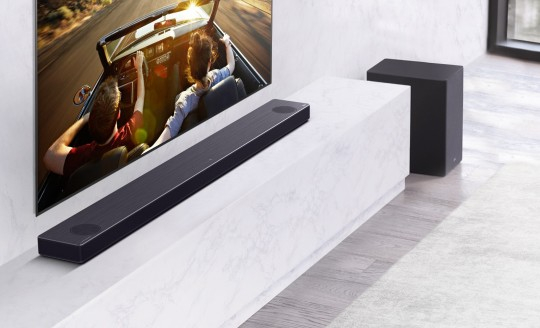 LG Electronics is planning to introduce new models of their premium sound bars at CES 2020.  Partnering with a company called Meridian Audio, LG promises premium quality audio, easy connectivity, smart functionality and sleek designs that integrate perfectly with LG TVs.
The soundbars will feature LG's finely-tuned technologies such as Bass and Space, which boosts low-frequency reproduction and widens the soundstage and Image Elevation that will highlight the vocals and instruments. The high end models will also support Dolby Atmos and DTS:X for dynamic and thoroughly immersive audio.
A new technology that LG is adding to the soundbar lineup is AI Room Calibration that accurately assess the dimensions of the room it is placed in and automatically optimizes sound. The soundbars will also feature 4K Pass-Through and support for the optional SPK8 Wireless Rear Speaker Kit. Connectivity will be easier than ever with the addition of enhanced audio return channel (eARC) so owners can plug external devices directly into their eARC compatible TVs.
Commenting on the announcement of the new soundbars, Park Hyung-woo, head of LG Home Entertainment Company's audio and video business said:
Our goal has always been to bring better sound to more people and by offering more great products that leverage our successful partnership with Meridian, our latest soundbars help achieve this. High-performance, convenient and very versatile, LG's newest models will make the premium audio experience accessible to more customers.