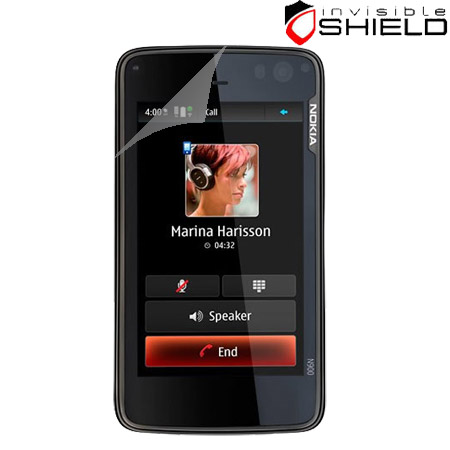 Introduction
Protecting your device/mobile phone is always a big issue. No matter how careful you are with it, there is always a chance that it can suffer a few scratches, knocks and cuts. Another issue is the extra bulk that covers and cases add to your device thus making the device uncomfortable to use.
This is where ZAGG's Invisible Shield for Nokia N900 enters. It provides superior protection to your device without adding any extra weight or discomfort to your device. The Invisible Shield has its origins in the military where it was used to protect the blades of helicopters from wear and tear while travelling at 100s of miles per hour.
ZAGG claims that their Invisible Shield is the one of the toughest protection available for devices. Let's take a look to see if it's true.
Design
The Invisible Shield can be purchased as a full body protection or just as a screen protector alone. We are reviewing the full body protection here and the N900 screen protector is also included in the packaging. All the Invisible Shields are made from the same kind of material. Its high flexibility allows it to be made in different shapes and sizes to be put on different devices. It is clear plastic so it makes sure that the good looks of your device aren't covered.
Installation
The Invisible Shield comes with a Liquid and a Squeege both of which are used to apply the Invisible Shield. There are very clear, easy and accurate instructions on how to install them. First you wet your fingertips with the liquid spray they provide, then peel out the Invisible Shield corresponding to the part you want to place it on, spray the Shield also with the liquid so as to help it stick onto the surface and finally apply it carefully aligning it onto the devices surface.
You can re-apply the shield before it sets into place in case you have gotten it wrong by gently removing it and spraying the liquid again and repeating the procedure mentioned above.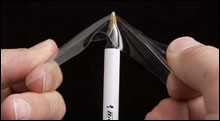 Comfort and Safety
The Invisible Shield is just a tad bit thicker than usual screen protector material. So it doesn't add any extra weight or bulk to your device and thus remains the same size. The material is clear and thus it doesn't spoil the looks of your device either and the screen also remains perfectly visible.
It does however create a glossy look which some people may like while others may not. But when you touch it, it has a rubbery feel and thus it helps you to grip your device better. Your device also will not slide off the table because the back grips to surfaces. It is even able to rest against slopes.
It also helps to reduce fingerprints on the device. Dirt and smudges just come off as easily as wiping them off a plastic or glass surface. Scratches from sharp or pointed objects such as keys or pens etc do not have an effect on the protector. After a while the self healing properties of the protector make it back to normal.
The only problem it faces is that it cannot protect your devices against drops, if your devices falls from a height, it may not get scratches but it may be damaged.
Another advantage of the Invisible Shield is that it does not leave behind any residue upon removal . The full body protection covers even the corners of your phone making it look just like it did when you purchased it.
Price
The ZAGG Full Body Invisible Shield for the Nokia N900 is available at a price of 16.95 British Pounds or 22.88 Euros from mobilefun.co.uk
Plus ZAGG themselves provide a lifetime guarantee of replacement in case the shield is defective and causes any scratches or damage to your device.
Conclusion
The ZAGG Invisible Shield is the best way to protect your device is you want something that provides maximum protection without adding any bulk.