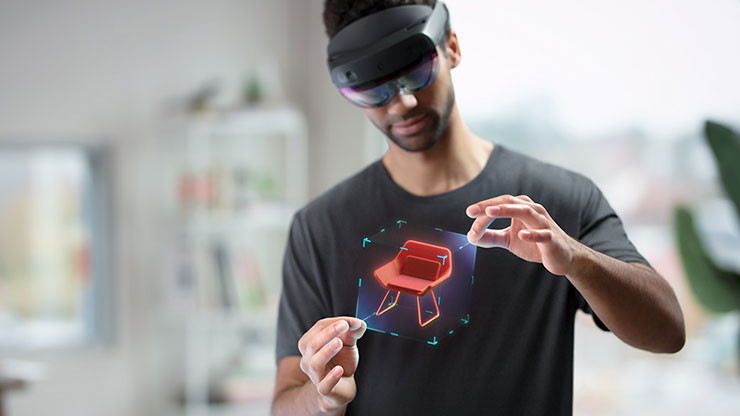 Microsoft announced HoloLens 2 augmented reality headset along with the Azure Kinect developer kit at MWC 2019 event. Today, Microsoft is launching a developer edition of the HoloLens 2 headset with Azure credits, free trial for Unity software and more.
Principal software engineer @julenka is sharing lessons learned and interaction design tips for #Hololens2, focusing on hand interactions. Try them yourself using #MRTK v2! https://t.co/crrJMQYmNx #MRDevDays

— Microsoft HoloLens (@HoloLens) May 2, 2019
The developer edition of the HoloLens 2 will come with support for Unreal Engine 4 SDK and developers will be able to start using it by the end of May. The developer kit will include the HoloLens 2 hardware, Azure credits and free trials for Unity Pro and Unity PiXYZ Plugin for CAD data.
The developer kit is priced at $3500 (Rs. 2,42,700 approx.) and there is no information on the exact release date yet. But, Microsoft the developer and commercial units are expected to be delivered this year.
To recall, The HoloLens 2 contains a new display system that enables it to achieve these significant advances in performance at low power. By taking advantage of the new time-of-flight depth sensor, combined with built-in AI and semantic understanding, HoloLens 2 enables direct manipulation of holograms with the same instinctual interactions you would use with physical objects in the real world.
HoloLens 2 contains eye-tracking sensors that make interacting with holograms even more natural. You can log in with Windows Hello through iris recognition. It features light carbon-fiber material and a new mechanism for donning the device without readjusting. Microsoft has improved the thermal management with new vapor chamber technology and accounted for the wide physiological variability in the size and shape of human heads.