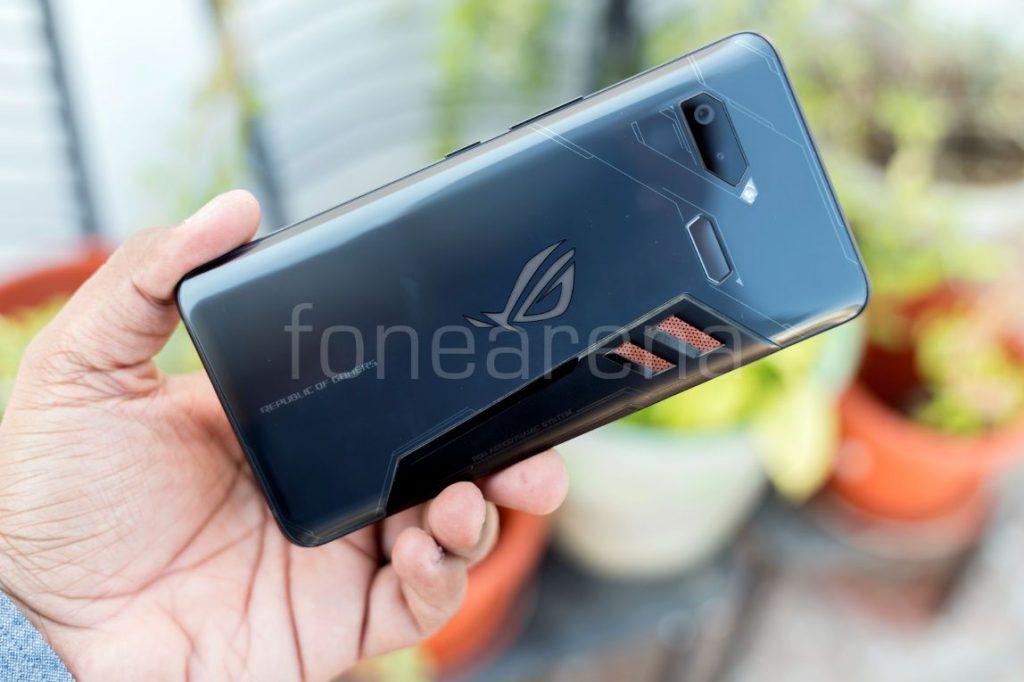 Ever since the inception of mobile phones, gaming has always been an integral part of it. Be it Nokia 1100 or the recently launched ASUS ROG phone. While the term 'Mobile Gaming' wasn't taken very seriously a few years back, titles like Angry Birds, Clash of Clans, and the currently trending PUBG have changed things drastically.
According to this mobile gaming industry analysis, 2019 is going to be a wild year for mobile games. Right now, console-quality 3D games are the norms of the phone, thanks to the series of developments that took place over the course of several years. For a quality gaming experience, you'll need a high-quality device with adequate response rate, sufficient processor capacity, high-quality display, huge battery backup and much more.
At this juncture, there are very few smartphones catering exclusively to the gaming segment. In an attempt to fill this gap, the Taiwan-based ASUS has launched its gaming-centric ROG phone in the Indian market at a price of Rs. 69,999. We got hold of this device for a while and came up with a review.
Why you should buy the ASUS ROG phone
Ultimate gaming experience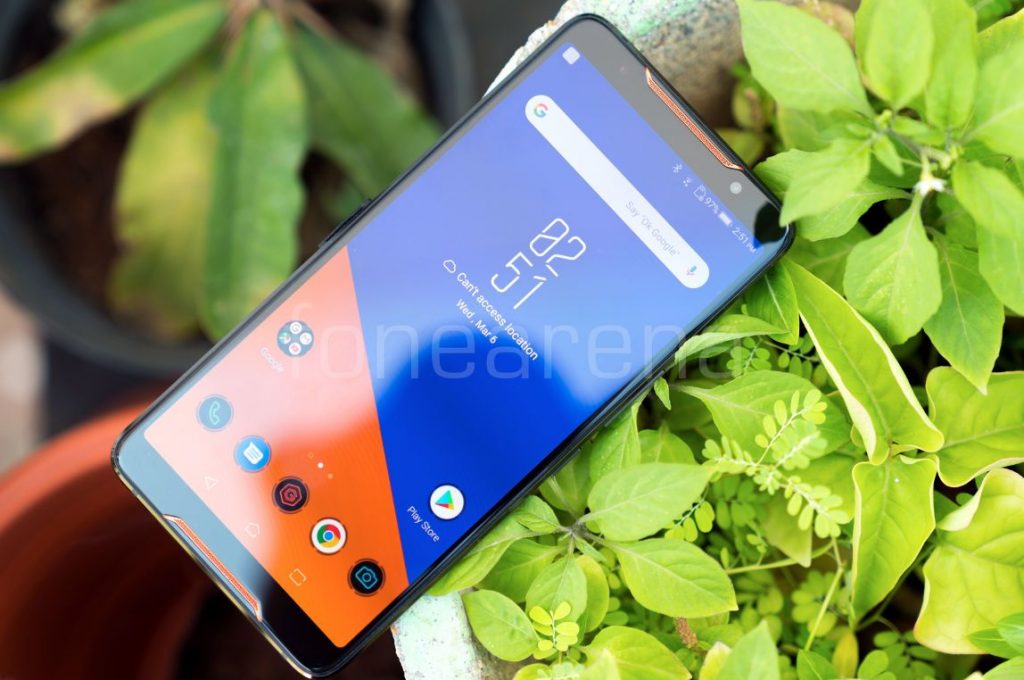 The Asus ROG phone is one of the first dedicated gaming smartphones to launch in India with up to date specifications. Before going into detail about the gaming performance of the smartphone let's start with what Asus have done differently to call ROG the dedicated gaming smartphone.
As a gamer, there are five things, which are very crucial to me in any gaming smartphone. Those are bright colourful display, longer battery life, better heat management, faster charging time and comfortable to hold while gaming. The ROG phone ticks all the boxes of my use case.
ASUS has also gone a step ahead and added air triggers, which are basically, pressure sensitive areas in the metal frame of the phone. There are two of them on the right side of the phone and one on the left side. These air triggers can be assigned to various actions in games.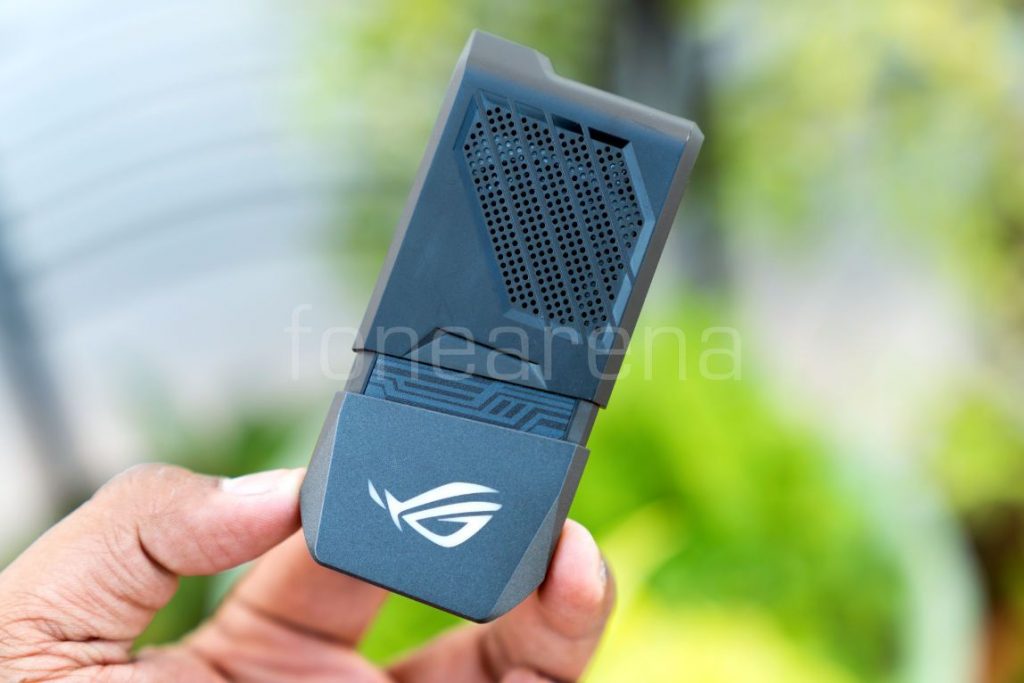 With the ROG phone, Asus is bundling a clip-on accessory called the Aero Active Cooler. This accessory comes with a high-speed fan, which is very silent even when running at full speed. This fan helps in heat dissipation and the surface temperature of the phone when gaming. This accessory also comes with 3.5mm audio jack, type C port and ROG logo, which lights up.
So with all these bells and whistles how is the performance you may ask? It is hands down the best PUBG experience I have ever had in a smartphone. I played intense games PUBG Mobile, ASPHALT 9, Shadow Fight 3, Mortal Kombat and some casual games like Brawl stars, Clash Royale etc.
In PUBG Mobile the graphics setting was set to HDR and FPS was set to ULTRA. I was constantly getting 40 FPS throughout the game with no jitters or lags in rendering. The air triggers were set to aim and fire in PUBG which in turn gave me great recoil control during close combat fighting.
The air triggers are super responsive and work well like hardware triggers giving you a lot of screen estate. After 2 hours of intense PUBG gaming with X mode and Aero Active cooler, the battery was down to 47% from 100%. Games like PUBG Mobile [TIMI], which supports higher frame rates look really smooth on the 90Hz AMOLED display.
Sadly there are not many Android titles support higher frame rates at the moment. You also don't notice the phone getting too warm when playing with the Aero Active Cooler accessory. Without the accessory, I felt the phone is warm to touch when gaming for a long time.
It is powered by an overclocked 2.96GHz Octa-Core Snapdragon 845 10nm Mobile Platform with  8GB LPDDR4x RAM. Check out the synthetic benchmark scores below.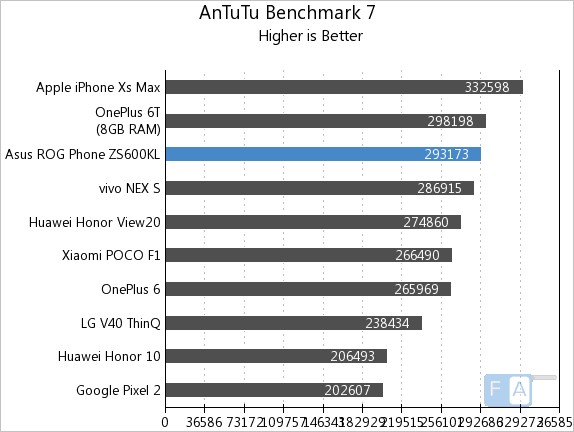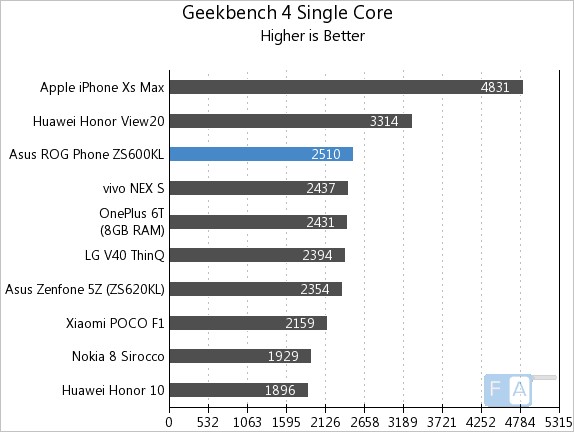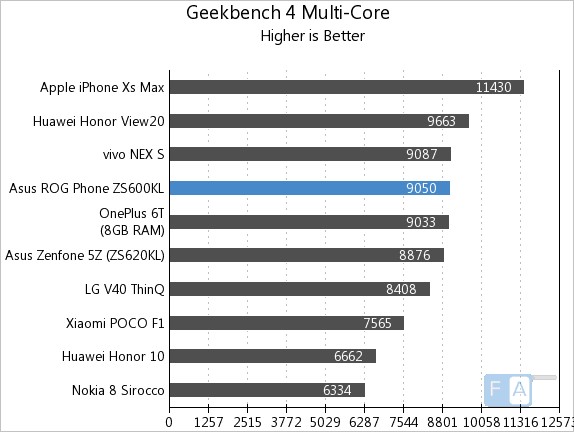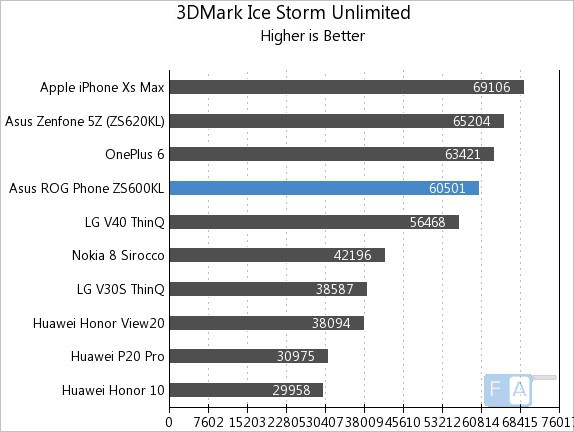 Reliable battery but not best in the business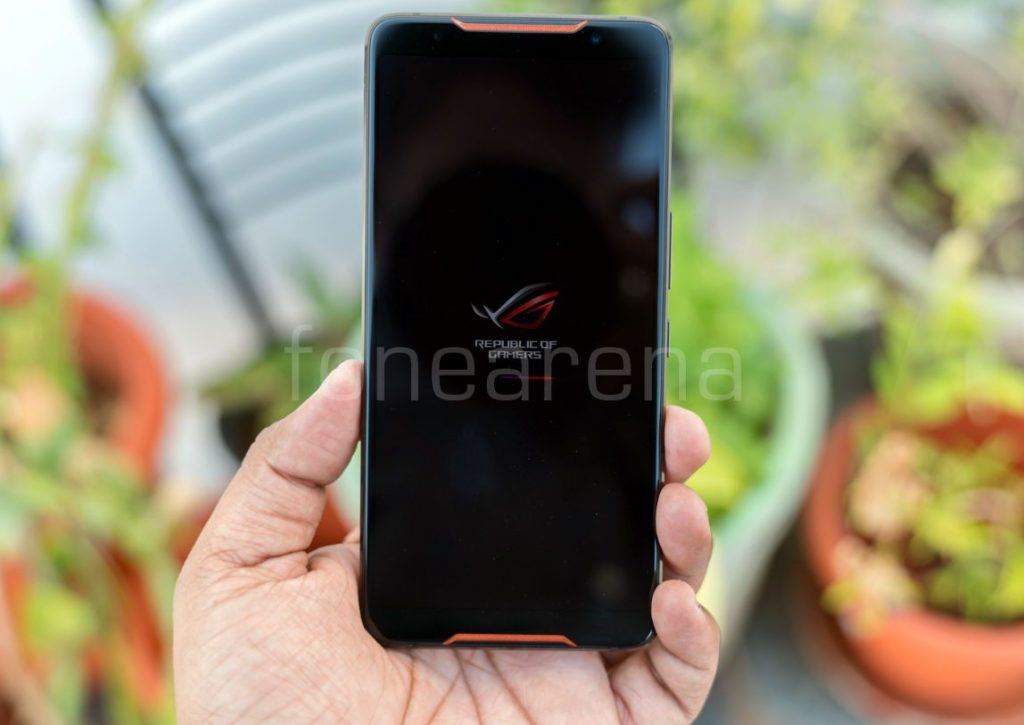 The latest gaming phone from ASUS comes packed with a 4,000mAh battery with 30W charging that can charge from 0 to 60% in just 33 minutes and get to 85% in just over an hour. Since it's a gaming-centric device, I was skeptical as to how long the battery would actually last on intense usage.
To be honest, a 4000mAh battery isn't the largest battery for a gaming phone, considering overclocked processor and beefy hardware. On a casual day-to-day usage, the battery backup is solid, but hey, you are not going to shell out some serious money for some casual experience, aren't you?
Under heavy usage and intense gaming, the battery backup is satisfactory if not excellent. Over the course of a week, I got an average of five to six hours' screen-on time per day, which is standard for a phone of this size.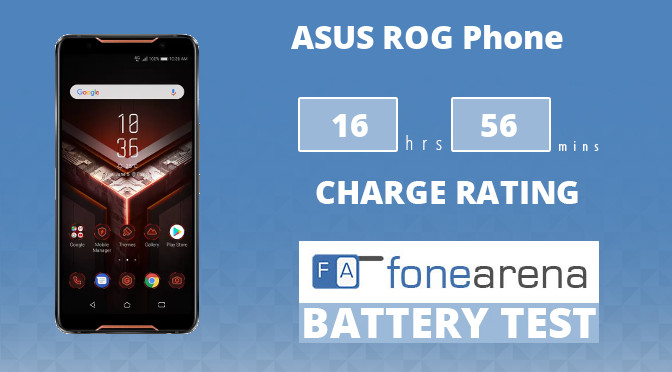 In our OneCharge rating, the ASUS ROG phone scored 16 hours 56 minutes, which is good for a normal phone, but it drains quickly when you play games. Since it comes with a 30W fast charger, it can charge from 0 to 50% 25 minutes and 0 to 100% takes about one and half hours.
A phone with gaming PC aesthetic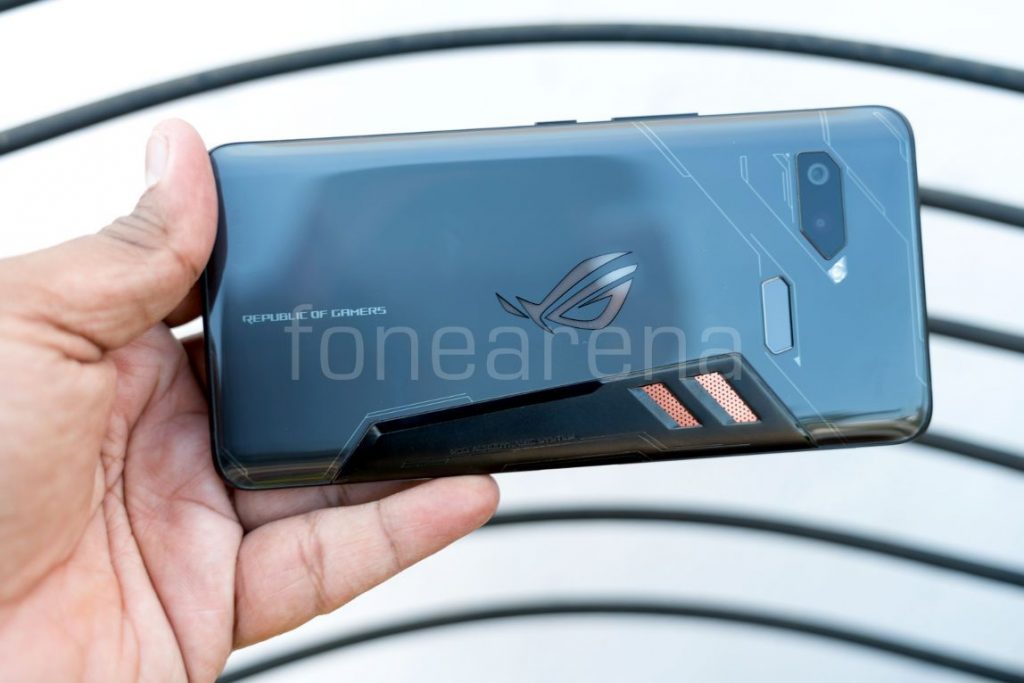 From the front, back, left, and right, ASUS ROG phone retains the very aesthetics of a gaming device and somehow manages to look good as well. The ROG phone indeed has a magical touch on the design aspect which is indicative that ASUS deserves some accolades for this one. Notably, ASUS claims to have worked with professional eSports teams to design the phone and it shows.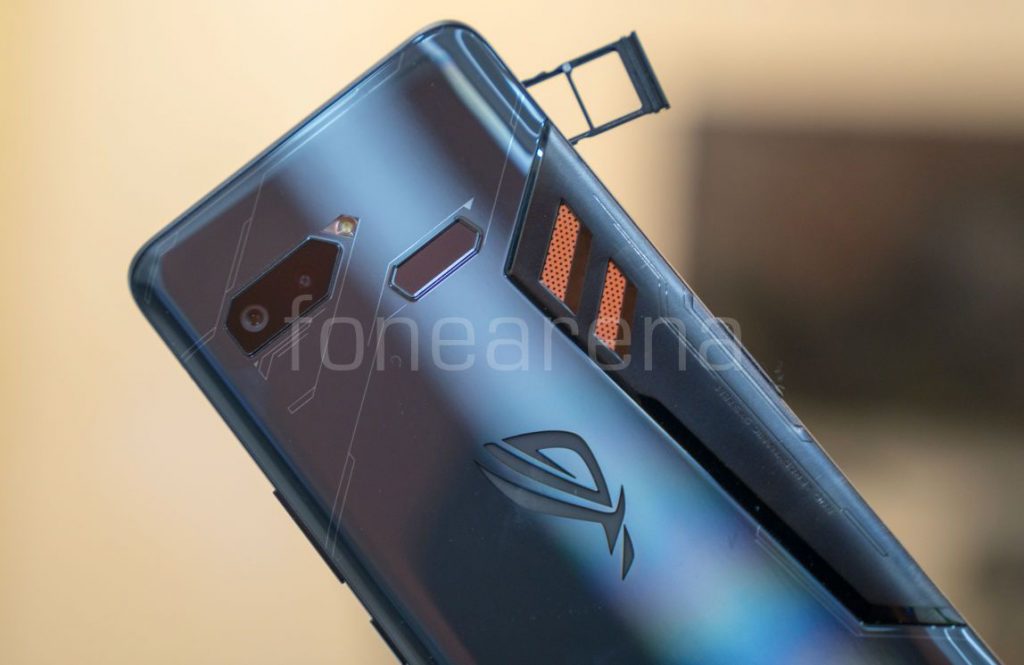 The most distinctive aspect of the phone is, of course, the rear panel where it uses a combination of etched Gorilla Glass 5 and a very visible copper heat sink to give it a cutting edge look. It has been designed in an ergonomic friendly way and for prolonged gameplay. The device measures 8.65mm in thickness and weigh around 200grams.
The logo on the back glows in whichever colour you choose with static, breathing, and strobing effects, or cycling through the spectrum. You can synchronize RGB illumination across up to five ROG Phones wirelessly to match the rest of your squad. The lighting also syncs with optional accessories that plug into the side-mounted connector.
The front has an aggressive design with red highlights around the speaker grilles. Flipping it back, the fingerprint scanner is positioned in the worst possible way, making it hard to access. Due to its weird placement and trouble unlocking the phone on the first try, I opted for face unlock most of the time. After a week of usage, the rear glass panel hadn't picked up any scratches, which is a good sign.
Excellent media machine!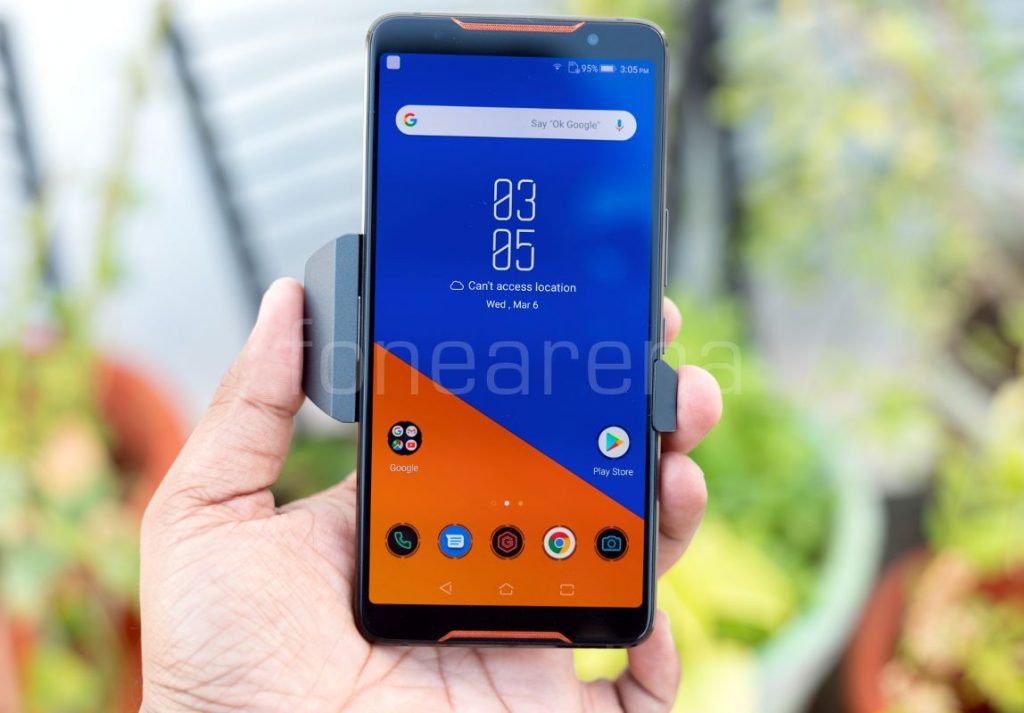 The ASUS ROG phone sports a 6-inch Full HD+ AMOLED HDR 90Hz, 1ms response time AMOLED display with DCIP3 gamut. For the uninitiated, a 90Hz refresh rate means the phone can support frame rates of up to 90fps, providing a fluid, smooth movement — perfect for gaming.
The display looks gorgeous with good colour reproduction, viewing angle and relatively enough brightness. The texts look sharp, and we had no problem shooting our enemy in PUBG under the direct bright sunlight. Also, the black levels were absolutely fantastic as you would expect from an AMOLED panel. The caveat here, however, is that very few games support this enhanced refresh rate. Asphalt 9 on the ROG phone does support 90Hz mode and so does Firefight.
This device comes with a screen-to-body ratio of 76.8%. Having said that, this ASUS ROG got the right amount of bezels one would need for a gaming phone, no more, no less. Apart from gaming, this device is just the best when it comes to consuming media as well. Additionally, it has stereo speakers on board. ASUS really talked up the dual NXP 9874 smart amps during our briefing and it shows. The speakers are loud, crystal clear and even have just a bit of bass. We'd rate these as some of the best speakers you can get on a smartphone right now.
Why you should not buy ASUS ROG
Camera barely draws any attention!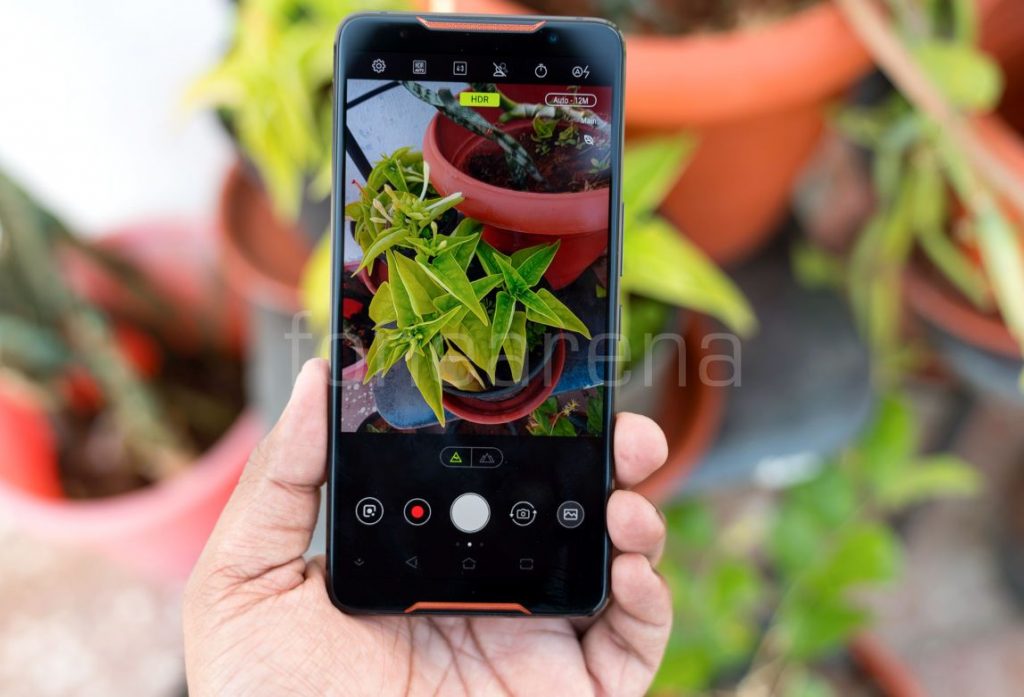 The ASUS ROG phone comes equipped with a 12MP rear camera with dual pixel sensor and f/1.8 aperture. It uses a Sony IMX363 sensor with 83° field of view, PDAF, 4-axis, 4 stops optical image stabilization, AI Scene Detection, and a secondary rear camera with 120° wide-angle lens. The front side is taken care of an 8MP front-facing camera with f/2.0 aperture, 84° field of view.
The camera module is placed inside an asymmetrical hexagonally shaped area with a thin marking boundary. Right next to it, we have a LED flash too. In our usage, we didn't find ASUS ROG camera great or anything of that sort. But it doesn't mean the ROG can't take a good shot, though. The camera supports up to 4K video up to 60fps, and slow motion at up to 240fps at 1080p.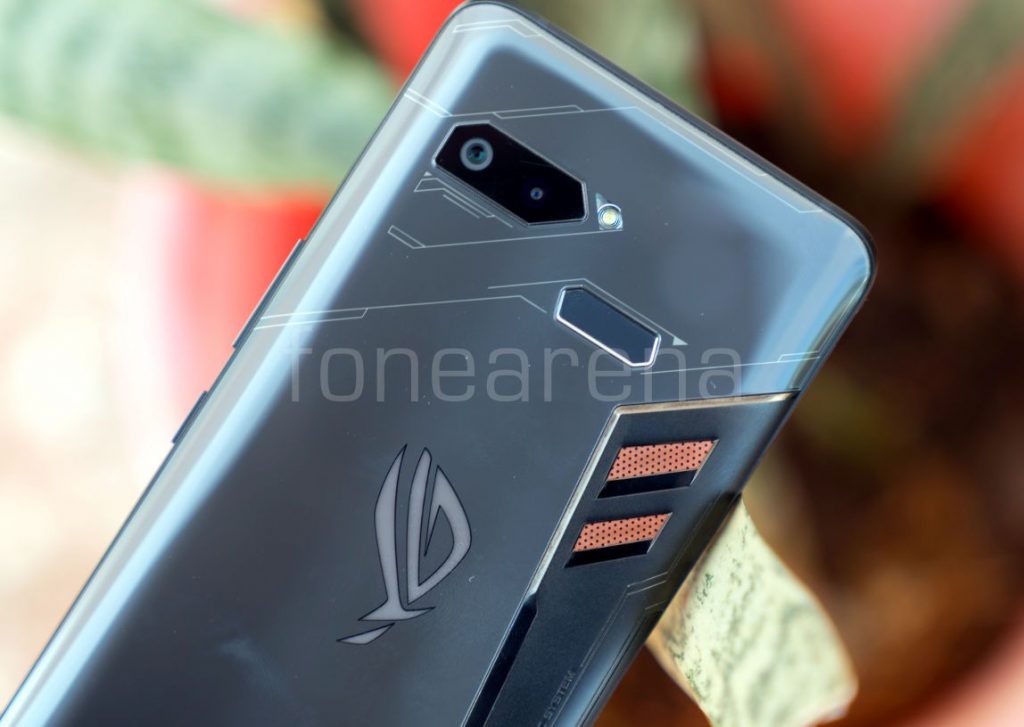 During daylight conditions, the ROG camera offers a good output with a decent amount of details. The autofocus is quick to lock subject, colours are vibrant, dynamic range is pretty good and HDR kicks in automatically when needed. It's low light where it gets bad, having said that, one should not emphasise on the camera when gaming is on the focus.
In most of the cases, the noise is apparent along with some sign of softening. Overall, this device on the camera category is just passable.
Software is an overkill!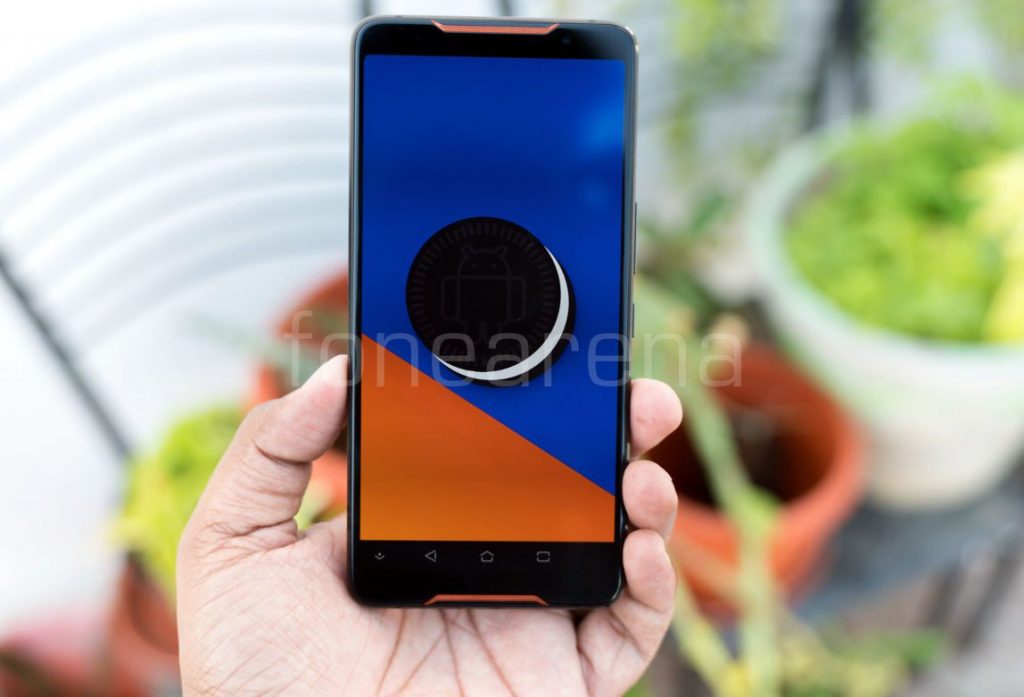 The ASUS ROG phone is shipped with Android 8.1 (Oreo) with ROG Gaming X mode UI. Those who prefer stock will find this UI bloated and kind of overkill. Notably, Game Center is the heart of ROG phone, where the user can monitor CPU, GPU, and other information like memory stats, and storage capacity.
Moreover, there are options that allow you to configure the external fan's speed, switch on and customise Aura lighting, and manage game profiles. If you are using the AeroActive Cooler on the device, the app also lets you control its fan speed or set it to auto.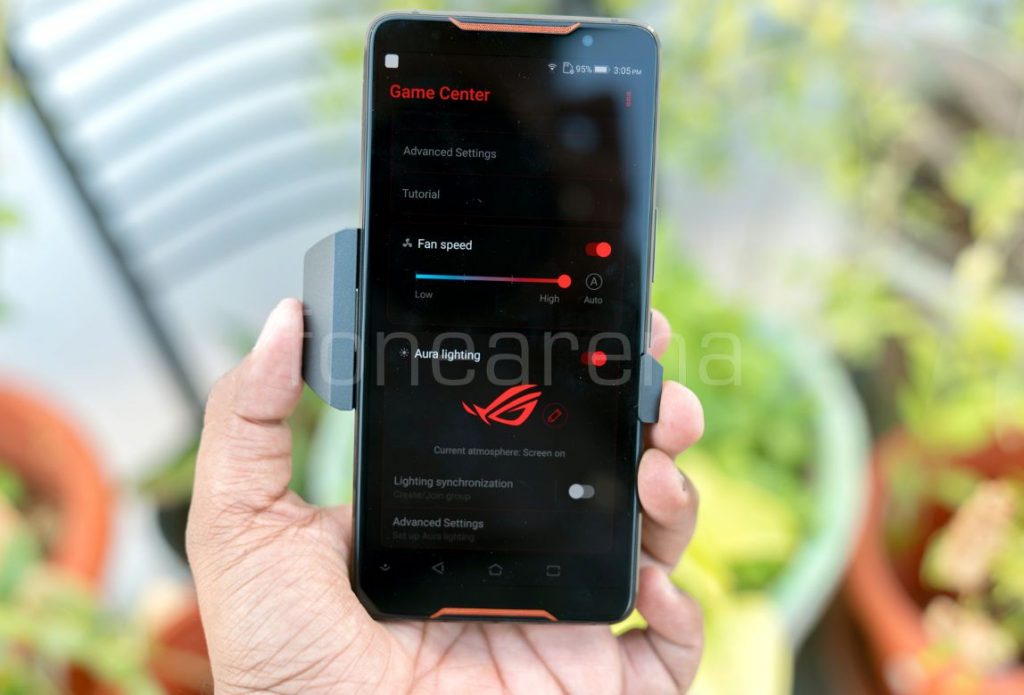 There is an 'X Mode' as well which upon enabled frees up RAM and accelerate the CPU clock speed. On top, there are options to control the screen refresh rate and anti-aliasing, and switch alerts off when playing a particular game.
Game Genie lets you record game footage, or live-stream it to Twitch and YouTube live. Having said that, you will need a solid Wi-Fi connection. ASUS has nailed the haptic feedback on these ultrasonic buttons and it almost simulates physical feedback. Once you've got these set up (yes, the Game Center app lets you create fully custom game profiles), you'll definitely have an upper hand in shooters and even racing games.
High pricing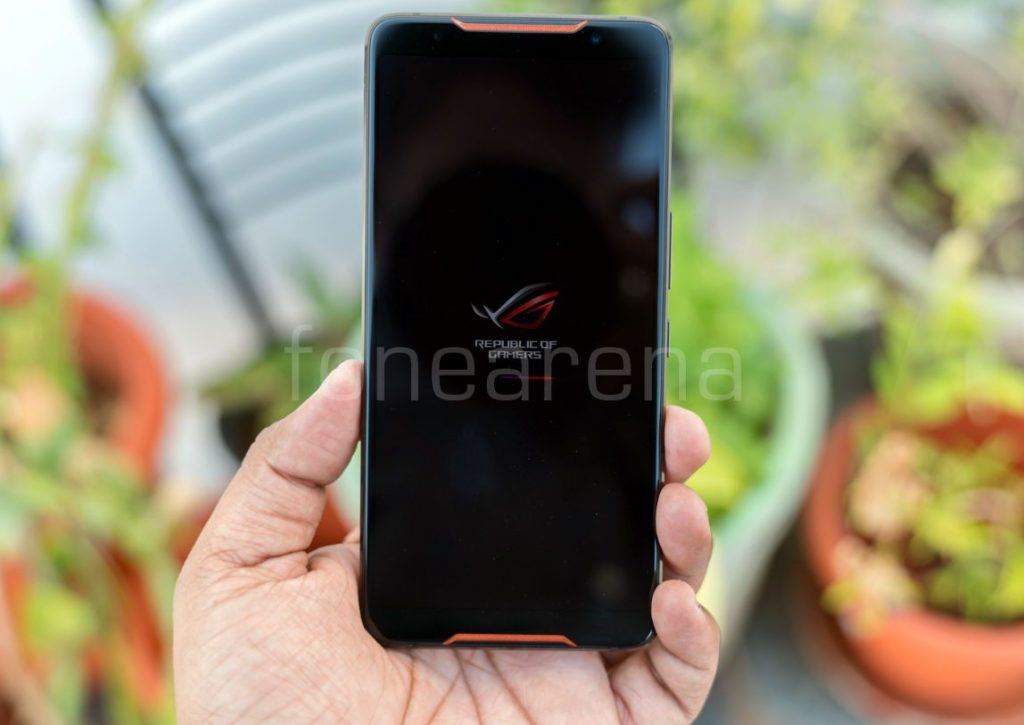 Instead of capitalising this niche segment with strategic pricing, ASUS has just done the opposite by pricing it  at Rs.69,99, which is on the higher side. India, being a price sensitive market, any smartphones above Rs. 35,000 to Rs. 40,000 in most of the case except few top brands is definitely a tough sell.
It is exclusively from Flipkart, and other accessories are available for purchase separately. The Professional Dock costs Rs. 5,499, GameVice (Joy stick) is priced at Rs.  5,999, TwinView Dock is priced at Rs. 21,999, Desktop Dock costs at Rs. 12,999 and the ROG Phone Case is priced at Rs. 2499
Other mentions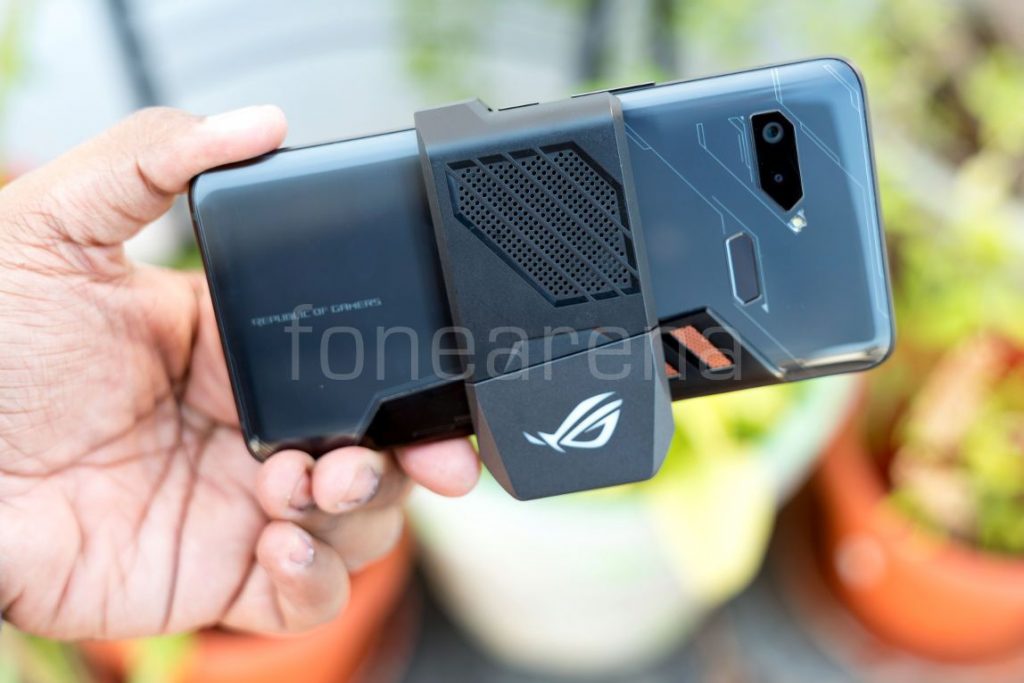 A big draw for the ROG Phone is the robust accessory ecosystem that ASUS has developed around the phone. From the TwinView Dock that gives you a secondary screen to the Pro Dock that lets you play your games on television and use a keyboard, mouse, there's a lot to like here. The TwinView dock, in particular, lets you extend the UI in supported games while also allowing you to run two apps, games simultaneously.
To support these accessories, the ROG phone has dual USB Type C ports with one at the bottom and another on the side. The port on the side, in fact, uses a unique dual USB-C connector because of which you cannot use these accessories with any other phone.
The phone has dual 4G VoLTE, WiFi 802.11ac dual-band (2×2 MU-MIMO ) / 802.11ad 60GHz, Bluetooth 5, GPS NFC. Talking about calls, the audio quality on earpiece, loudspeaker and headphone is impressive.
Competition
In the case of ASUS ROG phone, there is no direct competition considering its gaming aesthetics and DNA. Otherwise, taking performance and other factors in account, there are devices like Pixel 3, Samsung Galaxy S10, OnePlus 6T and more.
Siraj contributed to this post