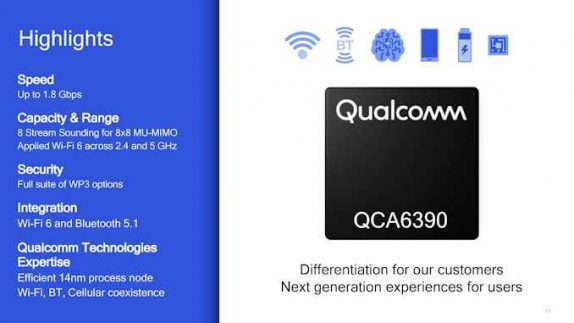 Qualcomm Technologies has announced the Qualcomm QCA6390 Connectivity SoC at the MWC 2019. It is aimed at providing superior Wi-Fi and Bluetooth performance for mobile and computing devices. It is also the world's first 14nm integrated SoC to support the full feature suites of both Wi-Fi 6 and Bluetooth 5.1.
The QCA6390 is built on MU-MIMO and 8-stream sounding and features Wi-Fi 6 certifiable mobile SoC. Qualcomm Technologies' enhanced implementation of Wi-Fi 6 features in the QCA6390 deliver differentiation with superior connection speed, efficiency, range, power consumption, security, and more. It supports up to 1.8Gbps throughput speeds, 1024 QAM – higher order modulation across 2.4 and 5 GHz bands combined with Dual-Band Simultaneous (DBS) operation.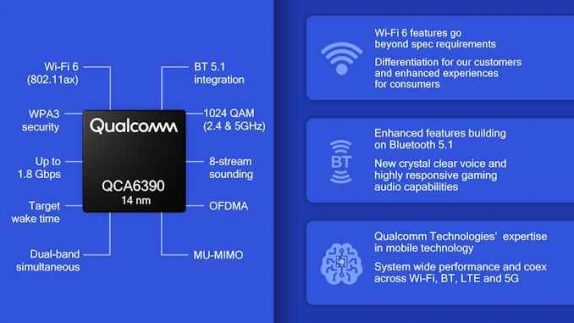 The 8-Stream sounding is an essential mechanism that allows Wi-Fi 6 mobile and computing devices to take full advantage of the growing base of 8×8 MU-MIMO Wi-Fi 6 Access Points being commercially deployed. OFDMA and MU-MIMO Qualcomm Technologies multi-generational, field-proven capabilities extend beyond competitive solutions to improve spectral efficiency, capacity and help ensure seamless experiences across congested networks.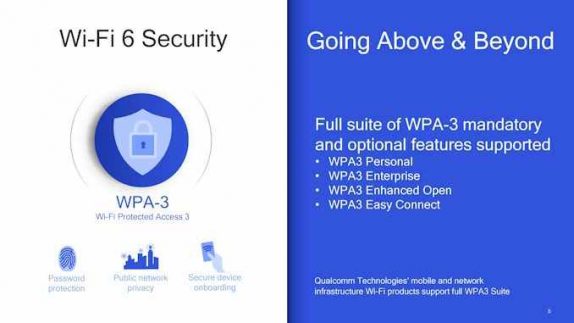 The 14nm process node combined with advanced power-management architecture provides up to 50% improvement in power efficiency, compared to previous generation solutions. Target Wake-up Time (TWT) – Qualcomm Technologies' implementation supports up to 67% lower power consumption for streaming, Wi-Fi calling and other network intensive applications. It supports WPA3 including WPA3-Personal, WPA3-Enterprise, WPA3-Enhanced Open, and WPA3-Easy Connect supported.
The QCA6390 introduces several notable enhancements including ultra-high-quality voice, low latency audio, enhanced link resilience and support for smaller, more power-efficient wireless earbuds. The aptX adds premium Bluetooth audio quality and low latency and is ideal for video conferencing, gaming, video streaming and other applications where wireless quality and low latency are essential. The QCA6390 with Qualcomm TrueWireless Stereo Plus supports the trend of removing the headphone jack, supporting up to 2x the range of legacy products and up to 75% battery life improvement, without compromising audio quality.
The QCA6390 can support up to 18dB of additional Bluetooth link margin compared to previous generations – with only a single antenna. The QCA6390 Connectivity SoC is currently sampling to customers.
Dino Bekis, vice president and general manager, mobile and compute connectivity, Qualcomm Technologies, Inc said:
The Qualcomm QCA6390 Connectivity SoC sets a new industry benchmark by marrying state-of-the art Wi-Fi 6 and Bluetooth 5.1 capabilities with extended features and leading-edge design. As consumer expectations for always-on, flawless streaming video and crystal-clear audio everywhere continue to dramatically grow, these applications face increasing challenges with respect to battery life, data rates, range and security. The QCA6390 reflects our continuing commitment to leadership in the 5G era by delivering low-power resilient multi-gigabit connectivity with unprecedented range and Qualcomm Technologies' best-in-class security.