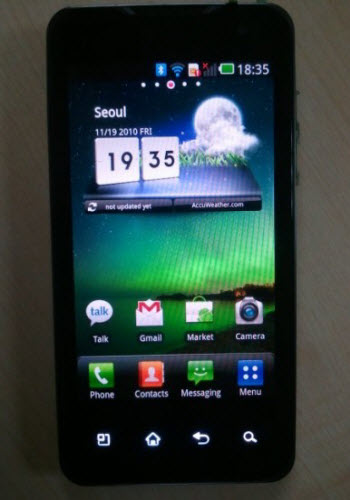 Do you still remember the NVIDIA Tegra 2 powered LG's powerful smartphone, the LG Star, which was leaked earlier this month? If not, then let me tell you that, LG Star is the company's first dual core smartphone. Recently the leaked pics and details of this smartphone have been emerged in the wild. This handset runs on the Android 2.2 (FroYo) operating system, but it is expected to ship with Android 2.3 (Gingerbread) OS.
LG Star features a large 4 inch touchscreen display with 800×480 resolution and the powerful NVIDIA Tegra 2 processor. It also features an 8 megapixel camera with LED Flash, full HD (1080p) video recording, front-facing camera, HDMI out port, MicroSD card slot and 1500mAh battery.
The guys at Phandroid recently shared a few pics of the LG Star. Check out the leaked pics of the LG's powerful smartphone below. To find out more pics, head over to this page.