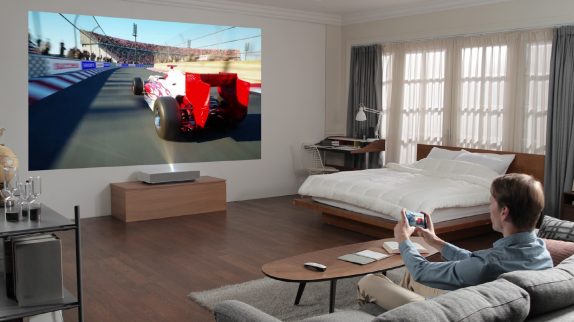 LG Electronics has announced the second-generation CineBeam Laser 4K projector HU85L with Ultra Short Throw (UST) technology and will showcase it at CES 2019. It comes with minimal space requirement and a compact design that can project stunningly sharp 4K images on practically any flat surface.
The LG CineBeam Laser 4K comes with UST technology which when placed a little more than 2 inches from the wall can project a 90-inch diagonal image. Placed 7 inches away, the projector produces a much larger and still bright 120-inch image. it delivers 2,500 ANSI lumens at 4K UHD resolution. It provides plenty of content options, enabling users to stream movies and shows from their favorite services while USB, Ethernet, and HDMI.
It offers enhanced visual accuracy with a 12-point keystone adjustment feature, eliminating the image distortion that often affects other UST projectors. Thanks to ThinQ AI, users can use voice commands to access natural language processing capabilities. The Magic Remote also recognizes gestures and features backlit buttons for easy navigation which turn on automatically when motion is detected.
Jang Ik-hwan, head of LG's IT business division said:
The new CineBeam Laser projector marries spectacular 4K viewing experience with the convenience of AI technology.  There is no other product like this on the market, illustrating how LG continues to deliver unique value to consumers.