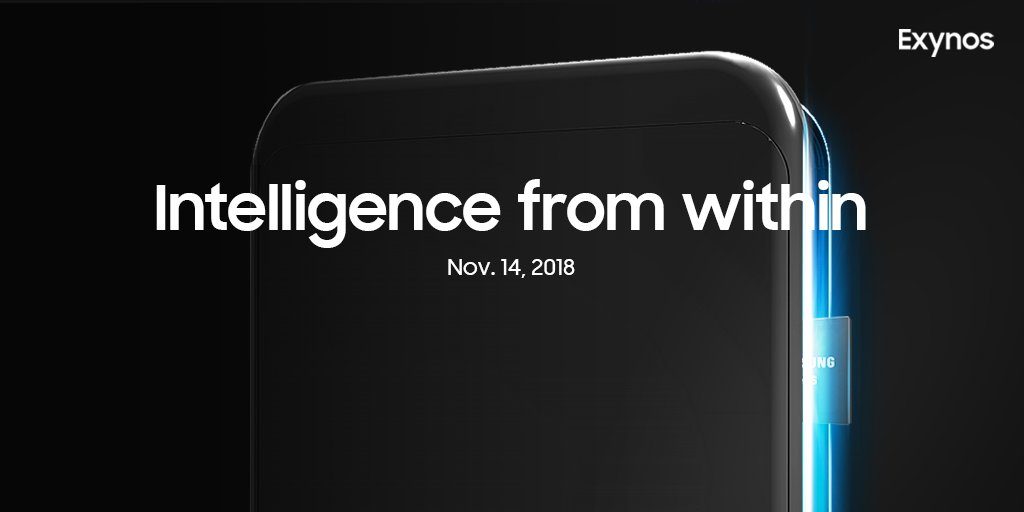 Samsung's Galaxy S10 is right around the corner, but before the official launch, the company has now confirmed to launch the processor that powers the flagship. Samsung has scheduled a special event on November 14th where it will be unveiling the next flagship chip; successor to the Exynos 9810 which powers the Galaxy S9 and the Galaxy Note 9.
Think next. #TheNextExynos pic.twitter.com/e5RNSd1Fx2

— Samsung Exynos (@SamsungExynos) November 9, 2018
At this moment, it is not known what Samsung will be calling this chip. If Samsung's number gaming history is any indication, the company might call it Exynos 9820. It will be Samsung's first Exynos chip to be produced on its advanced 7nm LPP process that relies on the EUV lithography technology. The technology delivers up to 50% lower power consumption and a 20% gain in performance, according to Samsung.
The teaser image which Samsung pushed on its Exynos social media handles reads "intelligence from within." which looks like a subtle hint at a neural processing unit for the chip. Previous reports have suggested that the Galaxy S10 processor will have a dedicated neural processing unit. It is also rumored to have a dual-Core artificial intelligence chip that will enable the Galaxy S10 to perform more complex AI and machine learning tasks.
The new Exynos processor will also be capable of supporting a 5G modem. Paralelly, Samsung has been working on the Exynos 5100 modem which will bring 5G capabilities to its devices. It's said to launch a separate model of the Galaxy S10 which will be 5G-enabled. There is no other information available at this moment about the new Exynos chipset, but we won't have to wait much longer.